Garden expert Alan Titchmarsh shares clever planting technique for disguising fences and wires in the garden
Alan Titchmarsh and garden designer Katie Rushworth shared a clever planting hack for hiding a fence or ugly wires using ornamental grasses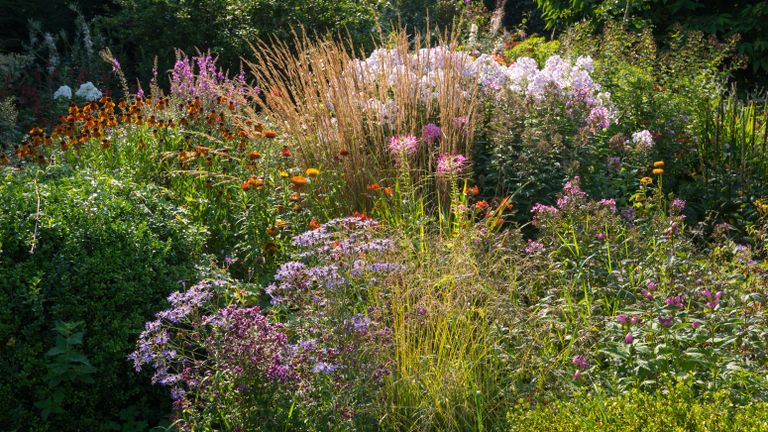 (Image credit: Getty / Photos by R A Kearton)
If you are looking to cover up an unsightly fence, wall or disguise wires in your yard, gardening expert Alan Titchmarsh and Katie Rushworth shared a clever planting hack for hiding a fence using a technique called 'prairie planting.'
Appearing on the British TV show Love Your Garden on ITV, Alan Titchmarsh, with the help of his team Katie Rushworth, David Domoney and Frances Tophill, transformed the Drake Family garden in rural Dorset. The rugged Dorset plot was transformed into a frontier-style garden including a saloon bar and prairie-style flowers.
Planting hack for hiding a fence
It was the prairie-style planting that caught our attention as a clever solution for disguising unattractive garden features. In the show, garden designer and TV presenter Katie Rushworth explained that the technique uses lots of grass to imitate the look of the American plains. You might want to take a look at our how to grow ornamental grasses guide before tackling this hack.
'The look I'm trying to achieve is a style of planting called "prairie planting" and it originates from the American plains,' explains Katie. 'Really it's about trying to replicate nature with big sweeping swathes of the same plant with lots of grasses.'
'This kind of planting is also useful when you have the wires of a ruddy great telegraph pole to contend with,' says Alan, referring to the telegraph wires the team was dealing with in the Drake family garden.
To get the 'wild prairie style' Katie used Echinacea purpurea and the more delicate helianthus. She also used Calamagrostis to hide the telegraph wires.
'I'm using these Calamagrostis to try and hide the telegraph wires,' she explained. 'We're not allowed to move them so it's just a matter of disguising them.'
'Calamagrostis This is excellent for creating screens. Plant them in big lines, they come up and sway wonderfully.'
Calamagrostis is relatively easy to grow, all it needs is some sunlight and moist soil. The grass is also known as 'feather reed-grass' or 'Karl Foerster' and can grow up to 5 ft tall, perfect for disguising most fences.
If you are planning to try prairie planting in your own garden using a mix of grasses and perennials, March is the best time to do it when the soil is warming up. However, if you are considering this hack to disguise a fence or wall you will be restricted by how much sunlight the area gets. According to the Royal Horticultural Society (opens in new tab), the site will need to get sunlight for most of the day.
If the area isn't bathed in sunlight for part of the day, take a look at our garden privacy ideas or garden fence ideas for more ideas on how to cover up an unattractive wall or fence.
As the News Editor on Gardeningetc, Rebecca covers everything from the common mistake your making when pruning your roses, to handy tips about how to keep your houseplants alive. She has been covering all things gardening for two years across Homes & Gardens and Ideal Home. There isn't a single gardening trend that passes without her knowing about it.
She's currently the proud owner of a thriving container garden on her small city balcony and a jungle of houseplants. Small gardens and container plants are her specialties.
Sponsored by