Best Nerf gun deals for Black Friday: get fired up with these top buys
Shopping for Black Friday Nerf gun deals? Perfect as a Christmas gift idea for the kids, make sure you don't miss out on these brilliant UK and US offers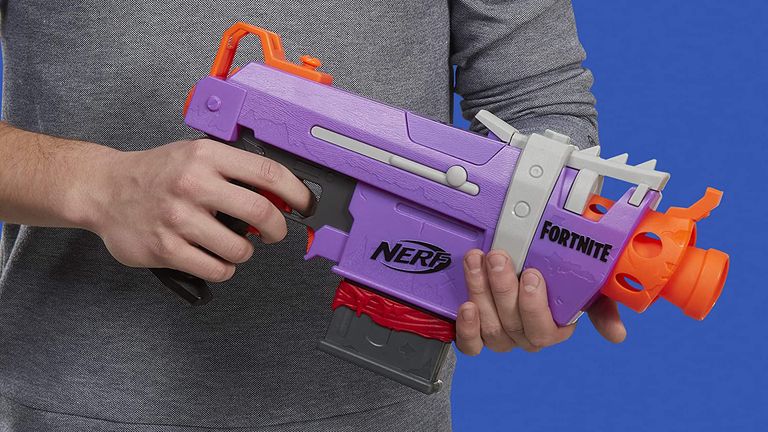 (Image credit: Amazon)
Searching for the best Nerf gun deals for Black Friday? Great idea. With so many incredible offers available right now, it's the perfect time to get your Christmas shopping done for the kids (or grandkids), cross a few gifts off their Christmas wishlist and make great savings in the process.
With all of us likely to still be stuck at home more over the coming months, investing in one (or two) of the best Nerf guns is a great way to get the kids out in the garden and away from their screens. With everything from budget buys for younger kids and top picks for Fortnite fans to mega blasters that can fire up to 200 rounds, you'll find something to suit every age and your budget.
Whether you're in the UK or US, we've found the top Black Friday 2020 deals on Nerf guns from all your favourite retailers, including Amazon, Smyths Toys, Walmart and Argos – just make sure you snap them up before they sell out.
Nerf gun deals: quicklinks
Want to browse for yourself? Check the quicklinks to the Nerf gun sales on the sites below, both US and UK, or scroll on to see our top picks.
Nerf guns in the UK:
Nerf guns in the US:
Nerf gun deals: UK
NerfLaser OPS Pro PK4 | £44.99 now £14.99 at Very (save £30) (opens in new tab)
There's no chance of the kids arguing over who gets to play with the Nerf gun at Christmas if you choose this amazing Black Friday deal. These Nerf Laser Ops Pro blasters have lights, sounds, unlimited ammo and quick reloading. Capable of firing up to 225ft (68m), these are definitely a great option for playing outdoors. Our advice? Get this deal now before it sells out.

Nerf Elite Trilogy DS-15 N-Strike Toy Blaster | £39 now £19.50 at Argos (save £19.50) (opens in new tab)
Why fire just one dart at a time when you can fire three! This triple blaster Nerf Gun will be a winner with any kid on Christmas Day. Once fired, the shell automatically ejects from the blaster for added effect. Each shell holds three darts and the blaster comes with five shells and 15 darts. Suitable for ages 8+.
Nerf N-Strike Elite Strongarm Blaster | £12.99 £9.74 at Amazon (save £3.25) (opens in new tab)
Currently under £10, this is a great entry-level buy for any Nerf gun fan. It holds 6 darts at a time and can fire up to distances of 75ft. No batteries are required, so they can get playing as soon as they open it on Christmas Day.
NerfUltra One Blaster | £49.99 now £41.99 at Very (save £8) (opens in new tab)
Want to fire darts amazing distances? Then you'll love the The Nerf Ultra One motorised blaster, which comes with 25 Nerf Ultra darts. With a firing distance of 36 metres, these super fast darts will really travel the distance. There's also dart storage to make it easy for quick reloading.
Nerf Fortnite TS | £35 now £20 at Argos (save £15)
(opens in new tab)Any Fortnite fan would put this Nerf Gun at the top of their Christmas wishlist. The design and colours are inspired by the blaster used in the game – you can load four darts into the gun at a time and it features pump action dart blasting. There's also dart storage so you can quickly reload after firing.
Nerf gun deals: US
Nerf N-strike Elite Infinus with Speed-Load Tech | $69.99 now $34.88 at Walmart (save $35.11) (opens in new tab)
With a special motorized design, this blaster automatically fires darts from the attached drum. It comes with 30 darts, which can all be loaded into the 30-dart drum at the same time for rapid firing, and it's suitable for ages 8+. With savings this big, you'll want to grab this deal before it's too late.

NERF Fortnite GL Rocket-Firing Blaster | $59.99 now $50.99 at Amazon (save $9) (opens in new tab)
Inspired by the blaster used in the game, this is guaranteed to be a winner for any Fortnite fans. It comes with six official Nerf rockets which can be fired from the rotating drum one at a time. Suitable for ages 8+.
Nerf Rival Prometheus MXVIII-20K Blaster | $199.99 now $74.99 at Walmart (save $125) (opens in new tab)
Take a Nerf obsession to the next level with this incredible blaster. You'll be able to blast away the competition with this feature packed design. Fully motorized, it can hold up to 200 rounds and fires up to 8 rounds a second at a speed of 30m per second. Better suited to slightly older kids and teens (or, dare we say it, even some adults!), it comes with 200 rounds, a trigger lock, tactical rail, and shoulder strap.
NERF Mega Motostryke Motorized 10-Dart Blaster | $39.99 now $33.99 at Amazon (save $6) (opens in new tab)
Beat all the competition with this motorised design – simply fire up the motor and launch 10 darts super fast from the removable clip holder underneath. The darts also make a whistling sound as they whizz through the air for added effect.
NERF Zombie Strike Ghoulgrinder Blaster | $32.49 now $22.88 at Amazon (save $9.61) (opens in new tab)
Get a Nerf gun with a difference when you choose this Ghoulgrinder blaster. With a rotating 10-dart wheel, they'll be able to fire their imagination and stop zombies in their tracks with this fun design. It comes with 10 darts and there's dart storage on the blaster for easy reloading.
Even more Nerf Gun deals...
Not found quite what you're looking for just yet? Check out more of our top rated Nerf guns below at today's best prices. There's something for every size garden and budget.
Read more:
Beth's first journalism job was working for Real Homes magazine more than 18 years ago. It cemented her love of all things homes- and garden-related and she's never looked back since. She's worked for and contributed to a number of leading magazines in the UK, including Ideal Home magazine, Period Living magazine, Grand Designs magazine and Good Homes magazine amongst others, before returning to Real Homes magazine as editor. Now the editor of Gardeningetc.com, Beth's attention is firmly outdoors, and she's constantly inspired by how people make use of their outdoor space.
Her own garden is a really important part of her family's home, and they were lucky enough to inherit a space with lots of lovely mature planting when they bought their 1930s property.
Since then, they've built several raised beds for a veg patch, increased the size of the flowerbeds to find room for yet more of her favourite David Austin roses and her husband's collection of hostas, created an outdoor living room complete with comfy sofas and festoon lights, and not forgetting the biggest challenge of all – trying to fit in the ever changing assortment of trampolines, climbing frames and outdoor toys that are inevitable when you have two young kids!
Sponsored by