Explore Gardeners' World presenter Carol Klein's garden at Glebe Cottage
Carol Klein's garden in Devon is a gardener's dream and the centrepiece of the presenter's new show 'Gardening with Carol Klein'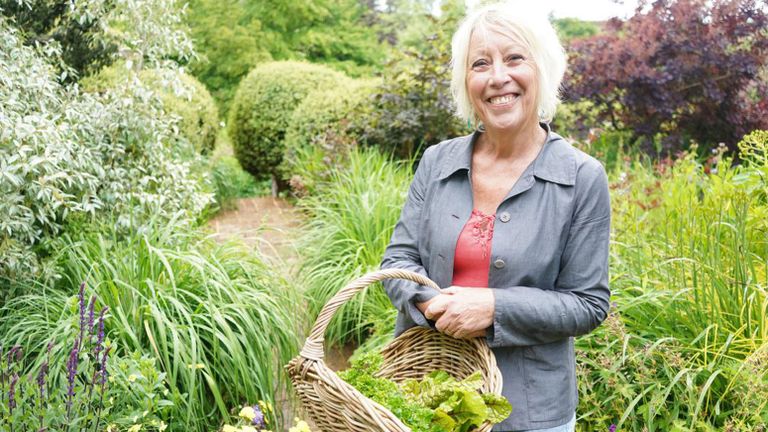 (Image credit: Channel 5 / Knickerbockerglory)
Carol Klein's garden at Glebe Cottage is a thing of beauty that has stolen the limelight in the gardener's new two-part TV series Gardening with Carol Klein on Channel 5.
Carol Klein has been a fixture in the British gardening scene for many years, starring on nearly every Gardeners' World show since 2005. Lately, the expert gardener has been sharing practical tips on how to get the most out of a garden in her new Channel 5 show from the comfort of the stunning garden at Glebe Cottage in Devon
The Glebe Cottage garden is a paradise for any serious gardener and fan of cottage garden ideas. It is the presenter's playground for nurturing plants from seed, to experimenting with new planting techniques and ideas.
The stunning garden has been 33 years in the making and has often been used as a filming location for many of Carol's gardening shows. However, recently the gardener has taken to Instagram to show off some of the amazing parts of the garden you don't get to see on screen.
Carol Klein's Garden at Glebe Cottage
Carol's garden is a sea of different plants and garden styles. You will find a mix of the best cottage garden plants and even a few outdoor tropical garden ideas.
Set up in a series of different level terraces, Glebe Cottage is a haven for planting styles from across the world.
In the latest episode of Gardening with Carol Klein, the presenter revealed that her box hedges were inspired by the Japanese technique of cloud-pruning. These billowing hedges mimic the natural curves of the garden, creating a natural, almost organic look.
Vegetable patch
This isn't your average vegetable patch – while it might be balanced on a garden slope it is a perfect sun trap.
In this post, Carol has made use of her vast collection of terracotta pots to protect her potato crop from frost. However, not one to be content with a typical vegetable patch, on her gardening show last week Carol demonstrated the three sisters planting method.
This companion planting method is perfect for small vegetable garden ideas. It makes use of all the space the patch has to offer with a combination of complementary plants.
Greenhouse
Nearly every plant you see at Glebe Cottage has been grown from seed by Carol. So this greenhouse is essential to the garden's operation.
We must admit we're more than a little envious of those tray upon trays of seedlings. If you're keen to earn your stripes as an expert gardener, learning how to growing flowers from seeds is the perfect challenge.
Bowtop wagon
The garden at Glebe Cottage is full of a few surprises such as this beautiful bow top wagon. Who needs a shed when you have one of these nestled amongst the greenery at the bottom of your garden?
Patio
One of Carol Klein's top gardening tips is to take the time to sit out in the garden and enjoy your hard world. Glebe Cottage is full of terraces and patios for Carol and her family to do just that.
It might be a little too chilly for alfresco dining just yet, but take a look at our cottage garden patio ideas to start planning your perfect relaxation area when spring finally arrives.
As the News Editor on Gardeningetc, Rebecca covers everything from the common mistake your making when pruning your roses, to handy tips about how to keep your houseplants alive. She has been covering all things gardening for two years across Homes & Gardens and Ideal Home. There isn't a single gardening trend that passes without her knowing about it.
She's currently the proud owner of a thriving container garden on her small city balcony and a jungle of houseplants. Small gardens and container plants are her specialties.
Sponsored by