Gardening expert Sarah Raven reveals her top gardening advice for the month ahead
Get your garden in shape this September with gardening expert Sarah Raven's top tips on what to focus on as we head into autumn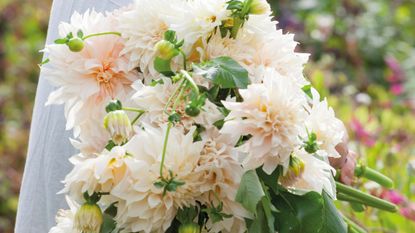 (Image credit: Jonathan Buckley/Sarah Raven)
Autumn might be on its way, but that doesn't mean it's time to take it easy on the gardening front as there's still plenty of jobs to keep us occupied this month. From updating your space with the best autumn outdoor living ideas to harvesting fruit and veg and sowing hardy annuals, there's lots you can add to your to-do list.
Unsure what you should prioritise this month if time is in short supply, or want to know what you should be spending your budget on? Well, who better to ask for some top tips than gardening expert Sarah Raven. With a wealth of gardening knowledge, Sarah's website is a one-stop-shop for flower, fruit and veg seeds, gardening kits, gifts, courses and events. We grilled her to get the lowdown on what your garden needs this September, so keep reading for her top jobs to add to your gardening list and how to prepare your garden for the colder months ahead. You'll find even more gardening jobs for September in our in-depth guide.
How can we make the most of our gardens this month?
Sarah: September is a really busy time in the garden, so take advantage of the mild weather we're currently enjoying and get on top of your gardening jobs before the colder winter months. Continue sowing hardy annuals and get them out into the garden as soon as you can, along with as many biennials (wallflowers and foxgloves) that you can squeeze in. And continue cutting your dahlias and use them to make big splashes of colour around the house.
What's the number one job we should do this month?
Sarah: This is the perfect time to harvest tomatoes, cucumbers, chillies and aubergines. The colour of your tomatoes isn't always a good indicator of when to pick them – all over red can often mean they are a little overdue, so consider picking them when they are a mature green instead and allow them to ripen off the vine.
What's the best investment for your garden this month?
Sarah: I'd recommend buying or even making a cold frame. It's then possible to overwinter lots of tender perennial plants and cuttings from pelargoniums, verbenas, and osteospermums, for example.
You can find all the advice you'll need on how to take cuttings from plants in our step-by-step guide.
Due to the risk of frosts, do you need a greenhouse?
Sarah: You can manage without a greenhouse in winter – if you have the space, a polytunnel is a fraction of the price of a greenhouse and will do the job just as well. There are various sizes to choose from, from small ones that ideal for compact gardens to huge ones if space isn't an issue. You'll be able to buy one to suit the size of your garden.
Is it a good idea to use manure in our gardens?
Sarah: Manure is black gold! We use tons (literally) in the garden. It feeds the soil, and helps retain water, acting like a sponge. That's just what you want – the slow, gentle release of nutrients and moisture. Our Orgro concentrated manure is a natural fertiliser, which is produced and packaged on a farm in Norfolk from manure from their free-range chickens.
Sophie has been an interior stylist and journalist for over 20 years. She recently trained to be a florist and launched The Prettiest Posy where she curates beautiful flowers for weddings and events.