Listen up vegetable growers! Monty Don reveals the jobs you need to do now
Growing food for your table in 2021? Then you'll want to take Monty Don's advice on what to sow in March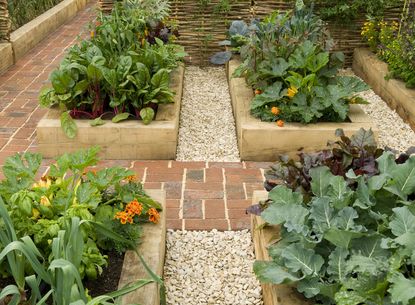 (Image credit: Getty Images)
Here at Gardeningetc we are huge fans of using your garden as a productive as well as pretty space. There's just nothing to top the taste of food fresh from the garden, plus you'll get maximum nutritional benefit from eating just-picked veggies.
Added to that, of course, is the sheer pride you feel when you've nurtured a plant from seed to fork. Yes, like we said, we are grow your own advocates.
So, whether you're planning on growing vegetables in pots or bigger raised beds, we've turned to trusted adviser Monty Don to help you get a good start on your veggie-growing exploits this year. He's revealed what we should be planting in March, and which other vegetable-related tasks ought to be on the agenda this month, so keep reading for his expert tips.
Monty Don's top tips on what to do in the vegetable garden in March
1. You can sow some seeds now, Monty explained on his website. Be aware, though, that these need to be under cover, he says. It's also important to know that you should not sow any seeds outside if the ground is cold to the touch, he advises.
These are some of the seeds you can put in now, according to Monty:
Cabbage
Lettuce
Celery
Beetroot
Tomatoes
If it's warm and dry enough, you can also sow the following, Monty says:
Broad beans
Beetroot
Rocket
Spinach
Mizuna
Parsnips
Radish
Winter lettuce
2. You can also plant out onion and shallot sets this month, Monty says. If you're a newbie to growing these essential veggies, you need to know that sets are immature onions and shallots and planting these is an easier way to get your own crop than growing them from seed.
You can put onion sets in 5 to 10cm apart in rows that are 25 to 30cm apart; for shallot sets it's 15 to 20cm apart with the rows 30 to 45cm apart.
Don't let the birds pull up your plants. Monty advises that they should be covered with fleece for the first couple of weeks, or until they're established. Our guide on how to grow onions has more top tips.
3. You can also chit potatoes and plant them out at the end of March providing the ground is dry enough, Monty says. If you haven't grown potatoes before, chitting simply means encouraging the seed potatoes to sprout before you put them in. You can find out what to do in our how to grow potatoes feature.
4. Other jobs to put on the list for this month, according to Monty? Dig in overwintering green manure is one of them. These are plants that are grown to cover bare soil in the veg garden, where they will help prevent weeds coming up and soil eroding. Why dig them in now? When they're still green they'll put nutrients into the soil and improve its structure.
If you don't have any green manure but like the idea of growing it next year, plan to sow it in later summer or early autumn. You might go for plants such as winter tares (vetch) or grazing rye.
5. You should also dig any unprepared ground in the veg garden and make raised beds by the end of this month, Monty recommends.
Remember, not only can raised garden beds make your veg gardening easier because you won't have to bend so far, but they can also improve drainage, and boost the health of plant roots.
They're good for fruit like raspberries and strawberries (you can find out how to grow strawberries in our guide) as well as for veggies, so you can serve desserts of food straight from your garden, as well as filling your lunch and dinner plates with colourful healthy veggies and salad you grew.
If you don't have much space in your garden, our small vegetable garden ideas are just what you need to get your inspired.
Sarah is a freelance journalist and editor writing for websites, national newspapers, and magazines. She's spent most of her journalistic career specialising in homes and gardens and loves investigating the benefits, costs and practicalities of home improvement. It's no big surprise that she likes to put what she writes about into practice, and is a serial house revamper.