Shed prices are set to soar, industry leaders warn
The pandemic, in combination with a global shortage of timber, will raise shed prices by up to 50%, says leading manufacturer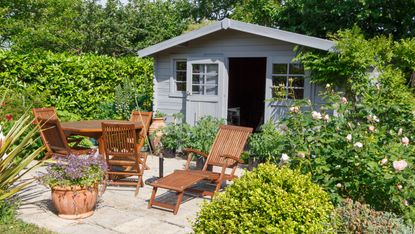 (Image credit: oceane2508/Getty Images)
Shed prices are set for a huge increase of up to 50 per cent due to a global shortage of timber, according to a leading shed expert and manufacturer. The best sheds are in huge demand following the start of pandemic, but all is not well in the timber industry upon which their manufacture depends. Warm winters, an increase in home renovations, and the impact of Covid-19 have seen prices of timber soar in recent months.
Now experts at leading shed manufacturer Kybotech are warning prices will rocket as summer approaches and customers could be left waiting months for their outdoor building.
There are several factors at play in the upcoming shed price increases – not ideal if you have grand plans for some new shed ideas this year. The pandemic has played a huge part, with many sawmills shut or operating at reduced capacity during the pandemic. For example, Sweden, which is one of the most important sources of timber for the UK, has seen much of its timber production slowed or halted because of the high number of Covid cases in the Scandinavian country.
Climate change is having an impact, too. Warm winters in Scandinavian countries have led to less trees being felled with muddy terrain being impossible for heavy vehicles to navigate. Then there are import woes that have resulted from Brexit and that will continue impacting the timber trade until the issues of transportation and documentation are ironed out.
Global pressures are also contributing to the lack of available timber, most prominent among them the increased demand for timber from China. The Timber Trade Federation say that the shortage will carry on 'certainly into Q2 2021, if not longer.'
Kybotech say that smaller suppliers will be unfairly hit as they do not have the buying power of the bigger garden building manufacturers. Kybotech founder, Charles Walton said: 'We're now in the second year of timber shortages, and the impact is beginning to be felt. We've had two consecutive warm winters which has meant considerably less timber being felled and resulting in a massive global shortage. Other factors have come into play too which have compounded the problem. Combined they have the potential to push up timber prices by as much as 50 per cent and at some point a proportion of that cost will be passed on to the consumer.'
What should I do if I want to buy a shed?
In a word, it's probably wise to buy now. Walton said: 'Our advice is to buy while prices are still low. Everything from our playhouses to our log cabins will inevitably be hit with a new price tag over the next few months.' If you need a shed this year, don't wait until the summer. And if you were planning to build a shed on a DIY basis, reclaimed timber is your best bet.
Wondering if you need shed planning permission before you build your new design? You can find out in our guide.
Anna writes about interior design and gardening. Her work has appeared in Homes & Gardens, Livingetc, and many other publications. She is an experienced outdoor and indoor gardener and has a passion for growing roses and Japanese maples in her outside space.