5 style lessons to take from these stunning garden offices on Instagram
A stylist shares her top tips for making your garden office look gorgeous – while remaining a functional work-from-home space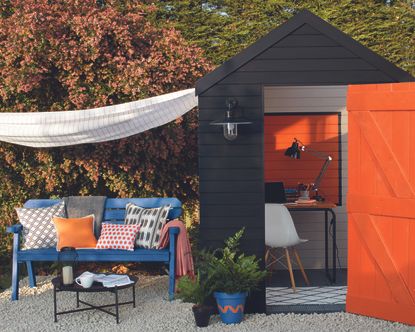 (Image credit: Cuprinol)
Working from home is a joy for some, but a real challenge for others, especially when it comes to separating work from home life. Which is why garden offices are experiencing a huge resurgence right now.
New research from Norton Finance has revealed that garden offices have seen a 174-per-cent increase in search over a 12 month period. Summerhouses have seen a huge surge in interest too, with a 172-per-cent increase in search. If you are yet to create your own, take a look at our garden office ideas.
If you have already converted a summerhouse or garden rooms into a garden office, interior stylist and founder of Floella Interiors Sarah Davies has shared some of her favourite garden offices on Instagram and the styling tips we can take away from them.
1. Create a cosy feel with a rug
With the indoor-outdoor trend really big right now, creating a living-room level of comfort in your garden office will instantly give it a more styled look. 'To get a cosy feel I would add in flooring – carpet or some fun patterned lino or a rug,' explains Sarah.
Instagrammer Theresa Gromski has gone for a white and pink theme in her garden office. A pink rug and plenty of scatter cushions gives the space the look of an outdoor lounge. For more inspiration on how to style an outdoor space take a look at our garden design ideas.
2. Include plenty of seating
While strictly speaking, an office only needs one chair, a garden office is likely to have more than one use. Sarah advises to 'always put in a couple of chairs; these are easy to move outdoors when needed. Add lots of cushions and throws to layer up the space and be able to use into the evening.'
Adding in extra chairs will take it from a work environment to space for the whole family to relax in at the weekend.
3. Go for warm wood tones for a more inviting look
Garden and interior designer Sarah Mitchenall also uses her space in a multi-functional way. 'I use it primarily as an office but it doubles as storage, a home gym and a place for the kids to have sleepovers,' she explains.
'The interior is made from USB board which is incredibly cheap but beautifully warm in colour and literally glows.'
When you're choosing the basic colour scheme for your garden office, warm-toned wood will instantly create a welcoming look. A lighter palette will also allow you to make the space more versatile.
4. Don't be afraid to put in plenty of furniture
'Styling these spaces is about making sure you can get everything you need in the space and then it's about creating a space that makes you want to be there and makes you happy,' points out Sarah.
If you like keeping organised, then use all available space for a substantial desk and storage – this will save you making constant trips to the house. However, as Lisa Weaver's garden office proves, you don't need to sacrifice style for storage. She has upcycled a shelving unit and created her own desk for a completely bespoke, colourful look.
5. Style your garden office with longer-term plans in mind
Parties and gatherings might not be on the cards at the moment, but this will change. If you love hosting, then think about your garden office as a potential entertainment space or guest bedroom.
This garden office by design_at_nineteen is decorated with furniture that can easily be rearranged. It is as suitable for accommodating a guest as it is for working.
'I think moving into 2021 these garden trends for outdoor spaces are only going to increase,' explains Sarah. 'I think people will look at building slightly more substantial areas.'
'The way we work has changed from lockdown, and I think we will not revert back. We will adapt and change the way we work so garden office spaces will be big news.'
There's more inspiration for your transforming your garden buildings in our she shed ideas feature.
Read more:
Anna writes about interior design and gardening. Her work has appeared in Homes & Gardens, Livingetc, and many other publications. She is an experienced outdoor and indoor gardener and has a passion for growing roses and Japanese maples in her outside space.