5 easy ways to look after birds in your garden this spring – it's simple with these top tips
Birds are about to start breeding, so give them a little nourishment and extra care to help them look after themselves and their young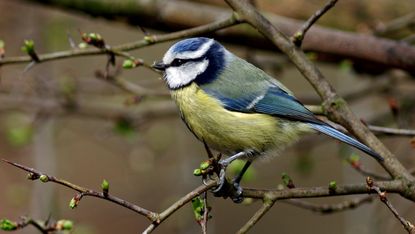 (Image credit: The Wildlife Trusts)
Have you noticed that recently the birds are getting a little louder in the mornings? That's the dawn chorus – you'll be hearing it now as our feathered friends, usually the males, are calling for a mate. Once they've found one, the singing lessons and peace and quiet should resume in the morning.
While there's a chance you might be frustrated by your early wake-up calls at the moment, it's important to understand that this is a key time of year for birds. It pays to be aware of this important time, so that we can give them as much help as possible as they start their breeding journey.
Keep reading for some tops tips for helping feathered friends, plus make sure you check out our wildlife garden ideas for more ways to encourage creatures great and small to enjoy your outdoor space.
1. Create a nurturing space
'A garden can be a mini oasis for birds, especially in our towns and cities,' says Craig Bennett, Chief Executive of The Wildlife Trusts. 'We all benefit from giving some of our garden over to nature to help birds and other wildlife – it's lovely to spot a goldfinch or woodpecker on a feeder or see a dragonfly hunt across the pond. It is so important that we make our world greener, and that can start in your own backyard.'
A simple way to start is by investing in one or two of the best bird feeders – look out for designs that are squirrel proof so our feathered friends can eat in peace!
2. Provide a nesting box
Ideal for small birds, a stylish yet functional nesting box can be easily attached to a safe place away for predators for your garden birds.
Go for one that has a detachable front so you can give it a clean out once they've flown the nest and you can get it ready for the next year's visitors. Cleaning them out is essential as nests will harbour fleas and other parasites which can infect the young birds that will hatch there the following year.
3. Put out the right sort of food
As with most things, variety is key, and so is location. It's recommended that black sunflower seeds and sunflower hearts are popular, as are water-soaked sultanas, windfall apples and live foods like mealworms.
The latter are loved by robins, blackbirds and wrens but can be pricey, though they are ideal food for our nesting and feeding birds.
If you can afford it, always go for high quality mixes like the Really Wild Birdfood Co. You don't need to feed fat balls in the summer months – high protein is a much better option as from late July to August birds moult and they need extra nourishment during this time too.
A key point to remember is if you have dogs, be careful of feeding birds any grapes, raisins and sultanas. If they fall to the ground and your dog eats them, you may need a speedy trip to the vets as they are poisonous to dogs.
4. Find out what food certain birds like
Different varieties of birds have different needs foodwise. Blackbirds, for example, love to hunt for earthworms on your lawn, but during the warmer months when it's a bit parched they can struggle to feed themselves and their chicks.
Goldfinches are good at extracting smaller seeds due to their longer beaks, and woodpeckers forage for ants and other invertebrates – they also like raiding other species nests for chicks and eggs. And not forgetting our summer visitors like swifts, although they tend to feed on the wing.
So it's best to provide a good cross-section of food types where possible, at different heights. Even though it's spring, food shortages can happen at any time of the year for birds – all it needs is a change in the weather for their food supplies to alter.
Want to make your own bird feed? Our guide on how to make bird feeders has some great recipes you can try.
5. Don't forget to clean up!
Remember to keep your bird feeders and water baths squeaky clean as many garden birds die yearly from diseases caught from dirty ones. It's also a good idea to rotate the feeding areas so debris prone to bacteria doesn't build up on the ground - this could bring you a whole host of other other guests – namely mice and rats!
Want to see more feathered friends in you garden? Our guide on how to attract birds into your garden has plenty of advice on how to do it.
Sophie has been an interior stylist and journalist for over 20 years. She recently trained to be a florist and launched The Prettiest Posy where she curates beautiful flowers for weddings and events.