Cobra LRH5024V 24v cordless longreach hedge trimmer review
We put the Cobra LRH5024V 24v cordless longreach hedge trimmer through its paces to see how it performs on a range of hedges and branches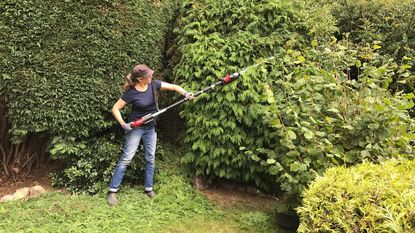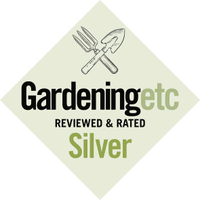 (Image credit: Carly Swanston)
A great-value piece of kit for a garden with tall hedges to tackle. Once assembled, this cordless design is fairly simple to use and glides through hedges with ease.
Reasons to buy
+

Well built

+

Adjustable height with pivoting head

+

Cordless

+

Value for money
Reasons to avoid
-

Difficult to press buttons on handle to power up

-

Power switches itself off if not used for 30 seconds

-

May need to buy second battery for continuous big tasks
Why you can trust Gardeningetc Our expert reviewers spend hours testing and comparing products and services so you can choose the best for you. Find out more about how we test.
The Cobra LRH5024V 24v cordless longreach hedge trimmer is a great value piece of kit that shouldn't be overlooked. From initially opening the box it looked like a quality tool and I was excited to test it out. I moved house at the start of the year and it's been exciting to see what emerges in my new garden, but it has presented me with some challenges too.
The garden is medium in size but with large, mature conifer hedges (10-14ft high), which I've found a bit daunting to tackle and I knew that my existing electric short hedge trimmer wouldn't be up to the job. I've also got some mixed hedging, a large holly and a mountain ash tree that looks as though it is a stray seedling that has shot up out of control, so plenty of options to give this longreach hedge trimmer a good road test.
As part of this review, I also tested out the Cobra P20X cordless pole pruner attachment (it's basically like a small chainsaw) that can be used with this particular hedge trimmer, giving you a great multi-tool option to tackle any trimming task.
Keep reading to find out how I got on, then if you want to check out our other top picks for the best hedge trimmer, head over to our buying guide.
First impressions
Key product specs
Battery: 1x 24v 2.0Ah Li-ion
Initial Charge: minimum 5 hours
Normal Charge: 2-3 hours
Cutting Length: 50cm / 19" Double Sided Blade
Tooth Spacing: 15mm
Weight: 3.7kg
Domestic Warranty: 2 Years
Modes: Eco & Turbo cutting modes
Other features: articulates through 90˚
In the box is the trimmer blade, extending pole/handle and the battery with charger. The blade and pole felt sturdy and well-built, without being too heavy and the 24v battery pack with charger is surprisingly small and compact.
The extra P20X cordless pole pruner attachment is essentially a small chainsaw, which is sold separately and packaged in another box.
Getting started
I found the instructions for assembly very clear (although the sketches are very faint), but I have used similar tools before so no doubt that helped – it took less than five minutes to put together, clicking the poles together and screwing them securely. There is also a safety strap to attach, which doesn't seem to get a mention in the instruction booklet. The instructions state to charge the battery for a minimum of five hours initially, however, I found the battery fully charged in the box, so I was ready to get to work.
When it came to assembling the P20X cordless pole pruner attachment, I was a little more cautious as I've never assembled a chainsaw before, so I made sure I checked the instructions thoroughly. It requires you to add chain oil into a small reservoir which I hadn't accounted for – fortunately I had my dad on hand who happened to have some! It might be helpful for Cobra to supply a small amount of oil with the saw, just to start you off, or to have it suggested you add some to your order when buying it, specifying that the saw can't be used without it. For the first use, it advises for this attachment that the user be accompanied by a person with experience in using a pole pruning saw.
Using the Cobra LRH5024V 24v cordless longreach hedge trimmer
Settings
My initial task was to tackle the largest conifer which stands at 14ft. To get started I found the safety buttons quite awkward. First you press the power button until the green light shows on the Eco setting (low speed) but there is the choice to change this to the Turbo (high speed). Once you've done this you need to press the safety lock and the trigger at the same time, which is a bit fiddly but similar to other tools I have used.
How it cuts
Once I got going, the 24v battery glided through this year's growth easily on the Eco setting and was easy to use at arm stretch whether the pole is extended or not. What I found more difficult is using it for cutting at a lower height, where you might prefer to use a normal length hedge trimmer. It is easy to change the angle of the hedge trimmer just by pressing and releasing a button and the blade will lock into its new position.
Battery life
I think the battery lasted approximately an hour of fairly continuous hedge trimming, which sounds good, but in my garden I still had so much to do and the instructions stated 2-3 hours for a normal charge. I was pleasantly surprised, however, that after only 1.5 hours it was ready for action again. The rest of the hedges were a breeze to get through, even trimming up the holly in no time at all.
Unfortunately, my conifers are just too high to do the top horizontal trim even with the extending pole. My lawn is on a slope so using a ladder would be quite precarious; for the moment I have to leave the tops while I come up with another plan of how to tackle them – I don't think I'm brave enough to balance up there myself!
Ease of use
Each time I stopped to change position or have a breather (it was hard work!), I would depress the trigger and nothing would happen – I was required to press and hold the power button again, which doesn't sound much, but once you are braced in position for cutting became quite annoying. Once I got going though, cutting was easy.
Additional features
You can combine the Cobra LRH5024V 24v cordless longreach hedge trimmer with the Cobra P20X cordless pole pruner attachment to turn it into a pruning saw, which I loved! I'm planning on replacing my back fencing behind the conifers, but some branches were resting on the top of it and needed removing before work can be done. I'm fortunate that I'm able to access this from the other side of my fence and was able to use the saw to take off these branches.
I did struggle a little to remove the hedge trimmer blade to replace it with the pruning saw attachment. Once again, I was glad to have someone on hand to help with a bit of brute force, but I'm sure it will get easier over time. As already mentioned, you must check that there is enough oil to lubricate the saw before use.
I found it much easier using the pruning saw than the hedge trimmer and was more confident in how I maneuvered it. It's only small at 8" but made easy work of the 2-3" diameter branches I was removing, which would have taken a lot longer using a hand pruning saw – it also meant that I could reach branches above me.
After this I tackled the Mountain Ash. This was in an overgrown corner and tangled with a rose, a honeysuckle and a Choisya, so not quite so straightforward. Once everything else was cut back and I could see the Mountain Ash, I took off some top branches before cutting through the 6" diameter trunk, which was easy work. Cutting at ground level with the pole felt safer with the pruning saw than being up close while doing the work. As using the pruning saw isn't continuous cutting like the hedge trimmer, the battery obviously lasts longer for the jobs you are doing.
How does it rate?
I was only able to find one other review before testing the Cobra LRH5024V Longreach Hedge Trimmer with P20X Pole Pruner Attachment, so not much to sway my opinion, but that customer was equally impressed with how it performed.
It's suited to small- to medium-sized domestic gardens with high hedges and small trees. I was impressed with it, but I think for the amount of hedging that I have I'd need to buy an extra battery to be able to continue working without having to stop to charge up all the time. The 24v battery meant that this hedge trimmer was noticeably more powerful and cut much better than my previous 18v hedge trimmer that I've been using before testing this Cobra one.
I was really impressed with the quality of build for the price it is marketed at, and would highly recommend it to anyone who is shopping for a cordless longreach hedge trimmer, especially if you don't want the issue of potentially tripping over cables that you'd have with a corded model.
This model is currently out of stock, so check these ones out below while we wait for it to come back in
More reviews: