5 garden lighting ideas for pathways to welcome you home in style this autumn
Create a welcoming glow for you and your family with our favourite ways to light your garden paths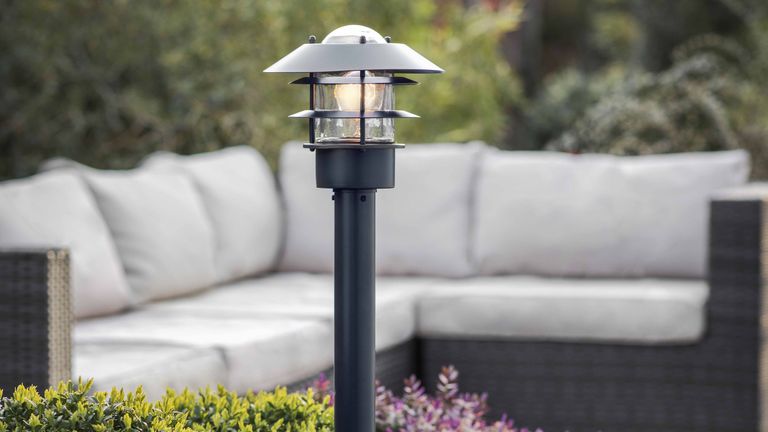 (Image credit: Garden Trading)
This time of year can feel a little gloomy with the darker mornings and evenings, so why not invest in a few garden lighting ideas for your pathways to create a welcoming glow as you come home each night? You can use them everywhere that needs brightening up – outside your porch, alongside the main path to your front door or even to light the way in your back garden.
Pathway lighting is a great way to highlight certain features in your garden too, creating pools of light that highlight architectural details such as stone walls or perhaps some of your favourite plants or trees. A well-lit path will be the focal point of your garden, so try some of these ideas in your own space and bring your outside space to life at night.
1. Light up walls and steps
Look out for surface-mounted designs if you want to light up garden walls and steps. Ideal for illuminating a driveway and the path to your door, they'll produce a low-level diffused light that will shine directly on the ground so you can see where you're walking when it's pitch black. You may need to invest in a low voltage halogen transformer that can connect to a standard mains voltage circuit – this means you can turn them on and off from inside your house.
2. Go for a budget-friendly portable option
Want to add some light to your outdoor space but don't want to fork out for expensive fittings? Opting for traditional candles in lanterns is a fun and low-cost way to brighten your exterior, especially for events like Halloween and Bonfire Night. The lovely thing about candle lanterns is that you can move them about and place them wherever you like depending on your lighting needs on any given night. Nothing quite beats that flickering light that they produce, but if you have safety concerns then you could opt for ultra realistic LED candles instead. Go for a group of lanterns in various heights to create the most welcoming glow for visiting family and friends. There's more cost-friendly garden updates in our budget garden ideas feature.
3. Keep it traditional...
If you have a period property chances are you'll want to match your outdoor lights to the style of your home. A traditional crook and lantern design will fit the bill perfectly – place them in a row down your path or have a pair outside your front door. They typically come with a staked end so you can simply gently push them into your lawn or flowerbed. Use a real candle inside them or pop in a battery-operated tealight instead – either one will cast pretty shadows across your garden.
4. ...or go super sleek
It can be hard to find a modern alternative to a lantern, but this stunning floor lamp shows that it is possible. A design that offers a raised light source is really useful and we think this lantern would look really effective as a pair either side of a front door. Alternatively, they'd work just as well on a patio to light an alfresco dining area. Designs that only require a pillar candle are a bonus as you won't need to connect them to a power supply.
5. Go for an industrial look
If you love an industrial look then opt for a design that's made from galvanised steel. Not only will it be rust free but will be a smart addition to your garden path or driveway. Post lamps are easy to use as they simply need pushing into the ground where you want them. Some designs are solar powered, which is the cheapest and most eco friendly option, or you can choose ones that can be connected to your power supply.
Read more:
Sophie has been an interior stylist and journalist for over 20 years and has worked for many of the main interior magazines during that time, both in-house and as a freelancer. On the side, as well as being the News Editor for indie magazine, 91, she trained to be a florist last year and recently launched The Prettiest Posy where she curates beautiful flowers for weddings and events.