Best climbing roses: find the perfect rose for your plot, plus top tips on where to plant them
The best climbing roses can make a beautiful spectacle in your garden, whether grown around a doorway, over an obelisk or as a focal point in a border. Take your pick from our favourites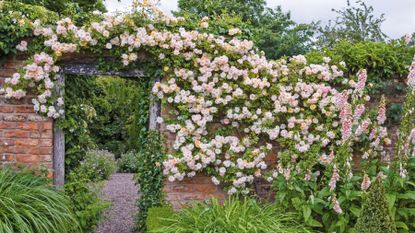 (Image credit: David Austin Roses)
Loved for their elegance and fragrance, the best climbing roses are an English garden favourite, and climbing varieties are a brilliant way of bringing height, structure and colour to outdoor spaces. With such a huge variety available, they can be grown in a number of ways and in different positions to create a feature at every turn.
There are so many different ideas for how to grow roses in your garden. Growing climbing roses up the front of the house or around the doorway can add that beautiful finishing touch to your property, giving it a picturesque facade and excellent kerb appeal. Climbing roses can be easily trained to grow around arches to bring formality to a path or a traditional rose garden, and grown over a pergola they can make for magical walkways and shaded seating areas.
Consider growing them up obelisks or pillars to give a wonderful vertical dimension to a border, too. Ramblers are also ideal for softening and obscuring large and unsightly structures fences and walls, and they can even be grown through trees - the options really are endless!
With such a vast array it can be daunting knowing which to choose for your garden, so we've highlighted the best types for certain positions, along with some top tips on getting the best from your plants.
Best climbing roses
1. Best climbing roses for fragrance
One of the prized characteristics of roses is their great variety of glorious scents which are broadly split into five groups the classic Old Rose, Tea, Myrrh, Musk and Fruit and can range from light to strong.
Gertrude Jekyll – an English Climbing rose bred by David Austin and named after the famous garden designer – is renowned for its strong Old Rose aroma which many regard as the quintessential rose fragrance. As well as bringing a delicious scent to your cottage garden ideas, the blooms are a large vibrant pink so it's a great one for colour and flowers, too. It is a short climber, so try planting and training around a doorway, over an obelisk in a border or small 6ft wall.
Other varieties to try include Constance Spry, which has a strong myrrh fragrance with mid-pink blooms. A tall climber, grow this rose up the front of a house or large arch/wall. Aloha is an award winning repeat flowering climber seldom not in flower throughout summer with full-petalled dark pink blooms and a strong scent.
Finally, Blairii Number Two is a strong old rose scent with large-flattish blooms that goes from light pink to darker pink in the centre.
2. Best climbing roses for doorways
A climbing rose can transform the entrance to your home and be a brilliant addition to your front garden ideas. Mortimer Sackler has a long flowering season and will frame your doorway in light pink medium blooms all summer and even up until December if trained and pruned well.
It will welcome visitors with a light, old rose scent and has very few thorns making it a good choice for places you walk past and safe for wandering pets and young children. You won't have to worry about clothes snagging either!
Two others to try include The Generous Gardener, which is a popular very fragrant pink rose. It can be grown in a wide range of positions, is a brilliant choice if you're looking for bee friendly plants and it can tolerate poor soil.
Claire Austin is a very healthy rose which can be grown in all orientations. It has a strong myrrh scent and incurved creamy white blooms.
3. Best climbing roses for walls, fences and front of house
The Pilgrim is a brilliantly versatile rose with soft yellow blooms that have a medium tea/myrrh fragrance. It can be grown in most orientations, in full sun or partial shade, plus it can be grown up walls and fences to add a colourful touch to your garden wall ideas and garden fence ideas. It also works well grown over arches and in borders on obelisks. It will grow tall fairly fast and is clothed with blooms from the ground upwards making it perfect for softening harsh structures.
Three others to try include Prince's Trust, which has repeat flowering red rose from summer to autumn and can be grown on walls, fences, pillars or pergolas. James Galway is a vigorous grower good for reaching heights in a short time and it has pale pink blooms. Iceberg is a famous rose that is abundant but not fragrant. It is reasonably vigorous and easily trained but needs full sunlight.
4. Best climbing roses for arches
Being a rambler, Phyllis Bide is brilliant for growing around an arch or over a wall or fence, however it is different from most ramblers as it is repeat flowering so will give you blooms from July – September. It bares sprays of small pale apricot-pink blooms with double petals which gives a dainty appearance and it boasts a lovely sweet fragrance. Phyllis Bide is suitable for most soils and is happy in exposed areas or partial shade and can tolerate a north-facing position.
Other ramblers and climbers to try include St Swithin, a vigorous climber with large soft pink and fragrant blooms. Arthur Bell has large, golden-yellow blooms and will repeat flower until autumn. It's also the holder of the of the RHS Award of Garden Merit. Super Fairy is a rambler with pretty pink roses. It doesn't grow quite as vigorously as other varieties, making it a good option for training over arches.
5. Best climbing roses for flowering
Another fairly rare rose in that it is a repeat-flowering rambler, Malvern Hills is a prolific flowerer bearing copious clusters of small yellow blooms from July – September.
Choose a good flowerer if you are looking to cut flowers to display indoors, or grow it up a wall to create a magnificent backdrop to your patio gardening ideas. This particular climber is also prized for its good health.
It's also worth considering Aloha – an award winning, repeat flowering climber seldom not in flower throughout summer. The blooms are full-petalled dark pink and strongly scented.
6. Best climbing roses for large structures
A vigorous rambling rose can make a spectacular sight across a large wall or grown through a large tree (25ft+). They can also be used to screen unsightly buildings or grown over structures, as shown in our pergola ideas.
Rambling Rector, sometimes called Shakespeare's Mist, is a vigorous grower with clusters of small creamy blooms which give off a strong musk fragrance. Described by Sarah Raven as one of the most romantic roses, it is also great for attracting bees and develops glorious small hips in autumn.
Other options to try include Kew Rambler, which has mid pink small blooms and a strong musk scent. Francis E. Lester, a rambler with clusters of slightly cupped white flowers with pink-tinged edges. It's perfumed and has hips in autumn. Paul's Himalayan Musk is a fast-growing rambler with clusters of pale pink rosettes, ideal for scrambling up a tree or pergola. Bobbie James is ideal for covering pergolas and garden structures with fragrant white blooms, is tolerant of poor soil and can cope on a shady wall.
7. The best climbing roses for north-facing walls and spots in partial shade
Boasting generosity of flower, fragrance and good health, the New Dawn rose is a great all-rounder and receives enduring popularity. Happy in full sun or partial shade, it is a good choice for north-facing walls and, being not too vigorous, is a perfect choice for small garden ideas too. The pretty soft pink blooms give off a sweet fruity scent and it has plentiful glossy green foliage.
Also worth considering are Shropshire Lass, which is blush white in colour and has a myrrh fragrance. Claire Austin, which is known for its good health and is good choice for north-facing walls and poor soil. Blush Noisette is a small climber with a long flowering period. The small pink semi-double blooms are strongly scented and the plant has few thorns.
There's more suggestions for shade loving plants in our dedicated guide.
What's the difference between climbing roses and rambling roses?
It's worth noting that there are two main types of climbing rose – climbers and ramblers. Both have different characteristics and should be grown for different purposes.
Climbing roses are best-suited to growing up a wall, training around a doorway, obelisk or an arch, while rambling roses are more free so can be grown though trees, along walls, pergolas and screens.
Climbers are perpetual or repeat flowering and have large blooms held singularly or in groups, whereas generally ramblers have smaller flowers held in bunches and only have a single flush of flowers and may not flower in the first year.
Climbers and ramblers have different pruning and training requirements so be sure to do your research. You can find out how to prune roses in our guide.
Want more tips on growing roses? Head over to our essential rose care tips for advice from rose growing experts on getting the best from your blooms.
Pippa is Style Editor for Period Living magazine and spends many a weekend exploring the Cotswolds for decorating shoot ideas. When she's not writing about homes and gardens for Period Living and Homes & Gardens, you'll probably find her pottering on her Gloucestershire allotment, called Pippa's Plot, where she has cultivated a stunning cutting garden so she can grow flowers for styling her own home and interiors shoots.