How much does decking cost? What to budget for when elevating your seating area
How much does decking cost? If you're ready to take your garden up a notch, you'll definitely want to know. Read on to find out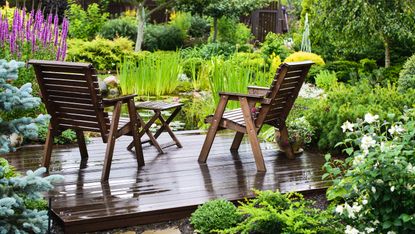 (Image credit: Nadanka/Getty Images)
You want to give your garden's seating area a boost, but how much does decking cost? It's always good to have an idea of these things beforehand, to help you budget and to avoid any expensive surprises.
Decking is a great addition to plots of all sizes – just take a look at our decking ideas to see all the beautiful effects that can be achieved. It's a modern and effective way to zone your plot and there are tons of styles available to match your theme.

From raised decks to composite styles – with so many options available, you might be wondering where to start when it comes to prices. And is there a way to make your money go further? Will it increase the value of your plot when it comes to sell it? Read on to find out!
How much should I budget for decking?
You'll be pleased to know that decking needn't cost a fortune. In fact, timber decks can be quite inexpensive when it comes to choosing the right landscaping ideas for your space. Composite decks are more pricey, but they offer very little maintenance and will last for much longer as won't get damaged by the weather.
Of course, the cost of decking will depend on multiple factors – the size you're after, whether you want it raised, if steps are included... Perhaps one of our decking railing ideas will be on your agenda too.
However, it's always good to have a ballpark figure to work from, so for the decking itself (we'll get into the extras in a mo,) these suggestions from the team at Priceyourjob.co.uk should help:
For a professional to install a small, 20 square metre deck made of basic timber, it should cost around £900.
For the same sized deck made of a more premium-quality timber, you should budget for more – it can cost up to the £2,400 mark. Bear in mind that irregular or curved shapes will add to the price – as these will take longer to cut.
A budget-friendly timber deck that is double the size of the ones above (so, 40 square metres) will be more around the £1,400 mark to install.
For a more premium-material deck of 40 square metres, budget for £4,400 and above.
Composite decking tends to be more expensive than most timber boards, at around the £50-£100 mark per square metre, before any installation costs.
For US prices, the average deck will cost around $12,000, according to Fixr.com. However, a budget 100-square-foot can be around the $2,000 mark. An extra large deck, say 500-square-foot, made of exotic hardwood with extras such as a roof and built-in benches can cost more like $22,000. So, how much you need to budget really does depend on multiple factors.
Does decking add value?
If you've seen our advice on how much does a garden designer cost, then you might remember us talking about the value that good quality landscaping adds to a garden (the answer is, a lot!).
You see, as demonstrated by a survey ran by the Society of Garden Designers and Zoopla, 50% of people believe a well-designed garden is as important, or even more important than a well-designed bathroom or kitchen. And, nearly half of them have been put off from a property due to a garden in poor condition.
The survey also showed that over a third of respondents valued a relaxing seating area as the top priority in a garden. And the second most important feature? Sun! A shiny new deck in a sunny spot ticks both those boxes – keep it properly maintained and you'll be onto a winner when it's time to move on.
How much does decking cost? A breakdown...
Softwood decking
Materials such as spruce or redwood are softer and not as long-lasting as more premium kinds, but they are definitely a cheaper option. They're easy to get hold of too, DIY stores will sell them for about £5 per board (try Homebase), or around £10-£15 per square metre (that's the equivalent to $13-$20).
Hardwood decking
More premium materials include oak and maple. They look stunning and are extremely long lasting, but do come with a greater price tag, and are more difficult to source. They fall around the £60-£90 mark per square metre ($80-$120)
Composite decking
As we've mentioned above, composite decking is more expensive than softwood and some hardwoods – around the £50-£100 ($65-$135 ) mark per square metre. It's made up of a blend of plastic and natural timber fibre and is extremely hard-wearing and low-maintenance. Many people still opt for wood though, as they prefer its more natural finish.
Balustrades
You can find wooden balustrade kits online for around the £100 mark (try B&Q) or around $177 from Amazon. You can also find wire balustrade kits which can be cheaper. According to team at Priceyourjob.co.uk, glass balustrades can fall between the £19 to £112 mark, per panel.
Lighting
Small LED recessed decking lights can cost around £6 each (try Wickes) or $27 for a pack of 10 (Amazon). Don't forget to take a look at our garden lighting ideas for more inspiration on how to illuminate your plot!
Steps
A three-step set can cost from as little as £9, or $12. If your deck is really high, then costs can grow up to £1,000 for a full wooden staircase, as suggests the team at Priceyourjob.co.uk.
Covers
You might fancy adding one of our covered deck ideas too, so remember to factor in their cost to the final total. Whilst parasols can be relatively cheap (take a look at our best garden parasols to find your favourite), bespoke builds can reach much higher.
Labour costs
Of course, if you're paying a professional to install your decking, you'll also need to factor in labour costs. This can fall around the £25 per hour mark, or a flat rate of around £150 a day. That equates to around $204.
Guy Hardern, founder of bespoke design and building company Rushworth Sculpture, stresses the importance of a good base structure for decking. Preparation is key, and this is often where most of the manual labour takes place. For instance, a decking laid over an existing paving or concrete is much more straight-forward (and less time consuming) than building a decking over a sloped, soggy lawn. The latter will need excavating, with special weed-deterring fabric installed that allows good drainage, to prevent water from pooling.
Either way, a sturdy, solid structure will then need to be built – Guy's team uses paving stones and timber – to ensure the decking has a good surface area whereby weight can be spread. Don't forget you'll need to factor in the costs of the supporting frame's materials, too.
How can I reduce the cost of decking?
Go for the best you can afford
We know that more premium materials are more expensive, but if you can afford to stretch your budget a little further, then it might save you on costs in the future.
'Look at decking as a long-term investment,' says Leigh Barnes of Jacksons Fencing. 'A common issue with poor quality decking is rot from too much moisture, which when installed at heights is extremely dangerous.'
'We've had experience of installers falling through old, rotten decking in the past. With decking being in close contact with the ground, it's always going to be susceptible to rot, unless it's properly treated and backed by a long guarantee to show the manufacturer's confidence in the product.'
So, to save on expensive repairs and replacements (and for extra peace of mind!), ensure you're starting off with as good a quality deck that you can afford.
Avoid wasting materials
If you're sourcing the decking yourself, 'Use a decking calculator to work out exactly how much materials you need, so that you don't waste any,' suggests Leigh Barnes of Jacksons Fencing. They have a nifty one available on their website.
If the result is a slightly eyebrow-raising surprise, you could always opt for a slightly smaller area, to save on costs too. Often a smaller deck can be just as effective in a plot, providing it has enough space for your outdoor furniture.
Do it yourself!
If you're feeling up for a challenge and have some DIY experience, then you could build your decking yourself. Just take a look at our advice on how to build decking to get started.
Leigh Barnes of Jacksons Fencing suggests purchasing a decking kit as they have everything you need to build a smart new seating area quickly.
If you don't want to opt for a kit, then look to buy your decking boards in bulk for a cheaper price – many stores will let you do so, or have ready-made bundles made up.
Keep it maintained
When it comes to timber decks, Homebase recommends an annual treatment of varnish, decking stain, or paint. This will help to protect the wood and make it last longer, reducing the need for repairs or replacements. It's also fairly inexpensive to buy.
Be sure to keep your decking clean, too. Not only will this help to maintain it, it will also help to avoid anyone slipping over. We have easy-to-follow advice in our guide on how to clean decking, to give you a helping hand.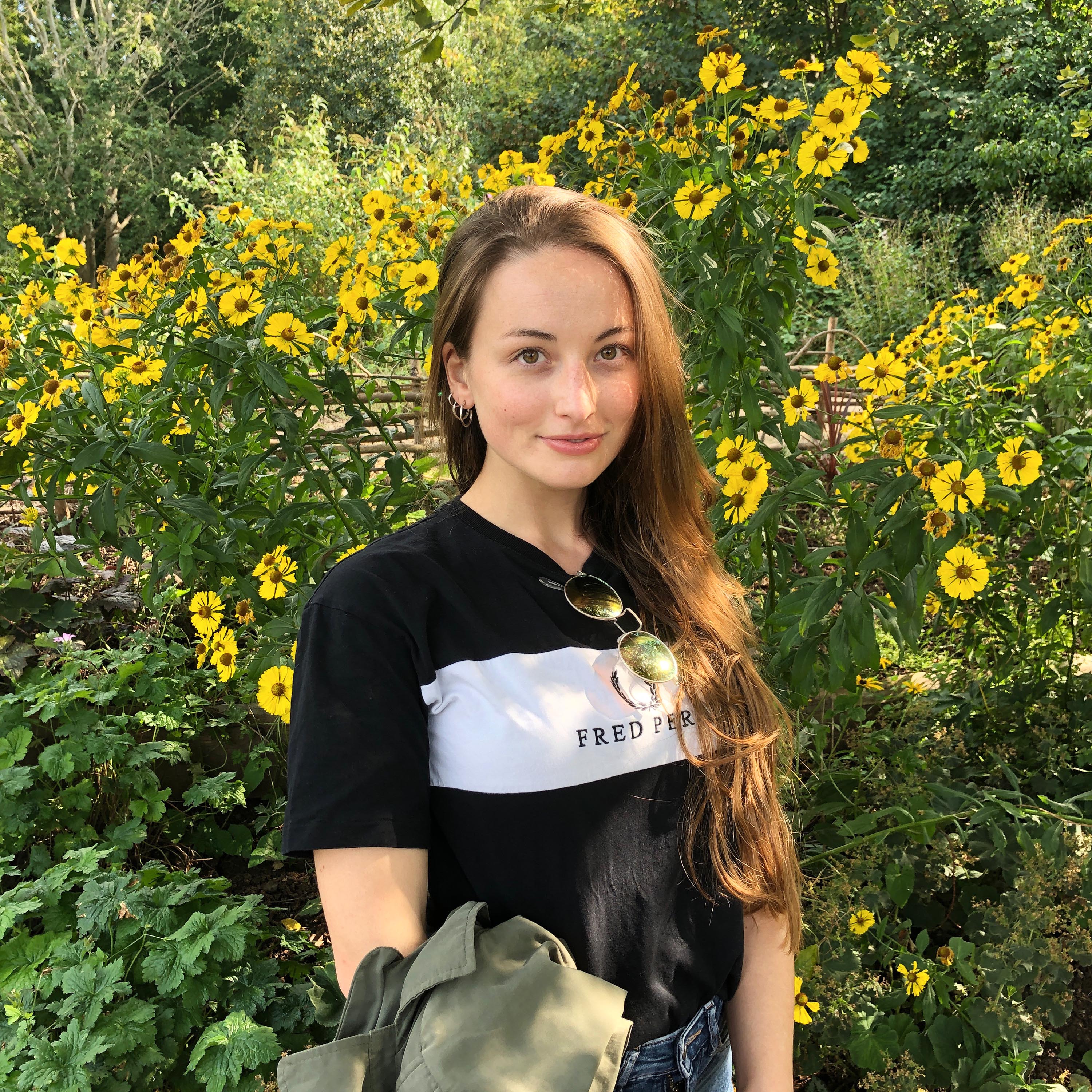 The garden was always a big part of Holly's life growing up, as was the surrounding New Forest where she lived. Her appreciation for the great outdoors has only grown since then. She's been an allotment keeper, a professional gardener, and a botanical illustrator – plants are her passion.