Cottage garden layout ideas: 12 ways to arrange your plot for a romantic and whimsical vibe
These cottage garden layout ideas are just what you need if you're ready to bring a romantic, countryside feel to your plot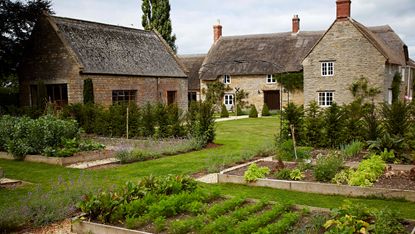 (Image credit: Alun Callender/Future)
These cottage garden layout ideas are perfect if you want to bring a touch of romance to your outdoor space. And why wouldn't you? A bountiful plot, adorned with flowers and foliage, is a look that will never go out of style.
You may have already fallen in love with our cottage garden ideas, but now you're wondering exactly how to arrange your plot to recreate the vibe. After all, the overall result tends to err on the informal side, but that doesn't mean to say that the layout shouldn't be considered. True, huge borders and winding pathways are the epitome of a cottage garden style, but there's a fine line between wonderfully rambling and simply chaotic. And it can be difficult to get that balance just right.
But we're here to help, with some gorgeous images to illustrate. So, from how to refresh your patio or turn your narrow pathway into a quaint haven, to how to style your veg patch, read on to find out how to arrange your cottage garden space.
1. Make an enchanting first impression with lavender
We all know the importance of first impressions. So when it comes to creating a cottage garden look, don't forget the entrance to your home.
Lavender is a lovely addition to a cottage garden and makes a wonderful border for a front pathway, as seen in the example above. The soft mounds of fragranced purple blooms will be a joy to walk alongside every time you return home. Plus, the bees and butterflies will love it just as much as you do. Just be sure to plant them in as full sun as possible, in free-draining, ideally chalky soil, as the RHS suggest.
Frame with a classic red brick wall and adorn with fresh lawns either side for a true countryside feel. If you'd like more inspiration, take a look at our front garden ideas.
2. Embrace the veg patch
Cottage gardens were originally used as functional spaces to grow food crops or medicinal herbs. Every space was crammed to fit in as much produce as possible, and often in a rather disorderly fashion.
Nowadays, we have the luxury of supermarkets and local greengrocers to help us with our five-a-day, so we can spare a bit more of our growing space for the best cottage garden plants. However, growing veggies is a joy for any gardener, so adding a vegetable patch to your cottage garden is definitely one to consider.
If you have the space, then try adding raised beds and growing the likes of runner beans and lettuces. Embrace the methods of companion planting, too. Nasturtiums and marigolds, for instance, will help to protect your home-grown treasures whilst adding a delightful show of flame-like hues to the display. As the team from Gardeners' World advise, borage is also a lovely choice to encourage pollinators, prevent tomato hornworm, and apparently, improve the flavour of strawberries.
3. Line a lawn with lush borders
If you love the cottage garden feel but are cautious of an overly-wild look, then check out the image above.
True, the lush borders are positively heaving with candy-hued Digitalis and masses of foliage – quintessential for any cottage garden (or take your pick from these 5 perfect perennials for a cottage garden planting scheme). But, see how they're neatly juxtaposed with a mowing strip of reclaimed brick edging, and a prim and proper lawn.
A quaint white bench is positioned centrally to admire the view, framed by two well-pruned trees. Meanwhile, clipped evergreens add to the gorgeously balanced look.
4. Add weaving grass pathways
Cottage gardens are known for their giant borders full of plants, but to admire them from all angles, it's a good idea to introduce soft pathways.
Winding routes made from mown lawn evoke a childlike sense of wonder and adventure, and will be soft underfoot come summer. What's more, they will make watering, pruning and deadheading much easier when it's time to do so.
You'll find more garden path ideas in our dedicated feature too.
5. Create a flower-filled patio area
Even if a small courtyard is all you have, you can easily transform your seating area into a whimsical haven of colour and texture. Terracotta pots are your friend here – the more weathered the better for that vintage vibe (as long as they're not cracked). Take a look around your local secondhand shops or online for larger kinds to really make a statement.
Then, fill with your favourite cottage garden perennials, or create miniature meadow scenes with the likes of cosmos, cornflowers, pincushion flowers or ox-eye daisies. Dot around all levels of your patio space for a gorgeous display. We've got plenty more suggestions in our cottage garden patio ideas feature.
6. Opt for overgrown gateways
A cottage garden is a lovely opportunity to create an air of discovery. So, for a real Secret Garden vibe, why not divide your garden into separate 'rooms' to be explored?
Connect the zones by small stone pathways and hidden gates nestled amongst towering hedges, for a quintessentially old English feel. Remember to keep some aspects more orderly than others to maintain a considered look – take the neatly clipped hedge above for example. Take a look at our garden gate ideas to feel inspired.
7. Add masses of flowerbeds
What is the most important feature of a cottage style garden? It is likely that plants are the first thing to spring to mind. From foxgloves, hollyhocks, larkspur, Geranium, and all the other bee friendly plants, it goes without saying that this style of plot is all about beautiful blooms.
So, when it comes to designing your cottage garden layout, be sure to include masses of flowerbeds and borders. This garden designed by Tracy Foster Garden Design demonstrates this perfectly, whilst a seating area positioned on a stone patio allows the view to be admired.
We love the wilder, meadow-style planting towards the back of the plot, too. It creates a tantalising screen for another garden area, ready to be explored.
8. Surround seating with meadow-style planting
What could be more romantic (or relaxing) than perching on a bench utterly surrounded by a sea of flowers?
To recreate this look, allow a space in your plot where flowers totally take over. This could be swathes of lavender, as seen here, or perhaps annuals – for a cheaper yet just as beautiful option.
Right in the heart of this flowery haven, position one of our best garden benches, then sit back and enjoy the delightful vista all around you.
9. Create a sweetly-scented shelter
If you're lucky enough to have a huge, well-established rose bush in your garden, then it is certainly a feature to turn into a focal point.
Adding seating beneath (or as nearby as possible) will provide a softly fragranced spot to shelter from the hot sun in summer. If you love roses as much as we do, take a look at these 5 beautiful roses to introduce colour and scent to your garden.
If your roses aren't quite ready to offer shelter, there are many other trees which provide a stunning floral backdrop – think magnolia, horse chestnut, or trained wisteria, for instance. The petals falling softly in the light breeze will only add to the dreamy effect, as you relax beneath their canopy.
10. Add wide borders near the house
Adding wide borders close to the exterior of your home will offer a whimsical, hideaway charm. Mix and match colours and shapes of foliage for added interest and romantic eclecticism – we love the deep, plummy hue of Heuchera, for example, amongst Echinacea, lavender, and ornamental grasses.
Tuck a vintage urn or perhaps a stone statue amongst the display to keep the borders looking lively when winter sets in.
Not only will a wide border such as this provide a beautiful scene, but it will also offer an extra dose of privacy for your home. And, if that's high up on your agenda, take a look at our garden privacy ideas, too.
11. Use pergolas to create a canopy
If lounging beneath a canopy of blooms sounds like heaven (it certainly does to us), then this idea is for you. Pergolas offer a traditional structure which will support all kinds of climbers – perfect to create a ceiling of sweetly-scented flowers for you to enjoy.
If your plot is big enough, use large pergolas to create a covered walkway, leading to a destination point in your garden. But, even if your plot is smaller, including one of our favourite pergola ideas will make a lovely addition to a seating area, and offer shelter, too.
12. Transform a narrow space with pots
If your garden consists of strangely-shaped zones or perhaps a narrow section which seems impossible to transform, don't despair. Our garden ideas for awkward shaped gardens are bound to help, but if you're specifically after a cottage garden style, then take inspiration from the example above.
Here, a small and what-could-be-dull space situated to the side of the shed has been transformed. Potted plants, pastel-hued furniture, a slightly distressed gate and the bobbing heads of alliums all help to create a pretty scene. Note the use of natural materials too – light coloured gravel and wicker containers – which complement the surrounding stone walls.
How do you plan a cottage garden?
There are a few simple things you can do to start planning your cottage garden. Alexandra from The Middlesized Garden blog shares her expert tips on her video about how to create a cottage garden:
When it comes to planning your cottage garden, there aren't any rules, says Alexandra. But you can, however, make your own, she suggests. For instance, you could opt to only use 'easy' flowers, or ones of a certain colour palette – whatever works best for you. Often, 'I-don't-grow' rules (for instance, 'I don't grow yellow flowers') make it easier to know what you do grow.
Alexandra suggests adding a fruit tree when planning your cottage garden – not only for the blossom and to attract pollinators, but also for a vertical presence – especially important in a small space.
If you are working with a smaller garden, don't feel you have to include a lawn. Flower beds and plants are more important for this style!
When selecting your plants, self-seeders are a good choice. Think poppies, Erigeron, Nigella, and fennel, for example.
Don't forget herbs, says Alexandra. These could range from lavender and sage, to Angelica and chives, or whatever other herbs you love and are local to you.
Treat it as a way of learning about gardening, adds Alexandra. A cottage garden benefits from a more relaxed style, meaning you can enjoy getting creative with experimenting and growing new plants.
The garden was always a big part of Holly's life growing up, as was the surrounding New Forest where she lived. Her appreciation for the great outdoors has only grown since then. She's been an allotment keeper, a professional gardener, and a botanical illustrator – plants are her passion.