Outdoor tree lighting ideas: 11 ways to create a gorgeously glowing scene
Does your plot need an extra dose of ambience? Then these outdoor tree lighting ideas are for you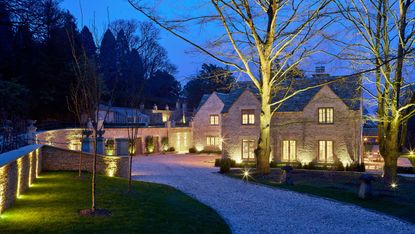 (Image credit: John Cullen Lighting)
Outdoor tree lighting ideas are the perfect solution when it comes to boosting the atmosphere of your garden. Even just a few twinkling bulbs nestled between branches can transform the smallest of gardens into a magical setting.
If you love a touch of drama, or simply want to allow your trees to shine come nightfall, then uplights are the way to go. Want to create a shimmering outdoor oasis perfect for evening entertaining? Then fairy lights are your friend. But that's not where the options stop. From outdoor chandeliers, solar lanterns, and more, there are so many kinds to choose from, to match your personal style. They're the perfect addition to our other garden lighting ideas.
And, if this all sounds a little festive, then think again. Outdoor tree lighting is for all year round. Trust us – just take a look at these ideas and you'll quickly be persuaded.
1. Liven up branches with fairy lights or string lights
'Lighting up a tree is a great idea as it becomes the focal point in the garden when you are both inside and out,' says Thalia Shaw, owner of Sparkle Lighting. 'A lit garden is beautiful to look out onto.'
This example demonstrates how the simple addition of fairy lights or string lights can totally transform a garden tree. The warm glow creates a magical vista from all angles, including from the nearby windows. It's the perfect solution to liven up bare winter branches and would add a lovely dose of ambience come summer too, amongst the fresh green foliage.
2. Cosy up your outdoor living area
John Cullen Lighting's expertise brings a whole extra level of wow to this garden designed by Hay Joung Hwang. Discreetly positioned lights highlight branches and foliage along the borders, and helps to frame the outdoor cinema. The warm glow cosily cocoons the space which is ever-so-inviting – blending the indoors with the outdoors seamlessly.
Head over to our outdoor living space ideas for more advice on how to recreate the look.
3. Illuminate potted trees for a warm welcome
This stunning look will instantly elevate your front porch and is also a lovely addition to our patio lighting ideas. It's so straight-forward to recreate the look, as the LED lights are pre-attached to a discreet cable net.
Simply drape it over your olive tree, box balls or other treasured topiary and you've got yourself a warm welcome, every time you return home. What's more, these ones shown above are battery operated, so no need to worry about getting extra wires installed.
Head over to our front garden ideas for more inspiration.
4. Hang lanterns en masse for an ethereal scene
Thalia Shaw of Sparkle Lighting suggests how an abundance of lights can create an effective look. This is demonstrated perfectly above, with masses of hanging lanterns creating an otherworldly scene. If you're worried about the potential fire hazard, don't use real candles – LED candles work just as well.
It's a wonderful way to give a plain plot a new lease of life – and just the thing you need to make an evening alfresco feel special.
'If you have a plug socket, this will obviously be easier but if you don't, solar powered and battery powered are a great solution,' Thalia adds. Head over to our best solar lights guide if you fancy adding a few to your plot.
5. Make an impact with uplights
For an outdoor tree lighting idea with a sense of grandeur, try adding floodlights or uplights beneath your favourites. This will draw immediate attention to their structure and details and create an architectural impact that is perfect for larger plots. Choose the most prominent trees to make the biggest statement – a driveway like this one above is sure to make a lasting impression.
If you're looking to go big when it comes to garden illumination, then you may want to consider hiring a garden lighting designer. But how much does garden lighting cost? You can find the answers in our guide.
6. Try a whimsical theme with outdoor chandeliers
Are you a fan of boho garden styles? Then why not extend the style to your outdoor tree lighting with kooky fixtures.
This stunning chandelier feels elegant yet fun and we just adore the teacup details. Hanging from a branch, it provides an Alice in Wonderland vibe that will be sure to delight adults and children alike.
A design like this can be filled with LED candles for a shimmering yet low-maintenance glow. It's the perfect addition to an outdoor tea party.
7. Or, opt for a pared-back solar lantern
If a contemporary, minimalist look is more your vibe, opt for a stylish solar lantern. This wireless example is made from powder-coated, recyclable aluminium and is a great addition if you love our modern garden ideas.
This weatherproof lantern has an output of 100 lumens, meaning it provides the same amount of illumination as three candles. It's also versatile as can be used on its base or its side – although we think it looks simply lovely hung from a tree.
8. Create a statement with symmetry
We love the bold statement that this row of large olive trees makes. Neatly lined in their matching terracotta pots, they add a big dose of Mediterranean charm to this formal garden space.
Of course, such an impressive display shouldn't only be admired during daylight. Which is why these recessed spotlights and subtly placed spike lights are oh-so-important. Come dusk, the entire scene is lit up and takes on a whole new look.
Recreate the style with any small potted tree – take a look at our best trees for small gardens for ideas.
9. Create a cosy canopy
If you're lucky enough to have a large tree on your plot, then why not turn it into a destination point? With the addition of a few festoon lights and perhaps a hanging lantern or two, you can create a gorgeous spot for entertaining.
The sound of your twinkly, leafy canopy as it rustles in the breeze will only add to the relaxing vibe. Just add the best garden furniture and a refreshing drink and you're all set for an enjoyable evening.
10. Add a fun touch with string lanterns
Wrap a string of white solar lanterns around a small tree to add a relaxed, roof-top bar vibe to your plot. Not only will these low-maintenance lights offer a warm glow to any scene, but they're eco-friendly and cost effective too. They're a great choice for gardens without outdoor sockets.
Why not pop them around your potted patio trees? Or, as an alternative, you could also hang them from one of our pergola ideas.
11. Go rustic with crackle-effect lights
A crackle glaze globe is a lovely twist on a classic hanging lantern. These examples are powered by warm-white solar LED bulbs and will add a touch of charm to any branch.
Why not invest in a few and position at varying heights, amongst other tree-hanging ornaments? We love these rustic mobiles made from shells for a laid-back, beachy feel. You could also try wind chimes, or, if you love a touch of vintage-chic, strings of brightly-coloured bunting.
How do you uplight a tree?
Ajay Vasdev, Founding Director of Asco Lights, shares his expert advice when it comes to the various ways you can uplight a tree:
For big trees, you can use a handful of high powered LED uplighters offering outputs of 1200 lumens each. Opt for recessed versions which can be put straight into the ground. Hunza's Safe Touch 50 LED variety offers 360 degree rotation adjustment, which can then be locked into place, for added versatility.
Even huge, dense oak trees can look stunning when illuminated. Capture their silhouette using a pole-mounted spotlight offering around 5000 lumens.
If you have trees lining a path (as shown above), then discreet spike spotlights will add an extra dose of reflective light as well as creating a stunning feature. These can be used in combination with border lights, positioned along the path itself.
If your trees are bordering a neat lawn, then an in-ground lighting is the way to go. The Hunza PureLED Lawn Lite can be recessed, so a lawn mower can be driven over the top without any risk of damage.
What is the best way to put lights on a tree?
Asco Lights' Founding Director Ajay Vasdev explains the best way to fix a light to a tree. He says how a tree mount fixture attached to a rubber strap will allow branches to be illuminated, without causing damage to the tree itself.
Ajay also says how a moonlight glare guard can be a useful accessory, as it helps to hide the light source. The light's colour temperature can even be set to 4000k to simulate the moon.
Of course, fairy lights, battery-operated lights, festoon light ideas, and LED lanterns are a different matter – simply wind or hang around your branches to your heart's content.
What colour uplighting should I use?
Asco Lights' Founding Director Ajay Vasdev says that generally, when up-lighting trees, the preference is to use 3000k or 2700k colour temperatures. Both of these are warm tones, with the 3000k being slightly whiter.
Ajay also comments on the beam angle, which depends on the size and shape of the tree. For instance, a wide canopy would need a wider beam, whilst tall, slim birch trees are more likely to need a narrow to medium beam.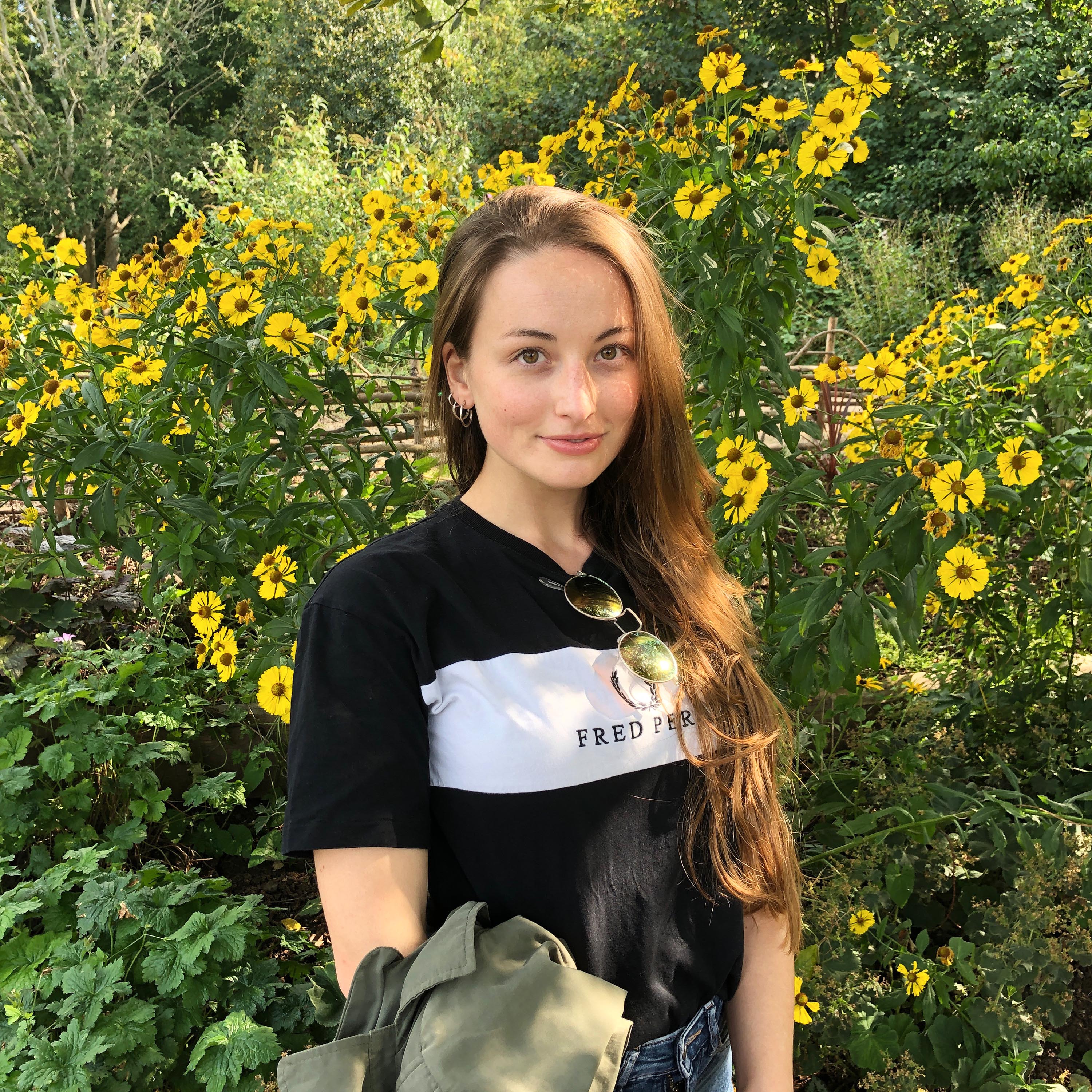 The garden was always a big part of Holly's life growing up, as was the surrounding New Forest where she lived. Her appreciation for the great outdoors has only grown since then. She's been an allotment keeper, a professional gardener, and a botanical illustrator – plants are her passion.