5 beautiful roses to introduce colour and scent to your garden
Plant one of these stunning roses now and you'll get to enjoy a garden filled with beauty and scent next year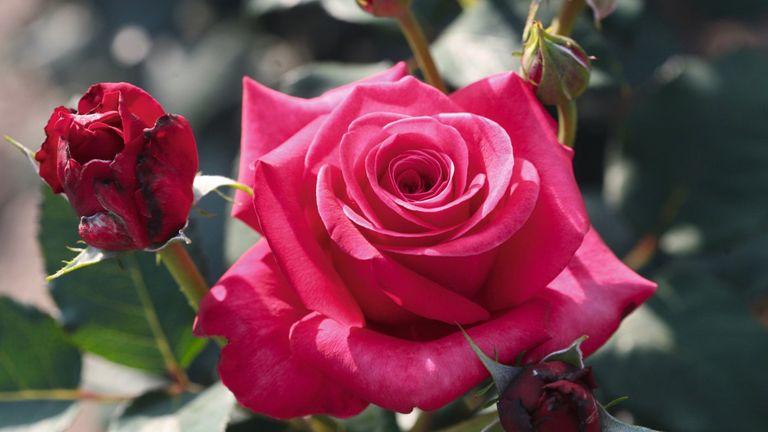 (Image credit: Suttons)
A firm favourite with gardeners the world over, roses are a classic choice for gardens big or small. With their beautiful blooms and amazing scents, it's easy to see why too. You'll always find roses on the list of best cottage garden plants, but they will work just as well in more modern urban spaces as they do in a traditional garden, making them a versatile choice for any planting scheme. 
Today, there are thousands of varieties of roses, so knowing which one to pick can be tricky. To help you narrow down your options, we asked some of our favourite rose suppliers to recommend a variety that looks stunning and has a beautiful scent. Which one will be your top choice for your garden? 
1. ROSE 'BELLE DE JOUR' 
This yellow stunner is called Belle de Jour from Thompson & Morgan and it's been awarded the prestigious honour of Rose of the Year 2021. It's new from the Floribunda variety and has orange-striped buds that open to reveal an abundance of golden petals that will fade to a palest yellow on their outside edges. The scent is intense, with a combination of spring flowers and the sweet notes of vanilla. It will look great in borders, beds and containers and grows up to 150cm tall. 
2. TIMELESS CHARISMA
The Timeless Charisma rose from Suttons won the RHS Award of Garden Merit and is a lovely variety that has double flowers and smells divine. The Timeless collection is specifically bred for good health and fragrance, plus if you love to enjoy cut roses in your own home then this rose is for you as the growth repeats quickly after cutting. This is a great choice for gardens and patio containers. 
3. PAUL'S HIMALAYAN MUSK
Paul's Himalayan Musk rose from Sarah Raven is one the most beautiful rambling roses you can buy. It's fluffy pale pink petals will delight you when it flowers between May and June. As a hardy perennial climber, a good spot is a border either in full sun or with shelter and it can climb exceptionally high! If you wish to cut the roses for your vase they will last between five and 10 days, which gives you a good amount of time to enjoy their scent in your home. 
4. EMILY BRONTE
Rose experts David Austin are masters at breeding the most beautiful roses. Emily Bronte, named for the Bronte Society to celebrate the bicentenary of the famous novelist, is an exquisite rose with neat, flat soft pink blooms with central petals deepening to rich apricot. The scent is reminiscent of Old Rose with hints of lemon and grapefruit. It's from the English shrub rose family and will repeat flower.
5. LET THERE BE LOVE
With a name that matches its appearance perfectly, Let There Be Love from Country Garden Roses is a fragrant rose variety that has soft pink petals, each one is perfectly formed and generous in size. This rose from the Floribunda range had a good long flowering period which lasts from early summer to the first frost. It's full height is 3 feet and it will make a great gift as a potted rose. 
Read more: