5 stunning climbing plants for a cottage garden
Climbing plants and cottage gardens are the perfect combination, so choose from our favourites to add to your own planting scheme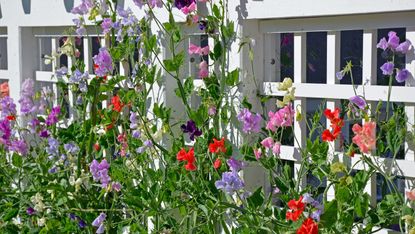 (Image credit: Suttons)
When it comes to our favourite cottage garden ideas, there's nothing more charming than seeing a beautiful climbing plant happily growing up the side of a cottage, or one that's rambling over an arch in the garden. They provide depth to a garden as well as colour and scent, and most varieties are easy to train up a house wall with only a little help.
If you're planning to add some extra plants to your existing cottage garden for 2021, or you simply want to create the look and feel of a cottage garden planting scheme, make sure you add one of our favourites to your list. Our tip? Make sure you double check the likely eventual height and width of any climbing plant before you buy – a fast grower could take over your cottage if you're not careful!
Keep scrolling for five top climbing plants, then head over to our guide to the best cottage garden plants for more inspiration for your planting scheme.
1. CLIMBING ROSES
A climbing rose will bring you years of joy, particularly if you choose one with a beautiful scent so you can enjoy it during the summer months as you walk past. They add height and a feeling of romance to a cottage garden, plus they're easy to train up the wall of the house, or you could use an obelisk, pillar or arch. The Mortimer Sackler rose from David Austin is one of its more unusual climbing roses as it has pretty pointed buds that open up into medium-size, loosely double light pink flowers. You can find out how to plant bare root roses in our guide.
2. Sweet peas
Learn how to grow sweet peas and you'll get a great climber that completely fits the cottage garden brief. This compact variety has beautifully scented flowers in a gorgeous array of colours that you can cut and enjoy in your home – the more you pick them, the more they'll grow. You can train them using a wigwam style support, which could be as a standalone statement or even alongside a house wall. They will weave their tendrils around the frame, and you can use support rings to direct their growth upwards.
3. Clematis
This variety of clematis is a twining climber that has lovely pale pink four-petalled flowers that will bloom from late spring until early summer. Plant it so it grows up a wall near your house so you can enjoy the delicate scent and enjoy the flowers. It will cope with being planted on a north-facing wall and you can train it using canes or a trellis. Other ideas for how to grow clematis include growing it up and over a pergola or arbor – it is known as the 'Queen of Climbers' after all! Head over to our pergola ideas for more inspiration.
4. BLACK-EYED SUSAN
The Black-eyed Susan plant is so called due to the dark burgundy spot that sits in the middle of the unique petal shades of red, apricot and buff. It is a more unusual climber that will flower between July and October and it's happy in partial/full sun. It will happily grow up the side of a patio or house wall, and you can use canes or a trellis to give it a helping hand. A fast grower but one that's not massively hardy, it may need some winter protection when it's starting out.
5. Wisteria
Perhaps one of the most popular of climbers, wisteria in full bloom produces a stunning display of lilac-blue flowers with a beautiful scent. It is certainly worth considering how to grow wisteria in your cottage garden, plus it can be ideal for covering up unsightly walls. Although they are known as being vigorous growers, this variety is slightly less so and will reach a mature height of 9 metres. Wisteria blooms during May and June and is a one of the great bee-friendly plants to consider for your space.
Read more:
Sophie has been an interior stylist and journalist for over 20 years. She recently trained to be a florist and launched The Prettiest Posy where she curates beautiful flowers for weddings and events.