Garden tidying – 7 must-have items to help you clear your garden for spring
Garden looking worse for wear after the winter weather? Here's the kit you need to get it shipshape in time for spring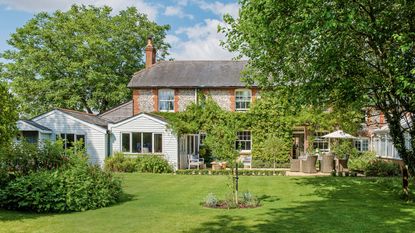 (Image credit: Future/Polly Eltes)
While not all of us are fortunate enough to have a garden as grand as the one above, the one thing all gardens have in common – both large and small – is that they'll have taken a good bashing this winter.
As the days become longer and the weather warms up, there really is no time like the present to get outdoors for some garden tidying. A good clear out will give your plants the chance to thrive and make the space far more inviting once the summer months hit.
But where to start? It may seem like an insurmountable task, with overgrown hedges, a grim-looking patchy lawn and dead leaves everywhere.
However, if armed with the right tools, such as the best lawn mower, you can make quick work of the detritus and bring your garden back to life again.
We've rounded up our pick of the must-have products, tools and gadgets to help you hack back the old to make way for the new. We've also included a hit list of areas to tackle to encourage new growth in your garden too, so come May, you need just lie back in your garden lounger, relax and enjoy the view.
1. A speedy weeder
While there are plenty of long armed manual weeders out there – and yes, they do the job perfectly when it comes to how to weed a garden – surely there's nothing as enjoyable as blasting all the unwelcome growth in your garden with a thermal weeder?
Not only is it less work – you literally just point and shoot – but it's makes for a super satisfying task, too. What's more, this clever gadget doubles as a lighter for your barbecue in the summer time as well, making it a definite must-have for any garden.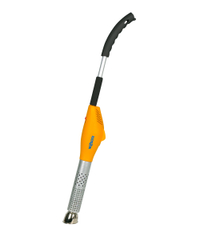 Hozelock Green Power Evolution Thermal Weeder | £59.99 at Amazon
Perfect for use on driveways, paths and patios, this clever gadget delivers a thermal shock of up to 600˚C direct to the weed, destroying the plant cells and weed in mere seconds.
2. A smart set of secateurs
A set of the best secateurs or pruners is a must-have in any gardener's arsenal.
Still a relatively new name in the UK, Corona is a well-known brand across the water in the US and having used their secateurs, we can understand why.
Smartly designed and with lightweight handles, these pruners will cut through stems and branches like butter.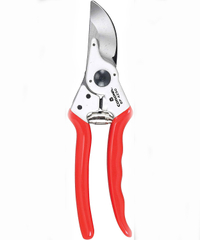 Corona BP4250BB Everyday Branch & Stem Pruners | £27.95 at Amazon
Thanks to their lightweight forged aluminium handles with non-slip grips, this set of secateurs is a joy to use. The high carbon steel blades will stay sharp for years and they have a built-in wire cutter and sap grooves, too.
3. A compact incinerator
If you want to avoid a trip to the local recycling centre, it's worth buying a small incinerator bin to burn any dead garden waste you collect.
Just make sure you only burn natural, dry garden waste so else the fire can cause fumes and upset your neighbours.
There's more tips on how to make use of woody waste in our guide too.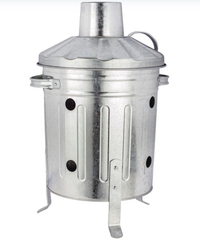 Draper mini garden incinerator | £19.49 £12.99 at Robert Dyas
With a 15 litre capacity, this mini incinerator measures 31cm in height so won't take up too much space in your garden, but is super handy when you have the odd dead branch to get rid of.
4. A set of handy leaf collectors
While a garden rake is handy piece of kit for gathering cut grass and leaves, picking the heaped up piles afterwards tends to be a slow, back-breaking task. So why not make light work of large heaps of garden waste with a neat set of leaf collectors?
Suitable for grass, leaves, pretty much anything that needs a pair of bigger hands, they'll cut the time you'll spend clearing up by... well... heaps.
And once you've cleared up, make sure you learn how to make leaf mould and put those fallen leaves to good use too.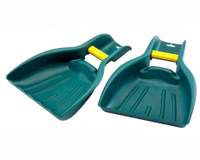 Draper Heavy-Duty Leaf Collectors | £15.60 £11.59 at Amazon
They work exactly as you would expect them to, with their curved-edged scoops gathering up piles of garden waste with ease. The soft hand grips make them super comfortable to use, too.
5. A sturdy garden refuse bag
Whether you're bringing any dead plant growth away to be recycled, turning it into compost or simply burning it, you need to be able to move it. That's where a good quality, heavy-duty bag is an essential.
Look for large designs that have reinforced handles that won't rip or break off when the bag is full of waste.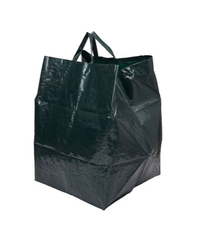 Verve 220L Clearaway bag | £4.97 at B&Q
Tear and weather resistant (so it can be left outdoors year round if required), this great value, sturdy refuse bag will fit plenty of grass cuttings, leaves and branches.
6. A cordless lawnmower
If you've read our tips on how to mow a lawn, you might already be thinking of upgrading your mower to the best cordless lawn mower so you're all set to go in spring.
The combination of convenience and the advances in battery technology have boosted the availability of cordless, rechargeable designs. Provided you always remember to charge it after use – or buy a back-up battery – a cordless model frees you of wrestling the power lead out of your mowing path, which is especially helpful if you have a large lawn.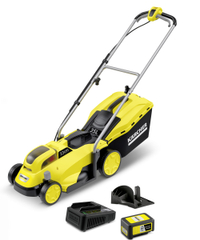 LMO 18-33 Cordless Lawn Mower | £179.99 at Kärcher
Lightweight and easily manoeuvrable, you can choose to collect cuttings in the 35 litre grass catcher box or spread it over your lawn as you move to create natural fertiliser.
It has been awarded a QuietMark, so it doesn't make too much noise when mowing and folds away after use to make it easier to store, too.
7. A grass trimmer
Strimmers or grass trimmers? Whatever you call them, they're a must if you want to neaten up your lawn's borders and edges.
While lawnmowers tackle the bulk of a lawn tidy up, the best strimmer will finish the job, getting to the hard-to-reach places that a mower misses.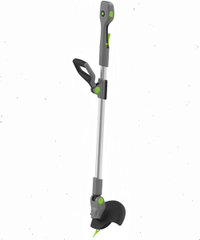 Gtech Cordless Grass Trimmer GT 3.0 | £129.99 at Gtech
Free from the restrictive tethering of a cable, this cordless strimmer is lightweight, easy to use and boasts a 30 minute run time.
Want to know more? Then have a read of our in-depth Gtech cordless grass trimmer GT30 review.
Garden tidying – what to do (and in what order)
Spring cleaning your garden – depending on its size – could take anywhere from between a few hours to an entire weekend.
But if you move around the space methodically, focusing on different areas one after another, you can be much more efficient with your time and efforts and less distracted by the seemingly endless task.
The order in which you tackle each job makes a difference to the overall result so aim to stick to one task and complete it, before moving onto the next. So, in order of priority, here are our four top tips for garden tidying jobs to tackle...
Safety first
Never carry power tools up a ladder - get someone to hand them to you (or hoist them up) once you've climbed up to your required height.
Wear gloves and protective eyewear wherever appropriate and never put tools in your pocket.
Keep pets indoors when using power tools for their safety (and yours).
Always clean gardening kit and store away in a shed or garage after every use.
Remove dead growth Do a circuit of your garden with a large garden refuse bag in tow and clear away any dead branches, plants or leaves from the space, not forgetting the areas around existing plants.
Get rid of any weeds Wait till the soil is damp to remove any weeds from your lawn or borders (they're easier to remove when damp). Next, tackle any weeds growing in between the cracks or slabs in your patio, paths or driveway. make sure you bin any weeds, don't compost them.
Prune back your perennials Trim back any dead growth from woody perennials to encourage new growth.
Tackle your lawn Give your lawn a quick trim back with with a mower and tidy the edges with a grass trimmer. Add grass seed to any patchy areas. Head over to our spring lawn care tips for more expert advice.
Ginevra is the Deputy Editor of Ideal Home magazine but also writes for Gardeningetc whenever possible, as she loves everything about the outdoors. Over the years, she's worked for the majority of Britain's monthly interiors magazines and their websites, including Homes & Gardens, Livingetc and Country Homes & Interiors. She's written about every area of the home, indoors and out, from shopping and decorating, appliances and home tech, wallpaper and fabric, kitchens and bathrooms, even extensions and conversions.