Black Friday garden toy sale: the top garden toys every kid (including mine) would love for Christmas
Struggling for Christmas present ideas for the kids? According to our experts (a 9 and 6 year old), you should snap up these outdoor buys in the Black Friday toy sales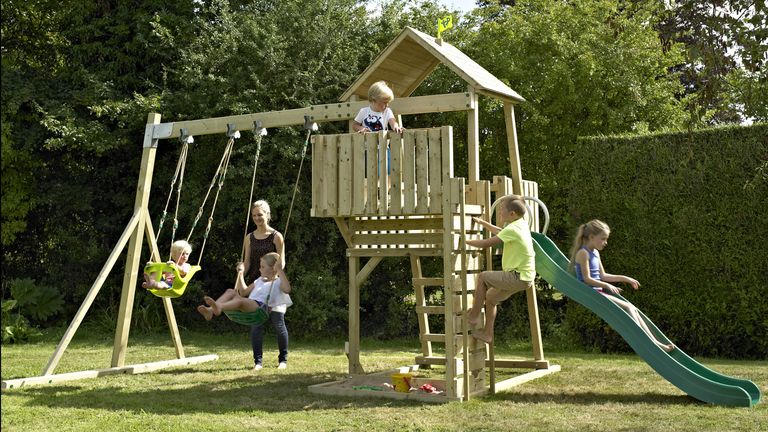 (Image credit: Cuckooland)
By Beth Murton
If you're thinking of searching the garden toy sales this weekend to get your Christmas shopping for the kids sorted, you're in for a treat. With some top Black Friday 2020 deals on everything from trampolines to football goals, you'll be spoiled for choice.
With all the time our kids have been spending outdoors in the garden this year, giving them something new and exciting to play with outside over the coming months and beyond is a great idea. And if you can find that at a discounted price, then even better. Anything that can help ease the dread of that credit card bill arriving in January can only be a good thing.
Rather than us simply guessing what kids really want for Christmas, we decided to go straight to the experts (that's my energetic nine-year-old daughter and six-year-old son, plus a few of their friends) and ask them for their garden toys wishlist. We've then found the top deals at the best prices so you can start crossing those Christmas gifts off your list.
Keep scrolling for some inspiration on what to buy in the Black Friday toy sales, plus if you already know you want a cheap trampoline deal you'll find one in our dedicated feature. Happy shopping!
Garden toy sales: quicklinks
Want to browse for yourself? Check the quicklinks to the sale sites below, or scroll on to see our top picks.
Top garden toys for Christmas
Kickster Academy Ultra Portable Football Goal | £52.99 now £32.99 at Amazon (save £13)
My six year old has been missing his football training in recent weeks, so this portable football goal is top of his Christmas list. The product info states that it only takes 90 seconds to assemble (another win for the parents right there) and measuring 6ft x 4ft, it's big enough to feel like a proper football goal but it won't take up too much of your garden. View Deal
deAO Quality Youth Recurve Bow Arrow and Target | £39.99 now £27.19 at Amazon (save £12.80)
My daughter has tried archery a few times, so she says she'd love her own set in the garden. This garden set includes a bow, three suction cup arrows and a target board. It's lots of fun and a great way to get them improving their hand-eye co-ordination. I can already imagine how many times we'll be heading next door to retrieve misfired arrows though! View Deal
Football Flick Urban Skills Training Rebounder and Net | £104.99 now £94.02 at Amazon (save £10.97)
Continuing with the football theme, this is also on the Christmas gift list for my son and several of his football team friends. It's a great way for them to improve their football skills in the garden – they can pass the ball against the curved front ramp or the flat rear one and the ball comes back at them at different heights and speeds for them to test their ball control and technique. Having one of these hopefully means less damage to your flowerbeds from stray balls too, although we can't guarantee that. View Deal
Akrobat Fenix Trampoline 10ft | £659, now £479 at TP Toys (save £170)
It's perhaps no surprise that a trampoline would be on their Christmas wishlist is it? A 10ft model is a good choice as it won't completely dominate your garden but there's still plenty of room for two or three kids (depending on their age and weight) to be on here at the same time. This model comes with an enclosure and ladder for safe use and entry and the frame carries a lifetime guarantee. Got a smaller garden? It comes in an 8ft version too.View Deal
NerfLaser OPS Pro PK4 | £44.99 now £14.99 at Very (save £30)
Finding the right toy that both of my kids will enjoy playing with together can often be a struggle, but there'd be no such problem with this Nerf gun deal. There's two matching blasters in the set and they have lights, sounds and are capable of firing huge distances. I can already imagine the hours of fun they'll have in the garden with these. View Deal
Pro All Surface SwingBall | £40.99 now £34.99 at Amazon (save £6)
No garden toys roundup would be complete without this game. As our original set has taken a bashing over the summer (over competitive parents might be to blame for that one), the kids have asked to upgrade to this Pro All Surface version. As the name suggests, it can be used on any surface and more spirals on the Swingball head means that games can last longer. Plus, it all packs away back into the base for easy storage, or if you want to take it with you on holiday. Our verdict? A must-have buy for every garden. View Deal
TP Castlewood Kennilworth Wooden Swing Set & Slide | £599.95 now £479.95 at TP Toys (save £120)
A request from many of the younger kids on our panel, a climbing frame like this will give them years of fun. This great-value buy from a trusted brand includes a tower (perfect for creating that all important garden den), a slide, covered sandpit area, two swings and a fireman's pole.
View Deal
Hy-Pro4ft 12-in-1 Multi Games Table | £149.99 now £103.99 at Very (save £46)
A table tennis table and basketball set were some of the requests I got when asking for garden toys ideas, but if you're anything like me then fitting all of these toys in your outside space soon becomes an issue. So this 12-in-1 design is a winner for my two kids. Although designed primarily as an indoor toy, it's also great for the garden, although we'd recommend putting it under something like a pergola to protect it . The top of the table can be quickly changed over depending on what game the kids want to play. Games include Air power hockey, stick hockey, table football, basketball, table tennis, bean bag toss, archery, chess, checkers, backgammon, darts and dice. Genius! View Deal
URBN-TOYS Outdoor Basketball Hoop & Net Set | £59.99 now £45.99 at Amazon (save £14)
Seeing as a basketball net was a popular choice with all of our expert panel, this is a good option for your garden patio. It's height adjustable (ranging from 165cm to 205cm) so can grow with your kids as they get bigger. It has a water/sand base to keep it secure and prevent it from tipping over, plus it's on wheels to make it easy to move it to where you want it. View Deal
Chad Valley Wooden Mud Kitchen | £100 now £80 at Argos (save £20)
Although not strictly on my children's wishlist as it's designed for younger children, I've included this buy in our selection as I know how much my two enjoyed playing with something similar when they were toddlers. A winner at the 2019 Outdoor Toy Awards, this set comes with a hob, two sinks, an oven and play utensils. A great way to encourage them to use their imagination by making up all sorts of concoctions using garden materials, and yes, that includes soil and mud. You have been warned! View Deal
Read more: