Love Monty Don's scenic shed hideaways? Here's 5 more garden building ideas to try
Take a leaf from Monty Don's book and create a picturesque scene with an outbuilding – be it for storing tools or taking a break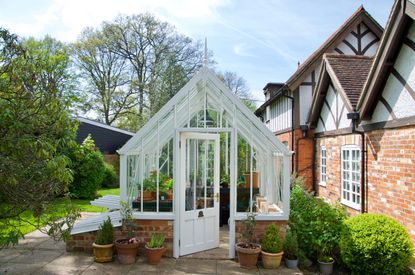 (Image credit: Alitex)
Monty Don has been at it again. We've been following the Gardener's World star and his joy-filled Instagram page since recent – ahem – worldly events gave us a vested interest in our own gardens, and we've gleaned plenty of inspiration along the way. This week, that inspiration comes in the form of Monty's various outbuildings. From a quaint greenhouse to a metal-clad shed, we're loving the peaceful hideaways scattered around his estate.
A photo posted by @themontydon on Jul 29, 2020 at 12:26pm PDT
To that end, we've rounded up our favourite garden buildings from around the internet to inspire you if you're making over your own. From a shed made over with a lick of paint to a greenhouse built entirely from reclaimed materials, we hope you find some inspiration from the ideas we've gathered.
1. A pop-up dining space in a reclaimed greenhouse
We've been following Kay Prestney's DIY greenhouse journey from start to finish, and the stylist's dedication to sustainability is impressive. She adopted a second-hand greenhouse from a friend and transformed it into a Crittall-style space with paint, using repurposed slabs as a base and reclaimed decking for the edging. She's styled it here for a pop-up supper, but whether it's used as an outdoor living space or filled with sweet-smelling tomato plants, it's a gorgeous addition to a garden.
2. A quaint shed refreshed with a cheery green shade
If your shed is solid but it needs an update, don't just buy a new one – it's amazing what you can do with a can of paint and a brush to clean out the cobwebs. We're inspired by this shot from M&L Paints – an old shed has been touched up with a bright green shade and given a lift with a pretty patterned blind peeking through the window.
3. A corrugated tin design for industrial chic
A photo posted by @themontydon on Aug 2, 2020 at 2:48am PDT
We never thought an old tin shed would have us so entranced, but we've fallen for this little building at the bottom of Monty's veg garden. It might be the charming ramshackle appearance or the contrast with the rows of beautiful-looking crops – whatever it is, we're heading to our local reclamation yard for some cladding right now.
4. A brick garden room with a beautiful glass box
We've fallen head over heels for this shot from Nest, which features their Skagerak Overlap table set against a brick outbuilding with a beautiful glass box addition. Now, this might not be the easiest or least costly way to create a garden room, but if you're renovating a run-down building or want inspiration for a new project, we think a glass conservatory-style extension like this really makes a statement.
5. A quirky greenhouse surrounded by stunning scenery
Getting updates on this beautiful old greenhouse as the changing seasons transform the countryside around it is one of the reasons we love @yomargey's Instagram feed. Built against an old wall, the angular slant of the roof makes for a stunning feature. It's been painstakingly renovated over the past year, timber by timber, as Harriet sought to repair years of damage from wind and rain, but it's retained its charm – and our hearts – in the process.
Read more:
After a stint writing for true life titles, Ellen made her venture into the world of interiors magazines in 2017 on Real Homes magazine where she is now deputy editor. She's a fan of clever tips and tricks for renters, and has a special interest in sustainability in the home. While she's waiting for a garden to call her own, Ellen keeps herself busy with her collection of houseplants – 28 at the time of writing, but ever-growing. She also enjoys helping out at her grandad's allotment and has made friends with the local cat along the way.