Our top 5 easy-to-grow herbs have more benefits than you might think...
Herbs are great for boosting flavour in recipes, but have you ever considered their medicinal benefits too? We reveal why these popular herbs are a great addition to your garden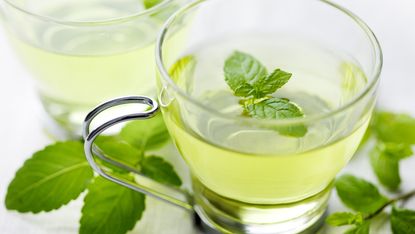 (Image credit: Suttons)
Whether it's adding fresh basil leaves to the top of a pizza or rosemary to a roast lamb dish, you can't beat picking fresh herbs from the garden to use in your cooking, creating flavoursome dishes with ingredients from just outside your door. But have you ever thought about some of the other benefits of growing your own herbs?
Some of our favourite easy-to-grow herbs are packed with amazing properties that can boost your wellbeing. From easing headaches and stomach upsets to helping to boost your immune system, having fresh, readily available herbs in your garden comes with a whole host of added benefits.
What's more, herbs are really easy to grow so learning how to create a herb garden is much simpler than you might think. You could simply scatter some seeds in a raised bed or buy some of the value supermarket pots and plant them straight into your chosen borders. Or, if space is tight and you only have a small garden, they will work just as well in pots on your windowsill too.
Fresh herbs really are an asset to your garden, so keep scrolling for our top five to find out just how fabulous they are, then head over to our garden design ideas for more inspiration for your outdoor space.
1. Basil
Perhaps one of the most popular herbs, basil has a strong flavour that lends itself to cooking. The highly fragrant leaves are used for seasoning a variety of foods and it's become even more popular as it's one of the main ingredients of pesto. Easy to grow and found throughout the world, the name is derived from the old Greek word 'basilikohn' which means 'royal'.
It also has a raft of health benefits as it's anti-inflammatory, antibacterial and aids cardiovascular health. Basil also contains water soluble flavonoids which help to protect white blood cells and is an excellent source of antioxidants.
2. Rosemary
With its distinctive scent, rosemary is used for adding flavour to stews, soup, fish and meat dishes. It's perhaps one of the most versatile of herbs, which makes it indispensable in the kitchen. By growing your own rosemary in the garden you'll always have a fresh supply, which is far better than using dried rosemary in cooking as the flavour is superior.
It's also a herb that has been used for centuries for medicinal purposes – to alleviate muscle pain and stress, aid indigestion, improve memory and boost the immune and circulatory systems. You can also infuse it to relieve headaches, plus it's high in iron, calcium and vitamin B6. A fabulous all-rounder!
3. Mint
Mint has been used for centuries to cure all manner of ailments, with the most common being to aid digestion and soothe upset stomachs. The leaves can be infused and are also known to help with headaches and dizziness, plus you can inhale the steam of boiled leaves to help relieve asthma and colds too. And have you ever wondered why chewing gum is predominantly mint flavoured? That's because for centuries it has been chewed by people to help with toothache as it has antiseptic properties!
In terms of cooking, mint's clean and refreshing taste can help all manner of dishes, especially those that are sweet and spicy. You can use the leaves in summer salads too and it tastes fabulous in pea soup.
4. Parsley
It may be seen as the slightly boring herb compared to others, but parsley offers that final flourish on top of freshly made soup, pasta or mixed into salads and dressings. It's mildly bitter taste helps it to add balance to savory dishes and there are two types – curly leaf and flat leaf.
Healthwise, it's super rich in vitamin A, K and C and is a good source of minerals iron, magnesium, potassium and calcium. It's also said to help with blood sugar levels and heart health – it contains plant compounds which are said to help reduce heart disease risk factors. So cut a sprig or two for your meals tomorrow and know that you are giving your health an extra boost.
5. Thyme
Another culinary marvel, aromatic thyme is fabulous with meat dishes and roasted vegetables. It also looks pretty in the garden thanks to its pink flowers, which will attract pollinators (always a big tick for us). Thyme works really well with eggs, tomatoes and cheese so you can add it to an omelette. Stews and stuffing are enhanced by it too and it's particularly suited to roast chicken.
This is another herb that's packed full of vitamin C, and a great source of copper, iron and manganese. Throughout the centuries, the flowers, leaves and essential oil of thyme has been used to treat respiratory issues.
Read more:
Sophie has been an interior stylist and journalist for over 20 years. She recently trained to be a florist and launched The Prettiest Posy where she curates beautiful flowers for weddings and events.