The Bonfire Night mistake that could cost you up to £500 to repair
Planning to celebrate Bonfire Night in the garden? Make sure you don't end up with a costly repair bill with our top tips for a safe (and fun) garden celebration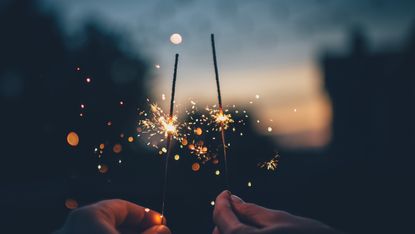 (Image credit: Ian Schneider/Unsplash)
Who doesn't love the sight of fireworks exploding in the night sky for Bonfire Night, basking in the warmth of a huge bonfire or watching the kids waving sparklers around? With lockdown restrictions meaning no opportunity to go out and enjoy big celebrations this year, more of us will be enjoying this annual event in our own gardens. But with that comes its own risks.
It goes without saying that you need to take great care when setting off fireworks or lighting bonfires in the garden (sticking to using one of the best fire pits can be a safer bet), but have you ever considered how much a silly mistake could end up costing you in expensive repair bills?
Research by estate agent comparison site Get Agent has revealed the potential cost to homeowners when holding their own Bonfire Night garden party, with scorched lawns, damaged fences and broken windows just some of the potential repair jobs you could end up facing once the sparklers have gone out.
Costly Bonfire Night mistakes to avoid
Lighting a bonfire on your lawn or repeatedly setting off fireworks from the same spot on the grass can cause damage, particularly as you'll need to dig down into the turf to stablise the fireworks. According to Get Agent, repairing just small areas of lawn can cost around £7 per square metre for new turf, and if you need to replace the entire lawn due to extensive bonfire and firework damage you'll be looking at around £495 for a medium-sized garden.
Wayward Catherine wheels and fireworks can damage fence panels (around £75 each to replace), break windows (£200 to repair one) and damage garden furniture (£250 upwards).
How to have a safe Bonfire Night in the garden
With a few simple precautions, however, you can enjoy your Bonfire Night safely and not have to worry about the potential of an expensive repair bill at the end of the night. Here are our top 10 tips:
1. 'The best place to start is to clear your garden of any debris or leaves that could catch fire,' says Colby Short, founder and CEO of Get Agent. 'Always place your bonfire and fireworks away from the garden shed and any fences or trees to prevent a larger fire than anticipated.'
2. 'Using old paving stones to place underneath your fireworks is a great way to prevent damage to your lawn, and always face fireworks away from the house,' adds Colby.
3: Never use flammable liquids such as lighter fluid or petrol to light a bonfire.
4: It's always advisable to have a bucket of water nearby in case you need to quickly extinguish a fire or firework. Alternatively, make sure your garden hose is connected and close at hand to use if necessary.
5: Keep children and pets away from the bonfire.
6: Keep fireworks in a closed box and take them out one at a time rather than emptying them all out on the floor in one go.
7: Always light fireworks at a safe distance from everyone else.
8: Light the firework at arm's length and never return to a lit firework, even if it looks like it hasn't been lit properly as it may still explode.
9: Close all windows and doors in case of any wayward fireworks or flying sparks.
10. At the end of the night, make sure that any fires have been fully extinguished before you leave them unattended. It's a good idea to spray the embers with water for added peace of mind.
Protecting wildlife on Bonfire Night
If you've been carefully building your own bonfire in the garden ready for tonight or this weekend, it's essential you check if any wildlife has decided to make it their home before you light it. Animals such as hedgehogs can easily crawl into the base of the bonfire and will obviously suffer horrible injuries or even die from the fire. The British Hedgehog Preservation Society (BHPS) advises building your bonfire on the day itself to save hedgehogs and other animals from suffering.
If you've already built your bonfire, consider dismantling it on the day and moving it to another part of the garden just before you light it. If this isn't possible, the advice is to gently lift the base of the bonfire using broom handles and shine torches into the centre to look for signs of wildlife.
Fay Vass, Chief Executive of BHPS, also advises what to do if you do find a hedgehog in your bonfire. 'Take as much of the nest as you can and place the hedgehog in a high-sided cardboard or plastic box with plenty of newspaper/old towelling. Ensure there are air holes in the lid and that the lid is secured firmly to the box, as hedgehogs are great climbers. Wear garden gloves so as not to get human smells on them and to keep them calm as hedgehogs are easily stressed – also, it protects your hands from their spikes. Once the bonfire is totally dampened down, release the hedgehog under a hedge, bush or behind a stack of logs.' Head over to our wildlife garden ideas for more ways to make your garden nature friendly.
As well as protecting garden wildlife, keep pets inside the house to ensure they don't get scared by the sounds of fireworks. The RSPCA even advises putting on some music or the TV to help mask the noise of exploding fireworks.
Read more:
For the past 18 years, Beth has worked for and contributed to a number of leading magazines in the UK, including Real Homes, Ideal Home, Period Living, Grand Designs and Good Homes amongst others. Now the editor of Gardeningetc.com, Beth's attention is firmly outdoors. Her own garden is a really important part of her family's home, and she loves spending time tending to the veg patch or entertaining friends and family at a summer BBQ or alfresco pizza night.