Vegetable kebabs: try this delicious recipe for a Greek-inspired BBQ
Try this take on classic vegetable kebabs for a quick, easy and tasty BBQ dish everyone will love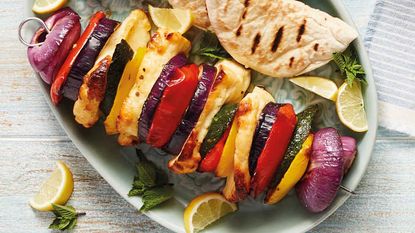 (Image credit: Aldi)
You can't beat classic barbecued vegetable kebabs can you? Easy to make, packed with flavour and suitable for both vegetarians and meat-eaters alike, they're a great way to expand your standard barbecue repertoire.
The best thing, however, is how easy they are to make – simply choose your favourite veg to include (maybe you've even grown your own), chop them into chunky pieces, thread them onto wooden or metal skewers and you're good to go.
If you want to add a little more flavour and interest to your vegetable kebab, then you'll love this Greek-inspired take on the classic recipe, which will bring some much-needed holiday vibes to your weekend barbecue. Alternating pieces of vegetables with slices of delicious halloumi cheese takes these kebabs to the next level.
Keep reading for the full recipe, then head to our best BBQs buying guide if you're looking for a new buy for your garden. You'll find more great meal ideas in our best BBQ recipes too.
Special thanks to Aldi (opens in new tab) for sharing this recipe with us
Greek Halloumi Kebab Tower recipe
Ingredients
2 x 225g packs of halloumi
1 large red onion
1 courgette
1 red pepper
1 yellow pepper
1 aubergine
2 tbsp honey, for glazing
4 pitta breads
Ingredients for the marinade
75ml olive oil
1 tbsp dried oregano
2 garlic cloves
½ lemon, juiced
1 tsp paprika
1 tsp ground cumin
½ tsp salt
½ tsp pepper
Ingredients for the Tzatziki (optional)
200g Greek style yogurt
½ cucumber
1 garlic clove
15ml lemon juice
15ml olive oil
¼ tsp salt
¼ tsp pepper
¼ tsp paprika
Method
1. Begin by preparing the ingredients for the kebab. Halve the onion then cut the aubergine, courgette and peppers into chunky slices, suitable for stacking.
2. Cut each block of halloumi into slices, around 1-2cm thick.
3. Mix together the ingredients for the marinade and pour over the vegetables and halloumi.
4. Use one of the onion halves as the base (flat side down) and insert the skewer into the onion.
5. Stack the vegetables and halloumi on top of the onion, using the kebab sticks to secure them, and press down to fit as much as possible.
6. Top the kebab tower with the other onion half.
7. Cook the kebabs on a barbecue until the vegetables are nearly cooked through. Once they're nearly done, brush them with the honey then put them back on the barbecue until the vegetables are completely cooked and beginning to char. (Alternatively, you can roast the kebabs in the oven for 30 minutes then brush with the honey and put back in the oven for a further 5-10 minutes until they are completely cooked.)
8. While the kebabs are cooking, start the tzatziki by removing the seeds from the cucumber, then grating.
9. Combine the grated cucumber with all of the other tzatziki ingredients, then leave in the fridge until needed.
10. Serve the kebab along with the tzatziki and pitta bread.
Read more:
For the past 18 years, Beth has worked for and contributed to a number of leading magazines in the UK, including Real Homes, Ideal Home, Period Living, Grand Designs and Good Homes amongst others. Now the editor of Gardeningetc.com, Beth's attention is firmly outdoors. Her own garden is a really important part of her family's home, and she loves spending time tending to the veg patch or entertaining friends and family at a summer BBQ or alfresco pizza night.