10 essential gardening jobs for August
It's a great time to be relaxing in your garden, but these gardening jobs for August should still be on your checklist – there's plenty of work to do this month!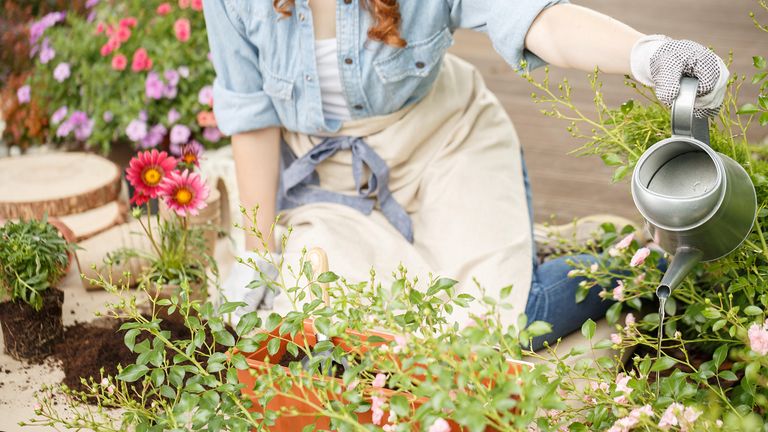 (Image credit: Alamy)
Want to know what to do in the garden this month? Our top gardening jobs for August will keep your outside space looking its best and still give you plenty of time to sit back, relax and enjoy the good weather. 
From garden watering tips to advice on how to keep your lawn looking great in the hot weather, there's lots to add to your gardening checklist this month. Keep scrolling to find out what to do first, then head to our garden ideas gallery for more outdoor inspiration. 
1. SOW PARSLEY SEEDS FOR FRESH FLAVOUR
You can pick up a pack of parsley seeds at very little cost from garden centres or online. Sprinkle the seeds thinly  onto pots of dampened compost, then cover with a thin layer of compost. Seeds will grow well on a kitchen windowsill, where they will be handy for using in cooking. To grow a continuous supply of fresh herbs, simply sow a new crop every few weeks.
2. POT UP A PRETTY CLEMATIS
Clematis will look beautiful trained up a trellis and you can pick up a ready grown plant in your garden centre this month. Stand the pot on feet, add a layer of crocks and fill with compost. Place your clematis in the pot, and add compost until it reaches the depth of the clematis' rootball. Position a support and fill the rest of the container with compost to within 2cm of the container rim and press down to firm before watering.
3. PROTECT YOUR PLANTS IF YOU'RE GOING AWAY
August is a prime month for holidays, whether at home or abroad. If you're going away on holiday, group pots together in a sheltered, shady spot to reduce moisture loss. Indoors, place house plants on towels draped into a sink or bucket of water to act as a 'wick'. You can also buy self watering systems for pot plants that simply stick into the soil and plants draw water from as needed.
4. TAKE CARE OF YOUR LAWN
A little work now will lead to a better-looking lawn for you next year. Remove any debris and leaves. Scarify the lawn by raking to remove dead (grass) thatch. Aerate (make holes) in the lawn with a fork or spike to improve drainage. Top-dress using a mix of sharp sand or compost. Feed with an autumn granular food and moss killer to help it over winter. Don't cut the lawn too short during hot spells as this can cause the grass to brown. Head to our guide to mowing a lawn for more top tips. 
5. HAVE FUN WITH THE KIDS OUTDOORS
The garden is a wonderful place to learn and play in a safe environment and it gets kids out into the fresh air during the summer holidays. Help them learn the importance of wildlife by encouraging birds into the garden with feeders, baths and nesting boxes, and insects with a home-made 'insect hotel' – place near an aphid infestation! Ladybirds and hoverflies may use it for hibernation or solitary bees as a place to lay eggs.
6. GET TO GRIPS WITH WEEDS
Weeds can feel like unwanted guests at the best of times, but especially during summer when you want your garden to be looking its very best. Spend an afternoon digging up weeds and pulling them up by the root. Wear gardening gloves as you may find that some are spiky and can irritate the skin. The rule tends to be 'little and often' as the more frequently you weed the less effort it is to get rid of them before they have taken root.
7. PLANT UP A PRETTY WINDOW BOX
High summer is the time for pretty, tender plants and when it comes to choosing planting possibilities and colour scemes for window-box gardening, the sky is the limit! For bold, cascading displays that are easy to care for, opt for petunias. Whilst low maintenance, petunias will give long lasting colour with minimal effort.
8. KEEP PLANTS WATERED WITHOUT WASTE
It's important to keep your plants well hydrated during one of the hottest months of the year, but try and be mindful of using water responsibly. Having a water butt in the garden is a good choice for the environment as it captures rain water. Watering at the end of the day or first thing in the morning is preferable as it can be evaporate in the midday sun before it has been absorbed into the soil. Apply mulch to help retain moisture and therefore reduce the amount of water needed.
9. SOW VEG FOR SALADS AND STIR FRIES
Veg that is great for Asian-style dishes such as Pak Choi and Chinese Cabbage can be sown directly into the soil in August. Plant in rows in full sun or partial shade and harvest as soon as it's grown. They can be eaten raw in salads or lightly fried as part of a delicious stir fry or side dish. Head to our grow your own hub for more advice. 
10. ADD INSTANT IMPACT TO YOUR BEDS
After the flush of early summer you might find your garden looking a little lacklustre. But don't worry, this is easily rectified. Look to the daisy family for plenty of blooms that are bursting with bold colour. Echinacea or "Cone Flowers" are fantastic growers and will be magnets for bees and butterflies as well as making great cut flower displays for your vases.
More to read: