5 Halloween decorating ideas to make your home stand out from the crowd
Get creative with your pumpkins this year and try these fun Halloween decorating ideas that have grabbed our attention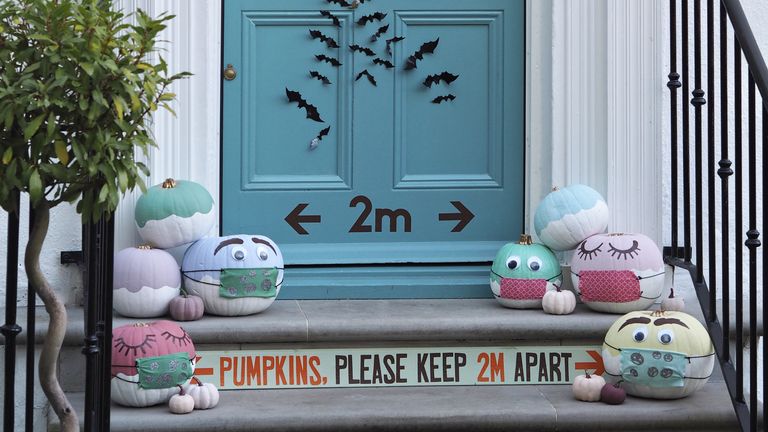 (Image credit: @melanielissackinteriors)
By Amelia Smith
Looking for creative Halloween decorating ideas so you can transform your space with pumpkins this season? While we do all love a good old fashioned carved-out spooky face, there are so many other exciting ways to use this seasonal vegetable to embellish your space.
And seeing as pretty much everything is different this year, why not go with the flow and mix up your pumpkin decorating habits too? It's a great way to get all the family together and have some fun in the garden. 
Whether you want to get crafty with paint, give your pumpkin a new purpose or you're looking for a quick new styling trick, keep on scrolling for our top five ideas. For more seasonal inspiration, head over to our fall front porch ideas. 
1. Express yourself with words
Sometimes the simplest ideas are the best. These pumpkins are instantly turned into a style statement with a few halloween-inspired words. If you're thinking your hand writing isn't quite up to the challenge, these are in fact vinyl stickers from Not on the High Street. You peel them off and stick them onto your pumpkin for an on-trend, contemporary look within a matter of seconds. 
Of course, if you're blessed with a steady hand, write on your own message with a black permanent marker for a similar look at a fraction of the cost.
2. Go for gold with shiny metallic paint
Shiny metallic pumpkins are all over Instagram at the moment, and when they can look as good as this set up by @our_harwoodhome, it's no wonder it's a trend that keeps on growing. All you need is a metallic spray paint or craft paint and a brush. Apply a think coat for complete coverage, leave to dry, and you're done!
3. Stack them high for a statement feature
Bring some order to your pumpkin collection by piling them up neatly from biggest to smallest. Two or three of these little towers beside your front door creates real impact, so keep this in mind when you're pumpkin picking for a perfectly balanced display. We're loving this autumnal entrance by @fromtrialtostyle. 
4. Show off your blooms in a pumpkin vase 
How clever is this idea by @amy_lauren_x! All you need to do it dig out your pumpkin, ensuring it remains water tight. Pour in some water and position your finest autumnal bouquet for a pretty halloween display with a difference. Whether you go for one larger pumpkin vase for a statement piece, or several smaller ones for extra cute factor, this is an idea we'll be copying for sure. 
5. Embrace the 'new normal' with comical designs  
When it comes to the design idea that's the most fun and current, this one by @melanielissackinteriors is the clear winner. We're glad to see these pastel pumpkins following all the rules and keeping socially distanced with their masks on. It's a playful take on our new reality and it certainly brought a smile to our faces. 
Read more: