7 Halloween decorating ideas for a porch to be proud of
Conjure up a spooky yet stylish welcome home this Halloween with our edit of the latest decorating ideas to hit our radar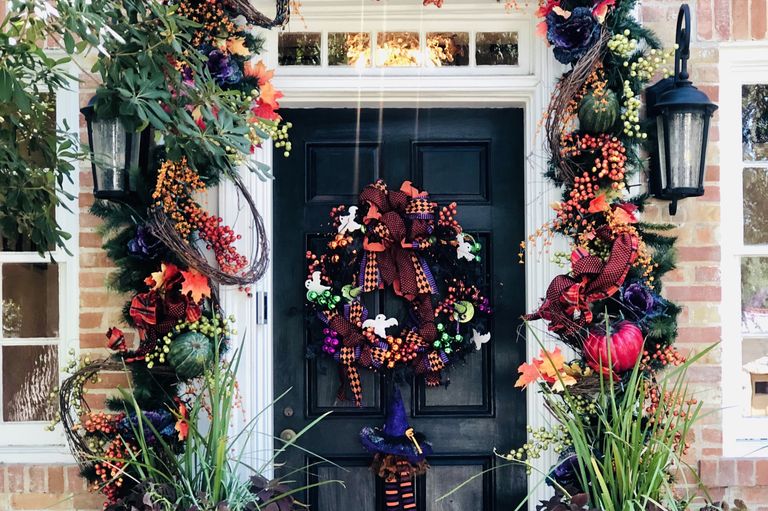 (Image credit: @featherfluffandflings)
By Amelia Smith
Looking for halloween decorating ideas for your garden or porch? You're in the right place. After the year we've had, the fun and excitement of Halloween couldn't come soon enough. So we're here to help you transform your outside space into a gloriously spooky yet stylish entrance to your home. 
From the classic halloween favourites like bats and witches, to modern design ideas like painted pumpkins and unlikely flower displays, we've gathered the best so that you can copy them for your space and make Halloween 2020 one worth remembering. For more seasonal inspiration, head over to our fall front porch ideas. 
1. Hang bats overhead for a spooky statement 
These bat silhouettes are set to be big news this year, and we love them because they allow for us to get creative. You can style them however you like – whether you position them evenly around your door, on your door, or into a huddle as shown here by @shiplapshanty, they're a simple decoration but they're so effective. 
2. Line your steps with pumpkins of all shapes and sizes
If you're blessed with steps leading up to your front door, make the most of them by lining the borders with pumpkins. Whether you go all out and put faces on them or not, it's an easy, fuss-free route to an elegant Halloween welcome. And those strangely shaped veggies left in the shops at the bottom of the pile? Invite them along too for a more rustic, natural look. We love how the foliage here by Maison de Fleurs includes bright purples and rusty browns, adding to that seasonal feel. 
3. Light the way with faux candles
There's nothing spookier than the flickering flame of a candle at night, so light your way home the right way this halloween by layering up candles. Obviously leaving an exposed flame outside isn't going to work, but modern technology means faux candles are looking more realistic than ever before. These faux designs from Lights 4 Fun have a flickering flame effect that's so realistic we can barely tell the difference. 
4. Create pumpkin vases and show off your blooms 
How cute is this idea from @stoneparkflowers! Transform your pumpkin into a vase and put your best seasonal flowers on display for all to see. We're picturing two or three of these next to your front door, for a fun and unique take on the halloween classic. Psst... they'd make a great centrepiece for your dining table too. 
5. Mix up your colour scheme for a contemporary look
Move over orange and purple, this year we're throwing out the halloween decor rule book and going rogue with our palette. Painted pumpkins is a huge trend that's taking over Instagram, and vibrant pink is our colour of choice. This creative pumpkin wreath by @daily_disco is contemporary halloween design at its best, with the pink rainbow of mini pumpkins creating quite a stir among the Gardeningetc team.
6. Put your finest seasonal veggies on display
If your crop of veggies is at its most bountiful at this time of year – we're talking pumpkins, squash and even the odd marrow too – now's your chance to put them on display. Position a decorative cart on your front porch, like this one by @homesweetfarmhouse, and pile up your crop for everyone to see. It's an understated halloween addition with a welcome nod to nature. 
7. Go all out with an oversized garland 
When it comes to Halloween decor, it really is a case of go big or go home, and this entrance certainly goes for the former. The larger than life, oversized garland in this space by @featherfluffandflings  is an attention grabber to say the least. With ghosts, maple leaves, berries, bells and even a bundle of pumpkins, this porch has all you need to a spooktacular welcome home. 
Read more: