Garden makeover: this redesigned garden is perfect for evening entertaining
A previously dark and waterlogged garden was transformed into a modern space with three separate areas for eating and entertaining. Take a tour to see how it was done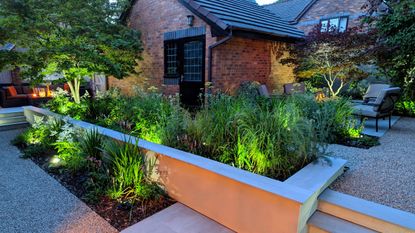 (Image credit: Kirman Design)
When it comes to garden design, top of everyone's wishlist is a cohesive space for entertaining and relaxing with a bright and contemporary feel. So when the owners of this garden decided to revamp their space, high on their list of must-haves was separate patio areas for eating and entertaining, all with a sleek high end look that would completely transform their outdoor living space. Add a sophisticated planting scheme that looks fab yet is actually really low maintenance and an ambient lighting scheme to enhance everything at night, and the result of their makeover is a dream garden.
Keep reading to find out how this garden previously looked and how the stunning garden transformation was achieved, then head over to our garden design ideas for more ways to update your own space.
The original garden and how it used to look
The original garden was small, overlooked and dominated by a sparse lawn and a mish-mash of hard landscaping materials. L-shaped in layout, it faces north east, so only the top of the raised area gets any sun, while the rest of it was always in shade or received very little light. The garden was always damp and waterlogged, especially near the house, and the owners felt they weren't making the most of the available space.
The plan for the redesign
The couple's main priority was to make the garden more user friendly so they could enjoy spending more time outside. They wanted to be able to move around between different spaces at different times of the day, so one area for breakfast, another for lounging, and a third for evening entertaining. Struggling to see how they could transform the space into something that worked better for them, they called on Andy Kirman of Kirman Design to help them. Andy came up with a plan that would feature linear planting beds, zoned areas, a lighting scheme and light-coloured hard landscaping materials that would form the basis of the redesigned space.
Head over to our feature on how to plan your garden design for brilliant advice on creating your dream space.
Linking indoors and out in the new garden layout
The new garden now feels like a much more natural extension of the house, blending indoors with out. Previously as you stepped outside there had been no element of surprise with the old garden and all was revealed in one glance. Instead, the owners wanted to create an intimate feel by zoning the garden into defined areas that were revealed bit by bit. Now, as you step through the bi-fold doors into the garden there is a lower paved area with seating.
Garden designer Andy tackled the very wet section of the garden near the house by adding lots of drainage and building raised beds to resolve the damp problem. A new planting bed helps bring greenery closer to the house and creates added interest. This lower patio area connects to the steps and pathway that leads to the upper garden and is enclosed on two sides by a rendered retaining wall.
The owners also wanted to keep the mature Acer tree which adds an elegant sculptural touch, and they also needed easy access to the seating areas, garage and gate. But they agreed the central lawn had to go if they wanted the new look to be softened by incorporating more beds featuring deep planting.
The new landscaping design
The smooth and sleek hard landscaping ideas used in this garden are defined by a simple combination of paving ideas, walls and pathways. Light coloured porcelain paving and rendered walling is partnered with a light buff gravel to form a cool and contemporary looking neutral backdrop for the planting. These pale colours reflect light, so work well in a shady garden. At the same time this adds a contemporary feel. Low height retaining walls and linear planting beds throughout are rendered and also capped with porcelain, and help to pull the look together.
Creating space for entertaining areas
A raised patio away from the house creates a secluded area for entertaining with plenty of space for a table and chairs. Surrounded by mature trees and shrubs plus a contemporary planting bed, this is a great space for entertaining that captures the sun in the evening. The planting encloses the space and screens the garden beyond so helps to create an intimate feel. This style of zoning, which utilises separate areas helps a garden feel much larger. You'll find more garden privacy ideas like this in our feature.
Redesigning the layout of the garden has meant there is also space for a separate corner patio featuring a larger paved area with more space for seating. This area is more focussed on lounging and the couple love to use it for eating breakfast outdoors at the weekend, with a comfy corner sofa proving plenty of room for relaxing.
Contemporary planting ideas
The planting was a major element of Andy's new design. The owners wanted a relatively low-maintenance scheme that felt contemporary and added colour and year-round interest. The new planting beds are a manageable way of introducing densely planted perennials, instead of borders that can feel daunting.
In spring, the planting colours are light and bright with the focus on whites and pastel tones such as pale pink and mauve. As the season moves on, hotter more colourful displays take centre stage with yellow achillea and ornamental grasses. Shady areas are rich and lush with evergreens such as ferns and hellebores. The use of lighter materials and plants lifts the space, brightening the garden and at the same time the interior of the house. Drifts of colour and texture are provided by white astilbe, verbena bonariensis and echinacea.
Head over to our guide to garden borders for top tips on planning your planting scheme.
Using lighting to create atmosphere
Garden lighting ideas are key to extending the use of the garden and making it a more user friendly space, so Andy made sure it formed an integral part of the new garden scheme. At night, an ambient lighting scheme can be used to uplight the planting and create interesting silhouettes and shadow play. This creates a magical place for entertaining where everyone will want to linger. Integral low-level lighting can also be used to illuminate paths to guide the way to the end of the garden if you want to create a new space you can use at night. Just add a few strategically placed lanterns for the finishing touch. The couple are thrilled with the results of their garden makeover and love the contemporary entertaining space they have successfully created.
Read more: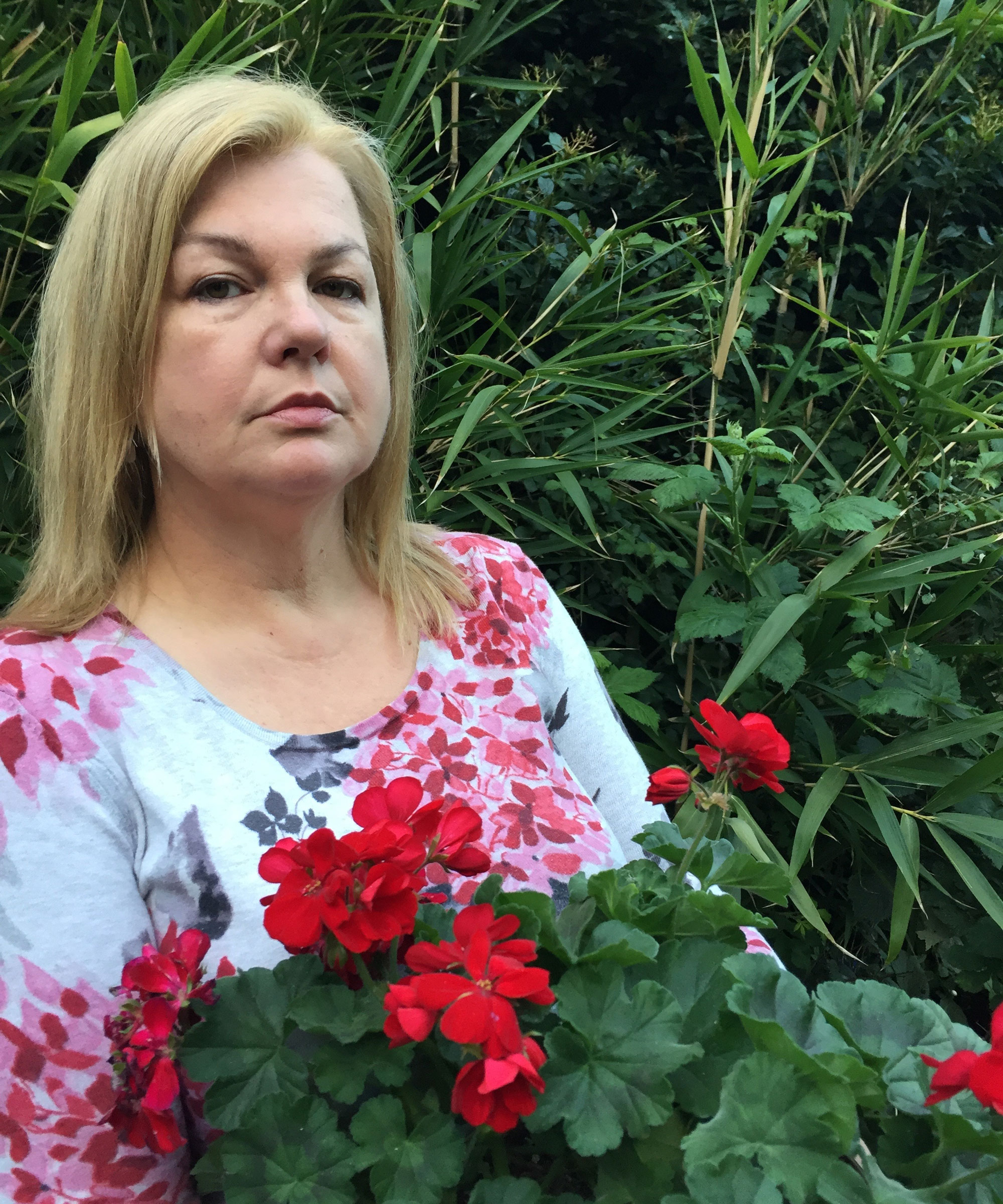 Lifestyle journalist Sarah Wilson has been writing about gardens since 2015. She's written for Gardeningetc.com, Livingetc, Homes & Gardens, Easy Gardens and Modern Gardens magazines. Having studied introductory garden and landscape design, she is currently putting the skills learned to good use in her own space where the dream is establishing a cutting garden.