A Kärcher pressure washer for £100? It's in the Amazon summer sale...
There's £69.99 off this top-rated Kärcher pressure washer today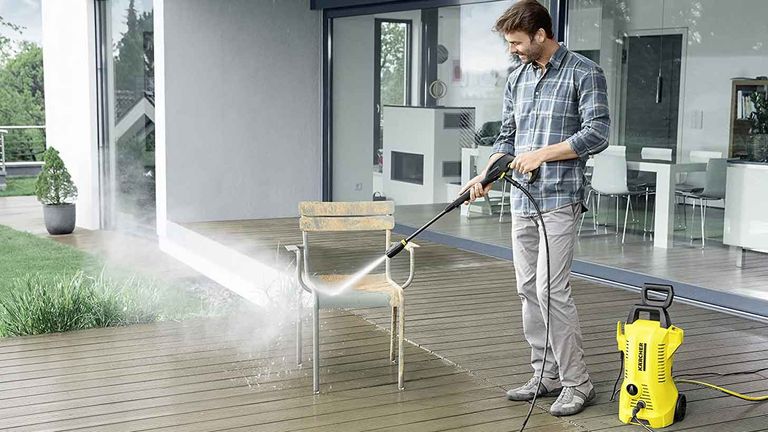 (Image credit: Kärcher)
Looking to buy the best pressure washer? If a busy summer in the garden has had its toll on your patio, we've spotted a Kärcher pressure washer in the Amazon sale for just £100. Yep, you read that right. This five-star pressure washer is actually rated the best all-round pressure washer by us, since it can be used to clean pretty much everything in your garden. Floors, furniture, decking, fencing, toys and so much more. It's also rated 4.6 out 5 stars by more than 3,000 reviewers on Amazon.
The Kärcher K2 Full Control is, without a doubt, the best Kärcher pressure washer money can buy. Usually, it retails at £169.99 and we can more than understand why. Not only is it super easy to use, but it also offers you full control to decide on a pressure setting, depending on what you are cleaning. It's great for cleaning large areas and it features on-board storage for tools, too. You can also use this machine along with detergent for a deeper wash. Our favourite part? It comes with a new, targeted pressure regulation trigger gun, for those spots that are hard to reach or tricky to tackle. 
It's a better option in the long-run than getting someone round to clean your patio or laying a new one. And for just £100, it's a proper bargain. Check out the deal below.
Kärcher K2 Full Control | Was £169.99, now £100 at Amazon in the end of summer sale
With this bargain Kärcher pressure washer also comes several attachments from a telescopic handle, and storage for the high pressure gun, a high pressure hose, full control lances and a cable. You'll also get a bottle of detergent and a patio cleaner, just to make life easier. That and it comes with free delivery, too. Need we say anything else?View Deal
More great pressure washers:
Buy the Ryobi RPW120B Pressure Washer if you are after the very best model around
Choose the Bosch EasyAquatak 110 High Pressure Washer if you have a smaller space to clean – it's super compact
The Wilks-USA RX550i Electric Pressure Washer is the best high pressure option out there for those with low water pressure
Looking for a handheld option? The Karcher KHB 5 Multi Jet – Battery Handheld Cleaner is your best bet
Also read: