10 essential gardening jobs for December
Get outside and tackle these gardening jobs for December, including some special touches for the holiday season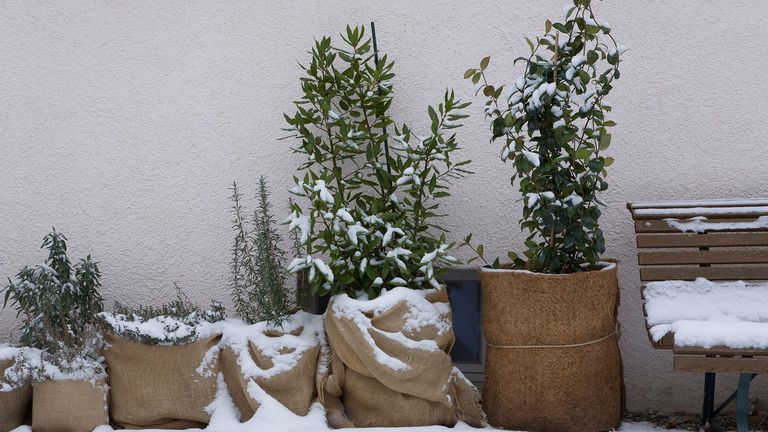 (Image credit: Getty)
It's true that there isn't as much to do in your garden at this time of year, but there are still gardening jobs for December that you could put on your list. If you can brave the chilly weather and fancy getting some fresh air, then you can still enjoy some outdoor time in your garden. December is all about the build up to Christmas and therefore lots of gardening jobs can be about enhancing all those festive feelings!
Going round your garden with some secateurs snipping off sprigs of foliage can be good for a final tidy up before the end of the year, but sprigs can also be used in your festive displays. This is far more economical than buying in all your decorations, not to mention it's better for the environment as decorations can be thrown on the compost heap afterwards and broken down.
You may be someone who likes to give your entrances festive appeal with lights and ornaments, so smartening up your front garden is great job to enjoy to make sure it's looking its absolute best.
There are even a few things you can plant and grow this month and it's a great time to get planning for next year too. So scroll down to find an invigorating job you can enjoy doing in your garden this month, then head over to our garden design ideas for more inspiration for your outdoor space.
1. MAKE YOUR OWN CHRISTMAS GARLAND
It's so easy to do! Gather evergreens, such as pine and ivy from your garden, and see what berries and pine cones you can find. Cut a length of rope to the size you want and cover it with bunches of foraged greenery tied with garden twine. Decorate with berries, cones and seasonal flowers from the high street, then simply lay the garland along the mantlepiece. Alternatively, you can buy a basic garland like this one from Dobbies and customise it with a selection of faux flowers and greenery.
2. FEED THE BIRDS
As the cold weather sets in, it's time to look after the birds. Don't put bird food out in the mesh bag it's supplied in as birds can become tangled in it, leading 
to distress and injury. Fill the best bird feeders with calorie-rich foods like mixed seed, fat balls, suet sprinkles, sunflower seed and peanuts, as well as kitchen scraps like grated cheese, cooked rice and porridge oats. A supply of fresh water is also essential, especially 
if it freezes. See it as your good deed for the month done.
3. GROW ROSEMARY IN A POT
Rosemary thrives in the garden all year round, looks good, smells great and is a versatile herb at Christmas when you're roasting meat and vegetables. Use a sprig to garnish a glass of sloe gin and tonic or winter cocktails. Rosemary will grow vigorously, even during the colder months. If you're growing it in a container in the garden, it can be left for several years before 
it will need repotting. In terms of maintenance, 
a quick snip once a year is generally all that's needed. Don't forget to save the cuttings, tie them in bunches and hang them up to dry. Rosemary also looks festive in a pot indoors so move it from the windowsill to take centre stage for Christmas.
Head over to our how to create a herb garden feature for top tips on starting one in your outdoor space.
4. PLANT MINIATURE SPRING BULBS
Pretty little pots of miniature spring bulbs planted now will be out in a flash. The traditional paperwhite narcissus is strongly scented and will fill the house with fragrance. A great choice as a cut flower, it also works well as an indoor plant idea as they come out far earlier than the garden variety to give colour and scent when you most want it. Plant bulbs close together in pots filled with bulb fibre. Try Narcissus papyraceus 'Ziva' from Crocus. Make sure the growing tips are protruding just above the top of the compost. Then put them in a cool, dark place for eight weeks before bringing them out. It's a great idea for a gift too. We've got more advice on how to grow paperwhite narcissus for Christmas with Monty Don's top tips in our feature.
5. WRAP UP YOUR POTS AGAINST THE COLD
It's a quiet time in the garden, but don't forget to give your containers some TLC. Group your potted plants together in the most sheltered spot in the garden to protect them from frosty weather, high winds or heavy rain. Make sure they are lifted off the ground on terracotta feet so that any water that might have collected in the base of the pot can drain away. This will prevent the pots cracking if there's a frost. In the event of snow, think about protecting your plants with a layer of horticultural fleece.
6. LIFT AND DIVIDE OVERGROWN PERENNIALS
Carefully dig around an overgrown plant and lift it, keeping a protective layer of soil around the root ball. Next split the plant, either with a sharp spade or two forks held back to 
back. Make sure that each division has healthy roots and top growth. Add in some well-rotted compost or manure to the planting hole and set the division at the same depth as previously. Infill the hole with soil and compost, firm in, water well and mulch around the plant. Then keep the soil watered and free of weeds. Our ultimate guide to mulching is packed with all the advice you'll need to use this gardening method in your own space.
7. PLAN YOUR CROP ROTATION
If you like to grow your own fruit and veg in raised beds, crop rotation is something you should consider. It's a growing system which benefits the soil and plants in three main ways. It helps maintain and balance soil fertility as different crops require different nutrients from the soil. Second, it helps to control weeds, as the spreading leaves of crops such as potatoes and squashes shade out unwanted plants. Third, it helps prevent a build-up of potential problems caused if soil is used for the same crops year after year. Potato plants can go in your brassica spot, peas and broad beans can replace onions, and swap tomatoes for onion and garlic. This will boost soil fertility and help keep disease at bay. Find out how to grow potatoes in our guide.
8. PRETTY UP YOUR FRONT DOOR FOR A FESTIVE WELCOME
Make your porch area 
and front door the focal point with a combination of outdoor Christmas lights ideas and lanterns mixed 
in with natural greenery, such as wreaths and garlands of evergreens, to add a welcoming festive touch. Wrap light strands through the woodwork 
in porches and twist in green foliage from the garden to hide the wires. If you can't untangle last year's string lights, coil them into a basket in the porch for an instant display. Group together pots of evergreens that you can also decorate with lights 
or baubles for an instant feature. Fancy making your own wreath? Head over to our guide on how to make a Christmas door wreath for an easy step-by-step project you can follow.
9. PLANT HELLEBORES FOR WINTER BLOOMS
Hellebores are one of the best plants for winter pots as they flower throughout winter until late spring. Pick one up from your garden centre and get in the ground or container as soon as you can. Dig a hole that's wide enough and deep enough to hold all the roots and add some well rotted manure to give it a good start. Keep them healthy throughout the year by removing old foliage that can make them more susceptible to fungal disease. There's more advice on how to grow hellebores in our guide.
10. TURN YOUR BACK GARDEN INTO A WINTER WONDERLAND
While the front garden is bound to get a lot of attention your back garden can come up trumps too. It's the ideal space to gather around one of the best fire pits for a glass of mulled wine and a mince pie, setting the scene for a wonderful Christmas. If you haven't packed 
your garden table away, create a seasonal display as a centrepiece, made up of ornaments, plants and tealights that will give a cosy glow. Garden lighting ideas, such as lanterns hung from trees, are always a great option, especially if you group 
a few together. You can also hang up wreaths in the back garden on a pergola, the shed door, or on a fence. You'll be able to see them from the house, too. Now all you need is a 
light frosting of snowflakes to make it perfect!
Read more:
Teresa was part of a team which launched Easy Gardens magazine two years ago and she continues to edit it today. She is also the Gardens Editor on Homes & Gardens, Country Homes & Interiors, Ideal Home and Style At Home, so she is lucky enough to see and write about gardening across all sizes, budgets and abilities. What she is most passionate about when it comes to gardening are the positive effects it has on our mental health to grow and care for plants. Keeping our patches alive with greenery is great for the environment too and help provide food and shelter for wildlife. Finally, she finds it to be such a wonderful opportunity to tap into her creative side and she loves the feeling that she is crafting a space which has a life of its own. Audrey Hepburn summed gardening up perfectly when she said - "To plant a garden is to believe in tomorrow".