10 essential gardening jobs for September
Add these enjoyable gardening jobs for September to your list and make the most of your time outdoors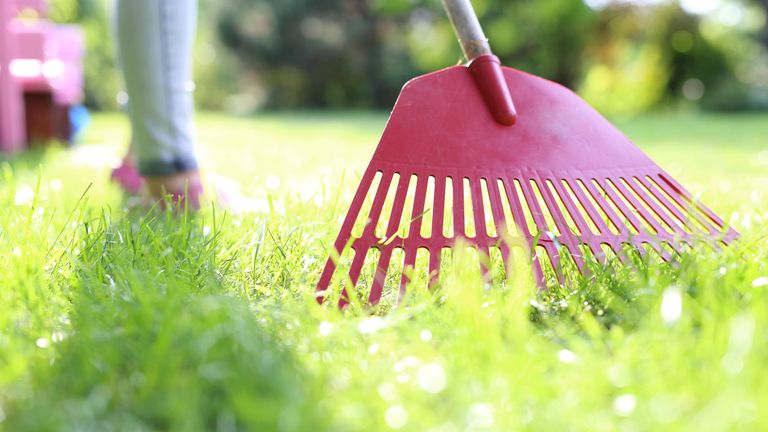 (Image credit: Alamy )
These gardening jobs for September are quick, easy and great for keeping you out in the fresh air. This month heralds the end of summer which is marked by some glorious late-season colour. There's still every chance of the odd sunny day so it's a good idea to keep your garden in good shape so you can continue getting out there to enjoy it when its still looking its best. 
It's also a transitional month which means we move from summer to autumn and there's always plenty to do to prepare for the season ahead. Autumn is the time to get your bulbs in the earth for spring so make sure you plan well ahead to ensure you have all that you need in time for the cooler weather.
Outdoor living is still very much on the cards, but perhaps less frequently than we've been used to over the last few months. None the less you can still enjoy alfresco dining perhaps with some warm additions like a fire pit or outdoor heater.
Keep reading for ten perfect gardening jobs for September, then head to our garden design ideas for more great ways to update your space this month. 
1. POT UP SOME CYCLAMEN FOR AN AUTUMN CONTAINER
Cyclamen are a great choice to get into a container this month for a display in autumn. They work well combined with evergreen foliage and even herbs. Add a layer of bubble wrap to the inside edge of your pot before filling with some compost. Arrange your plants and top up with compost so the pot is full. Sprinkle with bark chippings for extra insulation for the colder months. 
2. TAKE SALVIA CUTTINGS FOR NEW PLANTS AT NO COST
Taking cuttings is such a great way to multiply your blooms without shelling out any extra cash. And it's a lot easier than you think! Late summer and early autumn is the ideal time for taking cuttings of salvia. Non-flowering side shoots are the best place to make the cut, just between the leaf and the stem. Using a sharp knife make a diagonal cut. It's not essential but if you want to speed things up dip the end in rooting powder. Have small pots filled with 10cm of fresh compost to hand ready to place the cuttings. You can place more than one in each pot but be sure they aren't touching. New shoots will have developed after just 14 days and can be planted in pots or beds ready for new growth.
3. ORDER SPRING BULBS NOW SO YOU DON'T MISS OUT
There's nothing worse than missing the boat on your bulbs. So we recommend getting ahead of the game early and beginning to plan now for next spring. Think about which varieties of spring bulbs you wanted this year but you were late to the party. Have a look online at easy to grow varieties and start getting them in the ground when they arrive in autumn. Head to our guide to where to buy plants online to find exactly what you need. 
4. KEEP THINGS LOOKING TIDY WITH DEADHEADING
You may not get many of your summer blooms repeat flowering at this time of year but by removing dead flower heads you will help keep your beds and pots looking tidy. It will also help keep the rest of the plant healthy by saving energy for healthy parts of the plant.
5. SOW WINTER SALAD SEEDS
Just because the weather is turning cooler, it doesn't mean you can't enjoy picking your own leafy greens. There are plenty of hardy varieties suitable for sowing now that will give you loads of tasty leaves in autumn and winter. 
Winter purslane, lamb's lettuce, mustards and several rugged forms of lettuce, plus the crops known as oriental greens, are ideal. They tolerate colder conditions and lower light levels, allowing swift germination for tasty treats to eat within six to eight weeks. 
Sow seeds in 20cm pots filled with multi-purpose compost and an equal amount of John Innes No.2. Scatter seeds thinly over the surface and cover with a 1cm layer of finely sieved compost. Gently firm the surface, water and leave in a sunny spot. You'll find lots more advice at our grow your own hub. 
6. ADD EXTRA COLOUR WITH PAINT
If your blooms are lacking then inject some instant colour with exterior wood paint. Pink is a good choice as it's makes a good backdrop to green foliage. Pink and green are opposite on the colour wheel so they complement each other well. By painting a trellis you will have a bold display for when your blooms die back this month. Make sure the paint is fully dry before exposing it to your plants. 
7. MAKE YOUR SEATING AREA MORE COSY
A small fire pit doesn't have to cost the earth and is an instant source of warmth on a cooler evening. Not only this but it can be a focal point in a seating area. If logs are your chosen fuel why not display them nearby? This way they are readily to hand when they're needed but also give a cosy Scandi feel to your spot. 
8. GET SNOWDROP BULBS INTO POTS NOW
Grow some small, early bulbs like snowdrops and crocuses in pots, so you can enjoy them from your window in January and February. You can even bring them inside to appreciate them in cold weather. Pop wire netting on top to deter mice and other pests from picking away at them. Keep them somewhere sheltered such as near a wall or on a covered patio.
9. KEEP LOOKING OUT FOR POLLINATORS
Don't forget pollinators at this time of year as they will still be needing plenty of nectar. If you have any gaps in the border add nectar-rich plants like asters, sedums and echinaceas, which will continue flowering for a few months and re-appear next year. Also flowering now and pollinator-friendly are ceratostigma willmottianum (blue leadwort), and Japanese anemones in pink or white. Head to our guide to the best bee-friendly plants for more top tips. 
10. TAKE CARE OF YOUR LAWN
September is a great month for lawn care. Scarify (scratch) the lawn using a spring tine rake to remove moss and thatch build-up. Then spike it, making holes with a garden fork all over. Feed with a special autumn feed to beef it up before winter. Finally, top-dress the surface with sand for clay soil, or compost for thin soil. There's more top tips in our feature on how to scarify a lawn. 
Read more: