Ooni pizza oven deals: bundle offers and more
Shop these Ooni pizza oven deals to save 20% off the price of all pizza ovens, accessories, groceries and bundles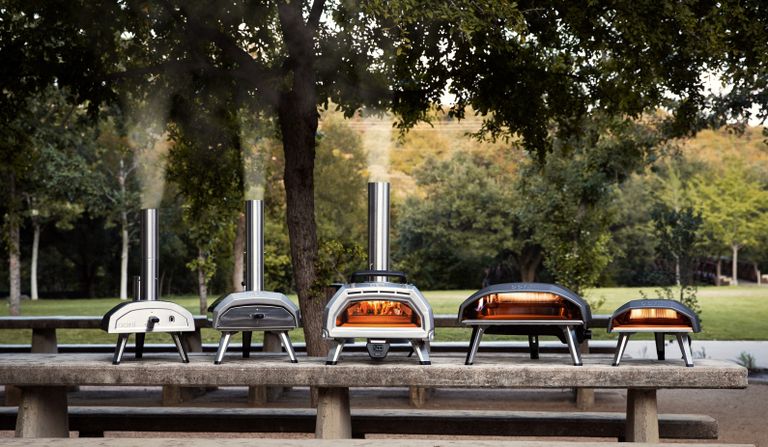 (Image credit: Ooni)
Just in time for summer, there's a bunch of fresh Ooni pizza oven deals which have landed and just in time for the bank holiday, too. Pardon the pun but prices have been sliced across all pizza ovens, accessories, groceries and bundles which is something which has got our attention since they are one of the world's best pizza ovens (opens in new tab), after all.
Why an Ooni? Well, why not? They're stylish and simple to use, and have become a bit of a household name since we've all been spending a lot more time in our gardens over the past couple of years. They offer not just classic wood fired pizza ovens, but multi-fuel types for those who want to be able to switch to gas for a low-maintenance pizza party.
If you're already the proud owner of an Ooni pizza oven, you don't have to miss out on the Ooni pizza oven deals either, as there are plenty of money-saving offers on stylish accessories to enhance your pizza making experience.
Keep reading to find the best deal for you, and make sure you don't delay because we see them selling out ahead of summer.
Shop for an Ooni pizza oven: UK
Ooni pizza oven deals
Best Ooni pizza ovens and deals
Not sure which Ooni pizza oven you want? They do gas and wood-fired, or handy dual fuel for when you want the best of both. Maybe you just want one within a certain price bracket? If you still aren't sure, see the deals below to compare prices, then scroll on to read more about each Ooni pizza oven and see the top deals by model.
We gave this five stars in our Ooni Fyra pizza oven review, stating it was easy to use, created delicious pizza and is great for families. It is portable as the legs fold down, but you do need to buy the carry case to get the most from this. If you do though, you can easily take it away or to a friend's house for a pizza party.
It is a great gift for someone who loves pizza and alfresco dining.
Our Ooni Karu review saw this 12-inch oven score full marks with five stars. It is multi-fuel so if you can't quite get the hang of wood-fired pizza ovens, the gas option takes that stress away. Or, if like us you think wood fired pizza is worth the little bit of extra work, you can use wood, too.
Note that it doesn't come with a peel as standard, so you might want to seek out kits including fuel and accessories.
Pick up the Ooni Koda if you want a user-friendly, compact oven. It comes in two sizes, 12-inch or 16-inch, and has no chimney because it's gas-fired. Much like the best gas grills, the Ooni Koda is very easy to ignite.
Simply attach to a gas tank and switch up to the level of gas you want, and then press the electric ignition to begin. Because you can adjust the gas level, you can cook on low heat with this oven, which is great for making thicker crusts which need a little longer to cook through.
Ooni pizza oven accessory deals
Much as we love Ooni pizza ovens, they don't come with many accessories as standard. You will have to buy peels, heat guns and carry cases separately (unless you buy a kit) but fortunately these are on sale too. See a selection of deals on Ooni accessories below.
For more outdoor entertaining offers, see our latest BBQ deals.
Shop for an Ooni pizza oven: US
Lindsey is Editor in Chief for Homes Ecommerce, working on Gardeningetc, Livingetc (opens in new tab), Real Homes (opens in new tab), Ideal Home (opens in new tab) and Homes & Gardens (opens in new tab). She loves helping readers find the information they need to make purchases for their property. When she isn't offering product recommendations, she's busy renovating her Victorian cottage and window shopping for the perfect garden furniture. She's in a never-ending battle with the weeds (so has decided to reframe her view of what a weed is), but loves creating a space for wildlife. She aims to give her garden a look that she describes as 'cottage garden for the 21st century'.
Sponsored by