Backyard pool ideas: 15 ways to stay cool in the heat
These backyard pool ideas will make your outdoor space the envy of the neighborhood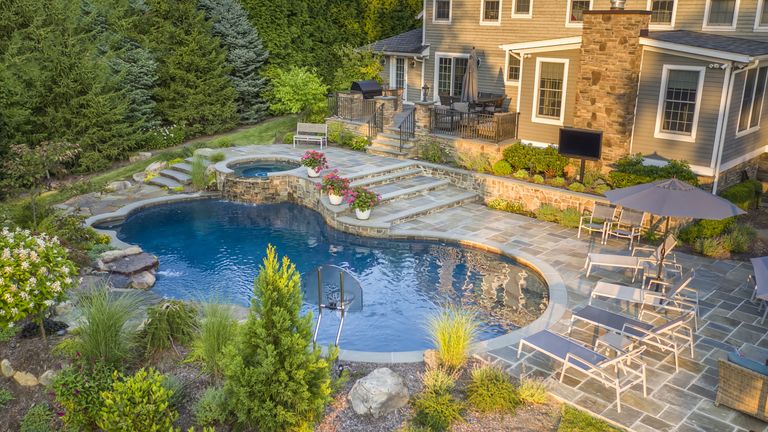 (Image credit: Blu Sol Pools)
Looking for a way to cool down in the heat? Our backyard pool ideas are perfect for when the weather gets hot as there's really only one way to cool down in style: lounging in a lovely swimming pool. While a pool is certainly an investment – custom designs can easily cost tens of thousands of dollars – it's a family-friendly backyard feature that's sure to help you create memories for years to come. (And, as a bonus, it'll certainly up your home's resale value!)
Installing a pool, however, is easier said than done, especially when you consider all the design decisions that you'll need to need to make. But don't fret! We're here to inspire you with stunning backyard pool ideas to help you get started on the process.
1. Be dynamic with a freeform shape
For a more casual, natural look that recalls a pond or a lake, choose a freeform shape for your backyard pool ideas instead of a rectangular one. Surround your pool with lush pool landscaping ideas and a flagstone patio to complete the au naturel vibe.
As a bonus, you can even install a waterfall or fountains for some lovely babbling background noise – or both, as in the case of this pool. This is also a great way to help mask the noise from neighboring properties or from a nearby road to enhance your relaxing outdoor pool experience.
2. Keep things square and sleek
For a more formal, manicured look that would work well with modern backyard ideas, a rectangular pool is the way to go. To make sure your pool doesn't look a little too plain, incorporate elegant landscaping, whether that's through greenery or stonework.
For example, we love how this pool combines a sense of simple formality with the rustic style of a Tuscan-style pavilion. Bonus tip: rectangular backyard pool ideas are also great for backyards with a view, as they don't distract from the beautiful landscape.
3. Go sharp and modern in style
Rectangular pools are also a great choice for a more contemporary, urban aesthetic, as exemplified by this fiberglass prefab pool, which perfectly maximizes its courtyard-like space.
To keep your backyard pool ideas from feeling too cold and sparse, make sure you plant some greenery and incorporate a seating area or two. The addition of outdoor lighting ideas to highlight your swimming space after dark is never a bad idea, either.
4. Buy a prefab pool for small backyards
Limited on space? The good news is that you don't need a massive backyard to house a pool as they can work well as part of small garden ideas too. One easy method is to go for a petite prefab pool.
This fiberglass model (pictured above) is just 26 feet long and 12 feet wide, though thanks to its freeform shape, it feels rather spacious. Smaller backyard pool ideas pools – and prefab ones – are cheaper than their larger brethren, of course, which is great news for aspiring pool owners looking for budget backyard ideas too.
5. Install a water feature
If you want to go above and beyond with your backyard pool ideas, add some stylish water feature ideas as a focal point.
In a more natural-style pool area, you could add a waterfall that cascades over natural stones. In a more formal pool area, you could add fountains. In this pool, the three sculptural fountains provide a visual and auditory focal point.
6. Create an entertainment area
Your backyard pool ideas don't necessarily need to be the star of the show in your space – your pool can simply be one element in an entire group of spaces primed for entertaining.
Take, for instance, this watering hole by Blu Sol Pools (opens in new tab), which shares a backyard with a covered lounge area, outdoor dining ideas and grilling area. If you love playing the role of host, this kind of planned yard – pool included – is for you.
Love the idea of creating an alfresco cooking space? There's plenty to inspire in our outdoor kitchen ideas.
7. Keep fit with a lap pool
Pools aren't just for leisure; they're great for working out, too. So forget about installing a home gym and build a lap pool instead! After all, what could be better than starting (or ending) the working day than with a few laps in the comfort of your own backyard?
While lap pools are long by nature, they are also quite narrow, making this style of pool ideal for rectangular plots. And in some cases, like with this pool, you can also include an infinity edge to maximize a stellar view.
Add a few key pieces of the best outdoor furniture and you've got the perfect spot to relax with after your morning workout.
8. Add waterfalls for a waterpark-like vibe
While most backyard pool ideas can be relatively simple, you certainly can go over the top if your space and budget allows.
Here, the pool is anchored by a waterfall complex that includes a slide, a grotto, a hot tub, and even a steam room. It feels as if it should be in a luxury hotel rather than a private property.
You certainly wouldn't be short of garden activities for kids if you had this in your yard, plus if there's any way to make all your neighbors envious, this is it.
9. Put in a hot tub for a luxury touch
Like peanut butter and jelly, pools and the best hot tubs go hand in hand. There are numerous ways to combine the two water features in your space, whether that's placing the hot tub directly in the pool (as shown here in this backyard), keeping them adjacent to one another, or separating them as two standalone elements.
The latter is ideal for colder-climate locales, so you can keep the hot tub open during the winter after you close the pool for the season.
Find more ways to incorporate hot tub ideas into your backyard in our guide.
10. Incorporate a swim-up bar
If you're looking to recreate a vacation experience in your own backyard, consider putting in a swim-up bar in your pool.
We love this pool, where the outdoor bar ideas are a hybrid – there's a swim-up side for the more adventurous and a dry-ground side for those who forgot their bathing suits. On top of that, this bar has an outdoor TV, so you can watch the game right from the pool if you so desire. Sounds like our kind of set-up right there.
11. Go with an irregular shape
Not all pools are freeform or rectangular in nature. You can work with a contractor to develop a pool shape that best fits your garden layout ideas. In the case of this backyard pool, a roughly triangular shape with a dramatic diagonal was the best option for the entire landscape plan, which includes a seating area with a fire feature and two different lounging spaces.
12. Stretch your pool out to infinity
If you happen to have a cliff-front property, you should certainly consider going with an infinity-edge pool, which – you guessed it – looks as if it has no boundary, opening up into the sky (or the ocean if you live on the coast).
It's simply a trick of the eye: whereas most pools keep their water levels beneath their edges, infinity-edge pools are filled to the brim, with the water flowing over the edge to create the illusion.
Surround your backyard pool with tropical garden ideas to enhance the feeling of being on vacation without even having to leave your property.
13. Use a hill to your advantage
For most backyard pool ideas, you're going to need to level off your backyard to make things perfectly flat before installing your chosen design. But if you have a sloped yard, you actually can use the grade to your advantage.
For this pool, tiered garden ideas make the most of the existing terrain. The hot tub is situated above the pool, allowing for the creation of a lovely overflow waterfall.
Top tip: consider using a textured patio ideas for your paving choices if you have any steps around your pool in order to provide a little grip underfoot.
14. Tweak the shape for a refined look
While a straightforward rectangular pool might seem a little too boring for some homeowners, you can always modify the shape of your pool ever so slightly to add some interest.
In this prefab pool, two semicircular additions – one is a staircase, one is swim-up seating – provide just enough visual interest to elevate the rectangular form without being too over-the-top.
15. Mix elements for added impact
Go for some elemental balance – and a fair bit of drama – by accenting your pool with a fire feature. In this pool there are actually three: a backdrop against the hot tub and two fountains illuminated by flames.
You can, however, keep things a little simpler (and perhaps more practical) by just including some more straightforward fire pit ideas, tiki torches, or citronella candles to help keep the mosquitos away.
Sponsored by