Lawn edging ideas: 10 ways to border your grass in style, from sleek paving to stone walls and more
Looking for lawn edging ideas? We've got all the designs you need to make your patch of green look even more gorgeous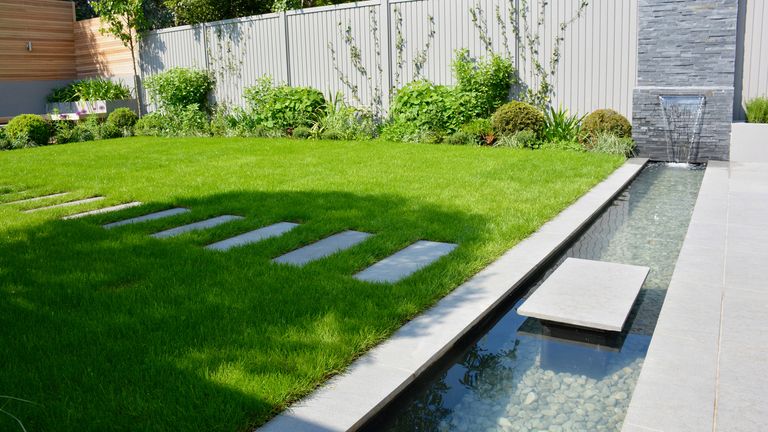 (Image credit: Tom Howard Garden Design)
Love your lawn? Then treat it to one of our lawn edging ideas. It's a straightforward update that will take even the lushest of turfs to a whole new level.
And if you think lawn edging is just for good looks, then think again. By keeping turf neatly away from other garden materials (think gravel, bark chippings, or soil), your lawn will stay tidy and distinct from its surrounding zones with little effort needed. Plus, it'll also make your sessions with the best lawn mower even easier and more enjoyable.
So, to help you introduce a bit of lawn edging magic to your garden, we've pulled together our favourite looks. From miniature drystone walls and reclaimed bricks to sleek pavers and narrow water features – keep scrolling to discover the right lawn edging idea for you.
1. Embrace a cottage-garden style with reclaimed bricks
If you love our cottage garden ideas, then you'll know the prominence of reclaimed materials for the look. So, to give your lawn a dose of whimsical charm, why not use reclaimed bricks for edging?
It will add a beautifully rustic vibe whist keeping your borders safely out of the way from your lawn mower. Allow moss to grow and weathering to take its course – it'll only add to the vintage feel. Do be careful if using as a pathway though, as it may become slippery over time.
2. Zone off your lawn with a refreshing water feature
Lawn edging doesn't have to stick to the 'ordinary'. Sometimes, it can turn into a feature all in itself. Take this gorgeous garden design by Tom Howard, for example.
A smooth line of paving adds a clean edge to the lawn whist complementing the stepping-stone pathway across it. To its other side lies a narrow strip of cool water which divides the lawn from the patio.
It's a playful element that looks utterly lovely. And, the clever design means the lawn is kept neatly away from the water's edge to avoid it from getting damp and muddy.
If you'd like to add an aquatic element to your garden, take a look at our water feature ideas.
3. Go modern with clean lines and pared-back paving
Our lawn ideas show that even small plots can benefit from a patch of lush green, and this design is a fabulous example.
So, if you're the proud owner of a slightly-smaller plot and love a contemporary vibe, then take inspiration from Living Gardens, who created the design shown above. We love how the square of perfect lawn is bordered beautifully with pale paving stones in-keeping with the plot's pared-back style.
As garden designer Jonathan Martin from Living Gardens says, 'Stone edging looks beautiful when plants from the border spill over onto it, softening the hard materials and boundaries.' And see how the lighter material pops against the darker green foliage. It's a fresh look that feels clean and considered.
If you're looking to cut down on maintenance time for your plot, just add one of the best robot lawn mowers to your garden tools collections.
4. Soften the look with curved walls
Cocoon your lawn with a simple curved wall, and paint in a cool white to brighten the space. Such a soft, calming boundary is a perfect way to provide shelter, especially if you've added one of the best bistro sets to your grass.
Top with raised beds full of ornamental grasses and giant mops of hydrangeas to add height, texture and gentle movement in the breeze. The result? A lovely place to enjoy a breakfast or afternoon coffee alfresco.
5. Smarten up your front lawn and line with low hedges
Elevate your front lawn by using low-lying hedges as edging. Dense lines of box or similar evergreens around the borders will provide an instant lift and give a nod to a classic, formal-garden look.
It works beautifully as a solution to zone a lawn from a pathway or road, and will look luscious all year round. And, if you have lawn either side, embrace symmetry for a pleasing, and incredibly welcoming, look.
We've got plenty more front garden ideas in our guide.
6. Try recycled rubber – a fresh look for modern plots
For a softer feel (literally), then how about opting for rubber edging? This example pictured above is made from recycled tyres, so is eco-friendly, as well as being a great option for family gardens.
Durable and flexible, it can be bent into whatever shape you need to divide your lawn from your borders. The subtle pattern adds an element of textural interest and fun, too. If you're looking for more family-friendly materials then head over to our guide on how to design a child friendly garden.
7. Try a rustic feel with a mini drystone wall
Border your lawn with a miniature drystone wall. It's a rewarding project to do on a sunny weekend (take a look at The National Trust's step-by-step guide), and will add a natural vibe to any plot.
Keeping flowerbeds at bay and stopping loose soil and other debris from falling onto your lawn, they are a great option if you like a more rustic style.
And, if your garden is in a shaded spot, then tuck Hostas behind your new stony addition – the sumptuous leaves and blue-grey blooms will bring delight to any gardener. Or, for alternative shade loving plants, check out our guide.
8. Embrace wavy lines in cool grey
Make a statement with structural stone walls that will guide you across your lawn to various destination areas of your plot. The wavy lines seen here feel modern and playful, and are mirrored by the edge of the nearby patio, too.
The addition of a decking area, enticingly tucked away, blends seamlessly into the higher level of the garden.
After some more garden wall ideas to help break up your plot? Head over to our feature.
9. Or, go for chic angles and multiple levels
Another way to make levels feel effortless in your plot is to use sleek paving throughout. Here, two small patches of lawn look crisp and clean against the surrounding grey stone, which carries the eye across different heights.
A chic look and one for lovers of a more minimal approach. And if you like this look, don't forget to check out our modern paving ideas, too.
10. Brighten your lawn with a gravel border
Add a bright edge to your lawn with a border of grey stones followed by light-coloured gravel. Then, plant alpine plants or ornamental grasses along the display for a Mediterranean, rock-garden feel – check out our small rock garden ideas for more inspiration.
As shown above, it will lift your lawn beautifully, and is practical too. The flat grey stones will prevent gravel from reaching your grass (and will allow you to mow right up to the edge). Meanwhile, the gravel will help keep beds at bay and provide a pathway around your plot when the grass is wet or frozen.
What is the purpose of lawn edging?
It's true that lawn edging isn't strictly necessary, but it does serve a functional and visual purpose in a plot.
As garden designer Jonathan Martin from Living Gardens says, 'Lawn edging is invaluable for defining the shape of a lawn and separating it from the plant borders.' That means, no rogue soil or gravel escaping onto turf (and into your best cordless lawn mower), which is definitely a plus.
'Practically, it's great as a mowing strip, allowing you to mow up to and over the boundary of your lawn,' Jonathan adds. And, if you need a helping hand in the mowing department, we've got all the tips and tricks you need in our guide about how to mow a lawn.
But of course, we can't overlook the stylistic element of good lawn edging. Sure, it keeps lines clean and well-defined, giving your plot a polished feel. But the right sort of edging can also enhance your garden, or be a subtle feature all in itself. Plus, as Jonathan adds, 'Visually, it can be brilliant for tying different elements of your garden together.'
What is the best lawn edging to use?
The best lawn edging for your garden depends on multiple factors – mainly, the look you're after, and your budget. But garden designer Tom Howard shares two of his favourite kinds with us.
Firstly, he suggests the use of a stone 'frame' – whereby paving stones are cut to 200-300mm wide strips and laid around the edges of a lawn, flush to the grass level. This creates a frame to the lawn and acts as a mowing strip – you can run the lawn mower slightly over the edge of the stone to keep a crisp line. And, as you can see from some of the examples above, the results are incredibly chic. To go one step further, you could also add recessed lighting.
Tom also recommends the durable, flexible, fuss-free designs from Everedge. Available in a range of finishes, from slate to Corten steel, as well as multiple heights, Tom says it's 'a fantastic product we often use, as it helps keep a sharp line on a lawn.'
It prevents grass from growing into the flower beds and will also retain soil and also gravel. What's more, you can run a mower slightly over the edge to keep it looking neat.
However, all our lawn edging ideas are lovely in their own way – it's just a case of picking the style that works with your lawn ideas best.
One way to do this is by sticking to materials that are used elsewhere on your plot. Jonathan Martin from Living Gardens says, 'We always try to match lawn edging with the same patio stone material used elsewhere in the garden.' For instance, 'a contemporary limestone or porcelain patio would have a corresponding lawn edge. Likewise, a traditional garden with reclaimed Yorkstone can be complemented by using the same material to edge the lawn.'
And whilst we're on the subject, why not head over to our patio ideas feature?
The garden was always a big part of Holly's life growing up, as was the surrounding New Forest where she lived. Her appreciation for the great outdoors has only grown since then. She's been an allotment keeper, a professional gardener, and a botanical illustrator – plants are her passion. But, she loves all things digital too. She joined the team at Gardeningetc after working as a freelance content creator for a web agency, whilst studying for her M.Sc. in Marketing. Now she feels lucky enough to combine both digital and botanical worlds, every day!