Ooni pizza oven deals: make savings with these top offers
With these Ooni pizza oven deals, you can get your hands on our favorite pizza ovens and accessories for less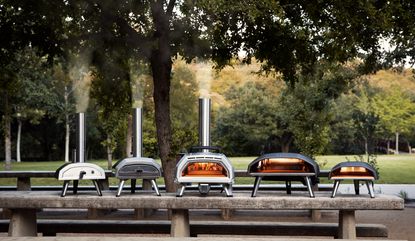 (Image credit: Ooni)
Thanks to these Ooni pizza oven deals, it's a great time to get your hands on one of these much-loved pizza ovens before Christmas. These portable, easy-to-use ovens have become a popular addition to outdoor spaces, and having reviewed and rated several of them on Gardeningetc we can see why.
Thanks to their stylish looks and the great results you get when cooking in them, Ooni ovens are regarded to be some of the best pizza ovens you can buy. They're not the cheapest of items you can buy for your backyard, however, so making the most of the savings on offer is a smart move.
This year, there are savings on brilliant bundle deals for the very popular Fyra, Koda and Karu designs. Plus, there's some great offers on accessories too, so even if you already own an Ooni you can take advantage of the deals and add a few extras to your pizza oven setup this year.
If your heart is set on an Ooni oven for Christmas, you'll find the best deals on the Gardeningetc team's radar below.
Shop Ooni pizza oven deals: US
Best Ooni pizza oven deals US
Shop Ooni pizza oven deals: UK
Best Ooni pizza oven deals UK
Best Ooni pizza ovens
Not sure which Ooni pizza oven you want? They do gas and wood-fired, or handy dual fuel for when you want the best of both. Maybe you just want one within a certain price bracket? If you still aren't sure, see the deals below to compare prices, then scroll on to read more about each Ooni pizza oven and see the top deals by model.
We gave this five stars in our Ooni Fyra pizza oven review, stating it was easy to use, created delicious pizza and is great for families. It is portable as the legs fold down, but you do need to buy the carry case to get the most from this. If you do though, you can easily take it away or to a friend's house for a pizza party.
It is a great gift for someone who loves pizza and alfresco dining.
Our Ooni Karu review saw this 12-inch oven score full marks with five stars. It is multi-fuel so if you can't quite get the hang of wood-fired pizza ovens, the gas option takes that stress away. Or, if like us you think wood fired pizza is worth the little bit of extra work, you can use wood, too.
Note that it doesn't come with a peel as standard, so you might want to seek out kits including fuel and accessories.
Pick up the Ooni Koda if you want a user-friendly, compact oven. It comes in two sizes, 12-inch or 16-inch, and has no chimney because it's gas-fired. Much like the best gas grills, the Ooni Koda is very easy to ignite.
Simply attach to a gas tank and switch up to the level of gas you want, and then press the electric ignition to begin. Because you can adjust the gas level, you can cook on low heat with this oven, which is great for making thicker crusts that need a little longer to cook through.
For more outdoor entertaining offers, see our latest BBQ deals and hot tub deals.
---
Ooni FAQs
Is it worth buying an Ooni pizza oven?
If you enjoy cooking and eating pizza, then we'd say yes! When testing a range of Ooni pizza ovens for Gardeningetc, all of our reviewers commented on how well built they are as well as how easy they are to use. Unlike a larger, more traditional built-in pizza oven, these portable designs are lightweight and easy to move from one spot in your yard to another. Plus, you can even take them with you on holiday or days to the beach too.
Our editor Beth has been cooking pizzas in her Ooni Fyra for more than two years now and she's still enjoying using it just as much now as when she first got it. 'We've probably cooked 100 pizzas in our Fyra so far,' says Beth. 'When you consider how much it would have cost us to buy 100 pizzas, you can start to see that it doesn't take too long to get back the initial cost of the oven.'
Plus if you buy an oven direct from the Ooni website, you'll also get the benefit of a three-year warranty.
Can you cook other things in an Ooni pizza oven?
It might be quicker to list what you can't make in an Ooni! While the obvious reason to buy an Ooni oven is because you want to cook pizza in it, there are so many other options for what to cook in a pizza oven. From meat to vegetables and even dessert ideas, an Ooni pizza oven can be a really versatile addition to your outdoor space. And if you only have a small patio or balcony, having a mini outdoor oven like this can be a brilliant way to enjoy cooking alfresco without having to invest in a big and bulky BBQ.
There are lots of pizza oven recipes available, including on the Ooni website. There are ideas for everything from macaroni cheese and baked fish to spatchcock roast chicken and marinated lamb chops. For those of you who are vegan or vegetarian, why not try roasted kohlrabi, zucchini fritters or delicious flatbreads? And anyone with a sweet tooth doesn't have to miss out either, as banana bread, brownies and sticky toffee pudding can all be cooked in an Ooni pizza oven too.
How long does it take to cook pizza in an Ooni pizza oven?
Ooni states that it's possible to cook a 12in pizza in one of its ovens in 60 seconds, a claim that we have put to the test in our numerous Ooni pizza oven reviews. We can confirm that it's definitely true, as we've repeatedly served up a piping hot, beautifully cooked pizza less than a minute after putting it in the oven.
Of course, before you can put your pizza in the oven you'll first need to make sure the oven is up to temperature. Even with the differences in fuel types between its ovens, Ooni advises that they will typically 'reach 950˚F (500˚C) in just 15 minutes.' Again, this is something we tested in our reviews and found it to be correct.
So once you've lit your oven, you can spend 15 minutes prepping all the toppings for your pizza party and then you're good to go.