Garden makeover: a tiny plot revamped into a tropical-inspired space
This small courtyard-style space needed a modern garden makeover fast to make it more inviting. Take a tour to see how it was done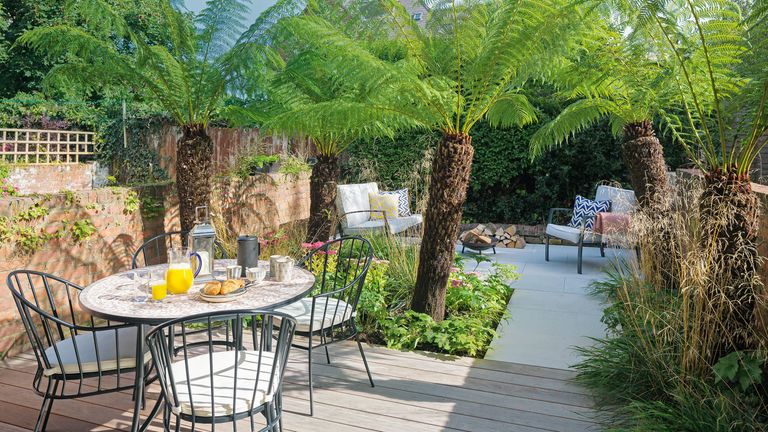 (Image credit: Future)
Tackling the garden makeover of this Victorian terraced house came at the end of 
a two-year house renovation for this couple from York. They left it until last so that they had a place to store all the building materials for the interior makeover. As a result it became an unloved dumping ground and for several years they didn't use it. The couple set aside a budget of £5,000 and sought professional design help to tackle the project, seeing the garden makeover as an investment.
Keep reading to see how they transformed this tiny plot, and for more ideas how to revamp your own outdoor space don't miss our garden design ideas feature.
THE ORIGINAL GARDEN AND HOW IT LOOKED BEFORE
The garden measures just 7.60m x 4.60 metres and wasn't used by the owners except as a dumping ground. It felt very uninviting, with damaged crazy paving and scrappy planting. It lacked privacy and felt exposed as it was overlooked by neighbours. The only saving grace was the original red-brick Victorian walls and a tall hedge at the bottom that helped to partially screen out a neighbouring house.
THE PLAN FOR THE REDESIGN
The owners wanted to create an inviting space where they would be able to relax. The garden's dimensions meant that the layout had to be planned meticulously using small garden ideas to utilise the limited space in the best way possible.
They decided to replace outdated features such as the crazy paving and uninspiring beds with sleek hard landscaping ideas and a lush tropical garden ideas. In addition they wanted to create the feel of an outdoor room with designated spaces for eating and relaxing. At the far end of the garden the snug little seating zone is gorgeous in the evening for sitting out by the glow of the fire pit.
There's more inspiration for creating your dream seating area in our outdoor living space ideas feature.
GETTING THE DIFFERENT ZONES RIGHT
After working out the budget, which included all the materials plus a contingency for plants, the owners approached Harry and David Rich of Rich Landscapes who understood immediately what was wanted. The garden needed to be zoned with separate areas for outdoor dining ideas and entertaining, plus there was a need for more garden privacy ideas. A sleek black slatted panel adds an on-trend feel to the old wall and is a nice mix of modern and traditional.
Harry and David came up with some lush planting ideas including tree ferns to suit the tropical brief and decided to create separate zoned areas in the garden. Check out our advice on how to grow ferns to add lush greenery to your space year round.
GETTING THE HARD LANDSCAPING RIGHT
'Hard landscaping shouldn't do much talking – it should be in the background to allow the plants to make the statement,' says the garden's designer David. Cool cream pavers, pale decking ideas and smart trellis toppers on the brick walls to add privacy bring the new look together seamlessly, while allowing the tree ferns and the rest of the planting to take centre stage. A team of eight completed the entire transformation in just two days.
ADDING THE RIGHT PLANTING COMBINATION
The shapely tree ferns introduce a key focal point, plus add height, privacy and dappled shade to the garden. They're also hardy, low-maintenance and tolerant of a wide range of soil conditions. Neat beds set in amongst the pavers is a clever way to introduce modern paving ideas. An easy and low-maintenance way to fill these new beds was to plant airy ornamental grasses for movement and texture. Head over to our guide on how to grow ornamental grasses if you'd like to introduce them into your outdoor space.
THE IMPORTANT FINISHING TOUCHES
The owners can step from their kitchen straight into this timber-decked dining area to have their breakfast in the sun. Keeping the original Victorian garden wall ideas was a must. The red bricks add a natural warmth and wild flowers self-set in the loose pointing. They flower at different times of the year, which is always a lovely surprise when they come into bloom and the owners can enjoy them over their morning coffee.
More garden inspiration:
Sarah Wilson has been a lifestyle journalist for many years, writing about gardens since 2015. She's written for Gardeningetc.com, Livingetc, Homes & Gardens, as well as Country Homes & Interiors and Modern Gardens magazines.
Her own (small urban) garden is a work in progress - so many ideas, not enough space to cram them in. Hero plants include her ever growing collection of ornamental grasses, black bamboo and ferns, and the perennials like salvias and penstemons that come back reliably year after year. All very restrained though when in fact she'd love to pack her garden with gaudy dahlias and giant cannas, so these are top of her wish list for what to grow next.