Cottage garden path ideas: 13 beautiful ways to make journeying through your plot a joy
Discover our favourite cottage garden path ideas – from winding walkways scented with lavender to playful paving and more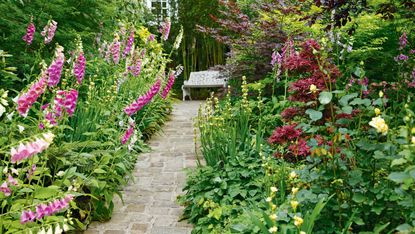 (Image credit: Annaick Guitteny/Future)
If you want to add cottage garden path ideas to your plot, then look no further. Because, if you're enamoured by that romantic, English countryside charm, then these suggestions are just what you need.
If you've already taken inspiration from our cottage garden ideas, then don't let lacklustre walkways let the side down. You see, to capture that whimsical feel, pathways need to be in keeping with the cottage theme too.
Perhaps a cottage garden isn't the place for our modern paving ideas (as stunning as they are). Instead, think natural or reclaimed materials, for a soft, vintage feel. Cottage gardens are all about billowing borders, layers of soft blooms, and higgledy-piggledy informality, so the perfect path will need to follow suit. Not only will they make getting from A to B a joy, but they will allow you to admire (and reach) all aspects of your garden, too.
So keep reading for our favourite suggestions. From tiny, lavender-lined walkways to show-stopping canopies, you'll be sure to find a look you'll love.
1. Line walkways with stone walls
Dry stone walls are built without mortar, and can be seen throughout rural Britain, in areas such as the Cotswolds or the Lake District. The popularity of the craft stems back to the 18th century, where builders would use local stone of various sizes to create boundaries for land or livestock.
Today, they are a beautiful addition to a cottage garden, due to their rustic and traditional look. And, as seen here, they look fabulous lining a pathway and topped with masses of classic cottage style blooms, such as lavender and Digitalis.
You can also introduce flowers and foliage to the wall itself. Erigeron, for example, would make a beautiful addition with its soft mounds of small pinkish-white daisies.
Take a look at our small rock garden ideas to discover other plants that will thrive in stony conditions. And, if you'd like to build a stone wall yourself, then the National Trust has a very useful step-by-step guide.
2. Adorn with foxgloves
Foxgloves' striking stature and pleasing colours of white, deep pinks, pale lilac and even peach and yellow make them a must-have for cottage gardens. What's more, some varieties will thrive in shaded areas, so they're a perfect choice if your plot doesn't catch much sun. They will attract bees and butterflies aplenty, too.
So, when it comes to cottage garden path ideas, why not line your walkway with foxgloves to add a dose of fairytale-like magic to your plot? Look for perennial kinds (rather than biennial), for blooms year-on-year.
Or, take a look at these 5 perfect perennials for a cottage garden planting scheme for more ideas.
3. Create an arch through an evergreen
If you'd love to bring an essence of discovery into your plot, then this idea is for you.
True, not everyone has a well-established evergreen yew hedge such as this, waiting to be transformed into a wondrous archway (if you don't, take a look at our best fast-growing hedges to start one of your own). But if you do, why not don your best hedge trimmer and try out your topiary skills?
It's a beautiful way to connect different zones of your plot, and we love the pretty flagstone path beneath. Just remember that hard pruning such as this is best to be done in mid-winter, when shrubs are semi-dormant.
4. Embrace arbours covered in clambering roses
To instantly update your cottage garden path and add a good dose of romance, consider installing an arbour. These structures tend to be smaller than pergolas, so are perfect for framing a point in your path to help divide areas.
Try using stunning plants to clamber up the structure, offering beautiful colour and fragrance. Honeysuckle also makes a particularly lovely choice. The RHS recommends 'Serotina' for its gorgeous fragrance, rapid growth, and deep reddish-purple colouring.
If you opt for a wooden arbour, you could always give it a lick of paint too, to complement the rest of your theme. We love the faded blue colour of this example. Why not give our best exterior wood paint suggestions a try?
5. Add a focal point
Your cottage garden might have a selection of different types of pathways. Some may be smaller and more secretive, and wind indulgently amongst borders or along the back of hedges. Some, however, may be grander and more primarily-positioned.
For these larger pathways, why not up the sense of old English charm and place a stone statue or large, vintage urn at the end? Eyes will instantly be drawn to the new focal point, and it will add a feeling of depth and timeless style.
Surround with borders full of the best cottage garden plants as well as clipped hedges for a bountiful vista full of life and colour.
6. Try using reclaimed bricks
We love this example of a miniature path surrounding a neat lawn. Made of reclaimed bricks, it has a wonderfully laid-back feel.
Not only does it look lovely, but it also provides a way around the grass during wet or snowy weather, to prevent the lawn from becoming damaged or muddy. Plus, it also doubles up as a mowing strip, by keeping the lush border plants in their place and safely out of the way. A win-win on all accounts.
7. Stroll beneath a Laburnum canopy
Laburnum offers an enchanting display of bright yellow blooms come spring and early summer, and looks exceptionally stunning when trained over a walkway, as demonstrated above. It's a show-stopping addition to any cottage garden path and will delight anyone who strolls beneath it.
If you have a smaller garden, then the team at Gardeners' World suggest trying the 'Yellow Rocket' variety due to its narrow, upright habit. Otherwise, the RHS-award-winning Laburnum x watereri 'Vossii' is a well-favoured, fast-growing variety with long flower racemes and dark green foliage.
However, do bear in mind that Laburnum, although beautiful, is very poisonous. So, if you have pets or young children who may be tempted to put the plant in their mouths, then it may be wise to opt for an alternative cottage garden path idea. You can find more advice on the most poisonous plants for dogs in our guide.
8. Use a mosaic of natural stones
Cottage gardens are all about reclaimed materials and making use of what you have, without having to spend lots of money. So, to recreate the look, opt for mix-matched stones in your pathways, arranged in an eclectic, mosaic pattern.
It will add a wonderfully authentic and relaxed feel to your plot. And, if any moss appears in the cracks, the wilder, romantic feel will only be enhanced (but do be careful if it becomes slippery).
See if you can find reclaimed paving stones made from natural materials locally, or online. Take a look at our guide on how to use salvage for garden upcycling ideas for more inspiration. Don't forget to finish the scene with a pretty bench and deep borders crammed with plants, for a perfect cottage garden vibe.
9. Use offset paving for a playful look
Cottage gardens should feel relaxed and playful. So, why not arrange your stone paving stones in a hopscotch pattern? It's a simple trick that will instantly add a sense of carefree joy to your garden, and prevent your pathways from feeling overly-formal.
Children and adults alike will love stepping from stone to stone, whilst taking in all the nearby flowers and foliage. Surround the paving with fine gravel for extra textural interest, as seen above, whilst a subtle edging will keep the borders distinct.
Tempted to add edging to your pathway? You may like to peruse our modern edging ideas for a cottage garden with a slightly more contemporary style.
10. Make stepping stones from logs for a natural feel
If you loved the stepping stone idea above but would like a slightly more natural feel, then how about using logs instead? Arranged in a gentle curve, it's a wonderful way to add a feeling of adventure and will blend beautifully with surrounding flowers and greenery.
Bark chippings will add to the rustic effect and define the pathway more clearly, plus, if you have little ones, they are softer to fall onto than paving. If child friendly materials are on your agenda, then take a look at our guide on how to design a child friendly garden.
11. Go green with mown paths
If you have a larger plot, perhaps you are lucky enough to have a tucked away area, full of established trees or tall shrubs. If that's the case, then it's the perfect place to add winding paths that are simply mown from lawn. The heavy dose of green will enchant any who wander down the walkway, and it will be a delight underfoot come summer.
This idea works well around flowerbeds too, and is a simple way to add softness to a cottage garden style plot. Just use one of our best lawn mowers to recreate the look.
12. Surround steps with roses
If your plot has a slope, you most probably have steps. So, don't forget to give them the cottage garden makeover, too.
This can be as simple as to border them in roses, as seen here. Take a look at our guide on how to plant bare root roses to recreate the look. Or, you could try other cottage garden favourites, such as Salvias or hollyhocks.
If there's no room for borders but your steps are wide, you could also add a few terracotta pots, planted up with easy annuals such as Cosmos or poppies. Your steps will instantly feel more enchanting – just make sure they're pushed to one side, and not in the way during nighttime wanders.
13. Add miniature pathways
Even the smallest paths can be full of charm. Try adding narrow, winding walkways between your flowerbeds with whatever rubble you can find – this one above is made with old pieces of slate. It will enable to you to admire your blooms from all angles and offer a fresh perspective on your plot, as well as making maintenance much easier.
Bordering with fragranced flowers will only add to the magic – you can find all kinds of lavender at Lowes or Suttons.
What materials can I use to create a cottage garden path?
There are lots of options when it comes to what materials to use to create a cottage garden path. You can find a handy list of suggestions below:
Try using reclaimed bricks – the more weathered-looking, the better.
Gravel made from a local stone is an affordable choice, and can look very attractive.
Bark chippings add a rustic charm, and can often be obtained for very little cost (or even free). Ask your local tree surgeon or have a look online.
For larger paths, paving made from natural stone with a riven finish will add a softer look than glossier styles – take a look at our cottage garden patio ideas for inspiration.
Use leftover stone or rubble from past building projects to create a mismatched pathway full of eclectic charm.
B&Q offers ingenious carpet stones. These have the effect of traditional cobbles, but each stones is pre-laid on a flexible mat which can be cut to shape. A brilliant solution for odd-shaped plots or those with little time to spare.
Don't forget that a simple mown lawn path makes a lovely alternative to harder landscaping.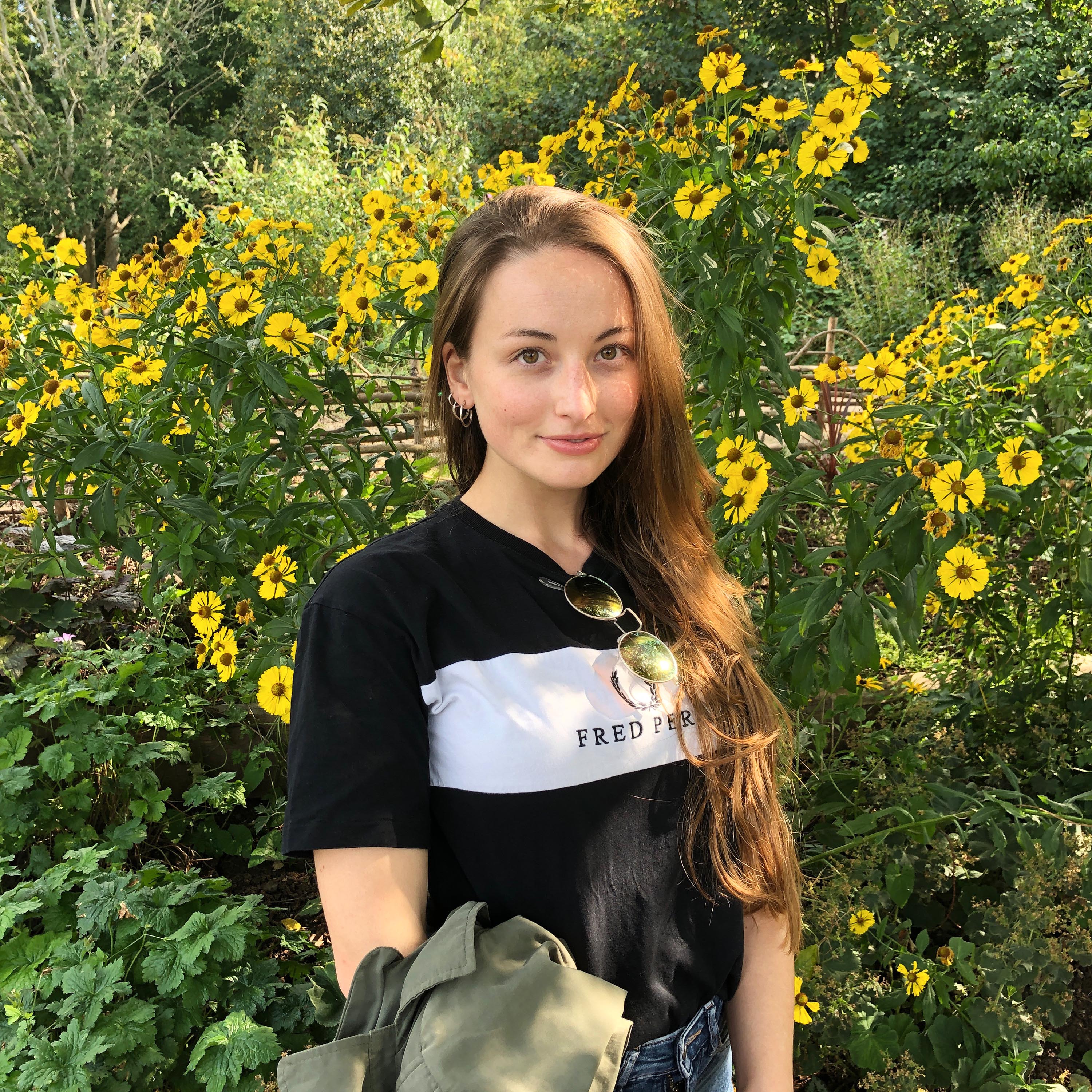 The garden was always a big part of Holly's life growing up, as was the surrounding New Forest where she lived. Her appreciation for the great outdoors has only grown since then. She's been an allotment keeper, a professional gardener, and a botanical illustrator – plants are her passion.