10 before and after patio makeovers you'll love
These stylish patio makeovers will spark ideas and inspiration for your own backyard transformation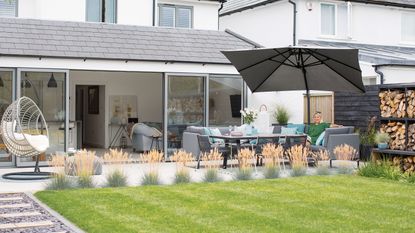 (Image credit: Future)
Gardening Etc Newsletter
The Home Of Outdoor Living
Thank you for signing up to . You will receive a verification email shortly.
There was a problem. Please refresh the page and try again.
There's nothing quite like having a peek at some stunning patio makeovers to get you inspired to update your own outdoor entertaining space.
If your backyard is in need of a little attention to transform it into a space you can be proud of, the good news is that it could be easier (and less expensive) than you might think to give your patio a brand new look.
We've rounded up some of our favorite patio makeovers so you can get some ideas of your own cooking. Some of them are larger redesign projects with budgets to match, but you'll be surprised by how many of these patio ideas have been achieved on a shoestring amount. What's more, all of them have plenty of clever style ideas and landscaping solutions to steal for your own projects, no matter the scale.
Get inspired by our favorite patio makeovers
Looking for ideas for paving, furniture and decor to transform your patio space? From budget patio ideas to stylish solutions for compact spaces, you'll find plenty to inspire in these brilliant patio makeovers.
Swipe to see how these stunning patios started out, and discover our top tips for creating these looks in your own backyard.
1. A cool and contemporary patio makeover
Image 1 of 3
Patio before
A large, rectangular plot is in many ways the ideal blank canvas to begin planning a garden makeover. However it can be a challenge as the possibilities are practically endless. Deciding where to place the patio area in this 98x50ft plot was fairly easy, as the couple wanted it to be an extension of their home. So positioning it near the house was an obvious sensible.
Socializing and entertaining needed to be incorporated into the plans for the makeover so an outdoor kitchen area, complete with one of the best pizza ovens, was built on the right side of the patio. There are bar stools stationed at the kitchen area which means the space doubles as a casual seating area. The main dining space, which is ideal for sit-down dinners, still has a relaxed vibe, with a corner sofa as seating and an adjustable parasol.
The owners wanted an unfussy color scheme to keep a cool and contemporary feel in the space. Steely grays and cool blues along with the pale patio paving ideas echo the aesthetic of the house. Even the displayed logs make a neutral feature which blends in perfectly.
Another important aspect to the patio makeover was to ensure that the rest of the garden provided a pleasant view to look out on when seated on the patio. So structured planting beds and some clever landscaping with timbers was used throughout the rest of the garden.
Read the full story of how this large plot was transformed into a relaxing modern space.
2. A redesigned space with two patios
Image 1 of 2
Patio before
Measuring a modest 25x15ft, this patio makeover started out as just one large, rather outdated, crazy paving patio area. Instead of keeping a single patio seating area, the owners decided to split their garden into two with linked patio areas. One would be for dining, and the other one for chilling out in. Mixing up the patio materials in each zone also highlights the different areas.
In creating two distinct small patio ideas the garden looks so much bigger than before. The budget for the whole backyard was £5,000 ($6,500), which may seem like a lot but as the owners put it: 'you wouldn't blink at spending thousands on a bathroom!'
And considering what they were left with was a tropical-style outdoor room, with specific spaces for dining and relaxing, you can see that this was a worthwhile investment for them.
Read the full story of how this tiny plot was revamped into a tropical-inspired space.
3. A beach-style side garden transformation
Image 1 of 2
Patio before
If you have a side garden, the temptation can be to keep this as 'no man's land', where odd pieces of backyard clutter are kept. Usually side gardens are an awkward shape and often unfit for lots of lush planting.
Rather than continuing their habit of using this space as a 'dumping ground' the family decided to make use of this unloved area and turn it into a stylish patio with a beach vibe.
To fill out the asymmetric shape, a curved path was put in, drawing the whole space together and giving balance to the plot. The corner bench-style sofa was a DIY furniture idea so it could be custom made to the exact size required by the space, while the fire pit patio idea is perfect for creating a focal point to anchor the space.
Using shingle or pebbles and cobbles adds to the beach vibe, and you can mix the two together for a more natural look. Displaying found objects such as pieces of driftwood, buoys, lengths of rope or shells picked up on seaside holidays, can also be an effective way to add personality to your space.
Read the full story of how this awkward outdoor space was transformed on a budget.
4. A low-budget courtyard patio upgrade
Image 1 of 2
Patio before
Cost-saving was the main priority for this patio makeover. It was essentially a space which had been used for builder's rubble whilst the owners had been having an extension added to their house. The cost of the extension left them with almost no budget, and an empty courtyard garden which was in desperate need of some homey touches.
The paving they used was gifted to them by their contractor for free, as they were previously destined for landfill. This brilliant free garden idea gave them a brand new floor, once the existing concrete had been dug up and the ground had been levelled.
All the furniture was either completely free from sites like Freecycle (opens in new tab), or from second-hand retailers like Ebay (opens in new tab). A few thrifty touches such as a gray statement wall, meant that the owners were able to completely transform their patio for just a few hundred pounds.
Read the full story of this budget courtyard garden transformation.
5. A simple and sleek decked patio
Image 1 of 2
Patio before
You can see from the before photo of this patio makeover, that the owner's backyard had undergone a fair bit of damage whilst their extension was being built. Rather than worry that the lawn near the house had been destroyed, the most logical course of action was to lay a decked patio area which led seamlessly from the back of the house.
The sliding doors open out fully onto the new pat