How to grow agapanthus: add colour and structure with these picture perfect pompoms
Here's the lowdown on how to grow agapanthus in your garden this summer. These pompom blooms will add colour and structure in one stylish bundle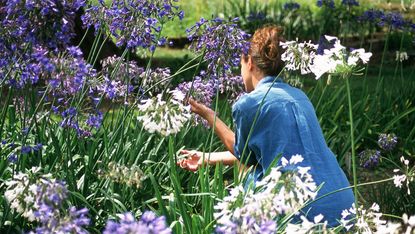 (Image credit: Future)
Make it your mission to learn how to grow agapanthus so you can add a touch of glamour to your garden. Where to start? First let's count the ways we love agapanthus. They're such show-offs. If ever there was an Instagram friendly flower it's this one. They come in deep and dramatic inky blues and purples, as well as paler shades and pure white ones if you prefer things a little more on the subtle side.
A container or border filled with these big bursts of joy will add a touch of standout style. Their exotic good looks (they come from South Africa) suggest they might be high maintenance but in fact they're a breeze as long as you follow a few basics.
Keep reading for everything you need to know, then check out our guide to garden borders for more planting inspiration.
How to grow agapanthus
There are two ways to grow agapanthus. You can buy the plants in garden centres during the spring and summer – opt for those with green, healthy looking foliage and reject anything that looks lack lustre or wilted.
Alternatively, you can plant out potted rhizomes if you want to get a head start before spring and summer. These thick fleshy stems have a small fan of foliage which is the growing point and should be planted with this tip pointing upwards. Buy them in containers packed with soil not loose in packaging as the root may have dried out making it less likely to flourish. Or check out the options online.
Either way, you are guaranteed a gorgeous display from midsummer right round to autumn to spark some joy in your life. Did we mention they also come back year after year if you give them a little TLC?
CAN I GROW AGAPANTHUS FROM SEED?
Agapanthus are easy to grow from seed as long as you you have the space to accommodate them and the patience.
Sow indoors in February and March, in pots or trays of seed compost. Maintain a temperature of 15-20°C (60-68°F) and keep them moist. Thin seedlings to pots when they're large enough to handle. You may be rewarded with flowering plants in as little as two years.
Alternatively collect your own seeds at the end of summer when the seedheads turn golden and start to burst open. Store them in a paper bag. Or snip the whole seedhead off and store in the same way.
WHAT TYPE OF AGAPANTHUS SHOULD YOU GROW?
There are two main types of agapanthus. The tough, hardy ones (known as campanula hybrids) have narrow leaves they lose in winter and are reliable plants that won't need wrapping in cotton wool.
They require very little looking after but will benefit from a mulch of bark chippings when they finish flowering to give them a protective winter layer. You can find out how to do this in our ultimate guide to mulching.
Meanwhile the evergreen variety of agapanthus are more delicate. They do best if you grow them in tubs during summer then take them indoors during winter, when a cold porch or conservatory is the ideal place for them.
WHERE IS THE BEST PLACE TO PLANT AGAPANTHUS?
Choose the sunniest spot possible as you won't get as many flowers if you plant them in the shade. Put them in a patio hotspot or plant against a warm wall and just watch myriad buds burst open, as this is a plant that loves being bathed in sunshine. They also do well in containers.
Agapanthus thrive in well-drained soil or planted in pots with plenty of added grit. Planting them in the shade or leaving them exposed to cold weather with lack of winter protection can cause problems.
To keep your borders and pots looking neat, remove any old foliage before new leaves emerge.
How to care for agapanthus
Choose hardy varieties for spring planting. Just watch out for any late frosts, in which case wrap them in fleece or move indoors overnight.
Water regularly during the growing season, especially in the first year. Once established they won't need much watering. Reduce watering in winter, aiming to keep soil slightly damp
HOW DO I GET MY AGAPANTHUS TO FLOWER?
Keep your eye on them during heatwaves or dry autumn weather and water as necessary. This encourages the development of new flower buds for next year. Next year's flowering can be poor if plants are allowed to dry out during this season.
WHAT IS THE BEST FERTILISER FOR AGAPANTHUS?
If they're planted in pots feed them with a liquid all-purpose plant food while if they're in a border treat them to a granular fertiliser like Growmore. Feed fortnightly from April until the flowers burst open to encourage development of large flowers and lush foliage.
HOW TO PLANT AGAPANTHUS IN POTS: YOUR STEP-BY-STEP GUIDE
If you're looking for patio gardening ideas, agapanthus are a good choice. Potted up, they will add a lovely showy touch to your patio. Agapanthus like to be snug in their pots so they will thrive in a closely packed container in proximity to other plants. They don't do as well if they're given too much space. Pack three to five rhizomes, for example, in one 35cm diameter pot.
1. Add a layer of crocks or grit to the bottom of your pot for good drainage and set the pot on feet or bricks to keep water draining away adequately. Adding a handful of grit to your compost will also help.
2. Fill the container with a soil-based compost such as John Innes No.2 or No.3. As you near the top, remove the plants from their pots and push the pots into the compost to create perfect planting holes.
3. Remove the plastic pots from the compost and replace with the plants. Position taller plants at the back. If planting in open ground, plant lofty varieties centrally with smaller ones surrounding. If planting rhizomes instead of potted plants these should be covered by 5cm of soil, with just the green tips poking out. Water several times a week for the first few months to keep the soil moist but never drench it.
4. Water in well. A decorative mulch is optional as your plants will soon cover the soil surface, but an organic mulch will help to retain moisture as they settle in to their new home.
5. In late autumn cut down all spent flower stems and fading foliage ahead of wrapping up your container for a rest over winter. Cover pots in bubble wrap and protect the crowns with a 15cm layer of straw or fleece. Replant them every two or three years to avoid them becoming pot bound.
WHERE TO BUY AGAPANTHUS
You can buy agapanthus as either a rhizome (plant stem) if you want to plant earlier in the season to get a head start, or as a potted plant if you want quick results in spring and summer. You can also try growing them from seed, but the above two options are the most popular ways to plant agapanthus in your garden.
Shop agapanthus at the below suppliers, or keep scrolling for some of our favourite picks at the end of the article.
Shop agapanthus in the UK
Shop agapanthus in the US
4 VARIETIES OF AGAPANTHUS TO TRY IN YOUR GARDEN
With so many wonderful colours and varieties to choose from you're spoiled for choice. Here's a round-up of some of our favourite agapanthus varieties.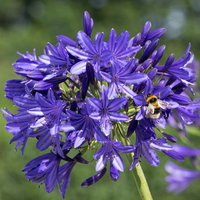 Agapanthus 'Midnight Madness' from Crocus
The bell-shaped flowers open from inky buds to reveal rich purple-blue petals, each with a band of deeper blue along their length. A stunning perennial for adding structure and colour from midsummer, the blooms look stylish in borders and pots.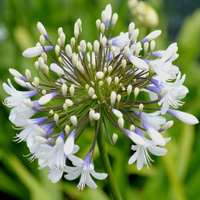 Agapanthus 'Queen Mum' from Crocus
A whopper topped with white and blue flowers. It makes an excellent container and border plant, standing upright and strong with its striking globes of trumpet-shaped flower clusters in midsummer. Hugely long-flowering too!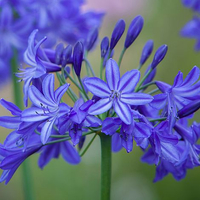 Agapanthus 'Northern Star' from Thompson & Morgan
Choose a consistently good performer like 'Northern Star'. Very hardy with strong stems topped with rounded flower heads, packed with dark purple buds. Once open, the star-shaped flowers are a rich blue. Perfect for pots.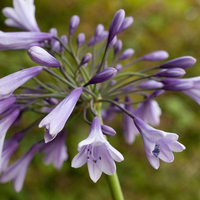 Agapanthus 'Liam's Lilac' from Waitrose Garden
This variety has soft lilac flowers, which darken slightly towards their base. Forming elegantly nodding, trumpet-shaped blooms that flare out gently at their tips, they appear in open, rounded clusters above lush foliage. Flowers a little later than other varieties.
Read more: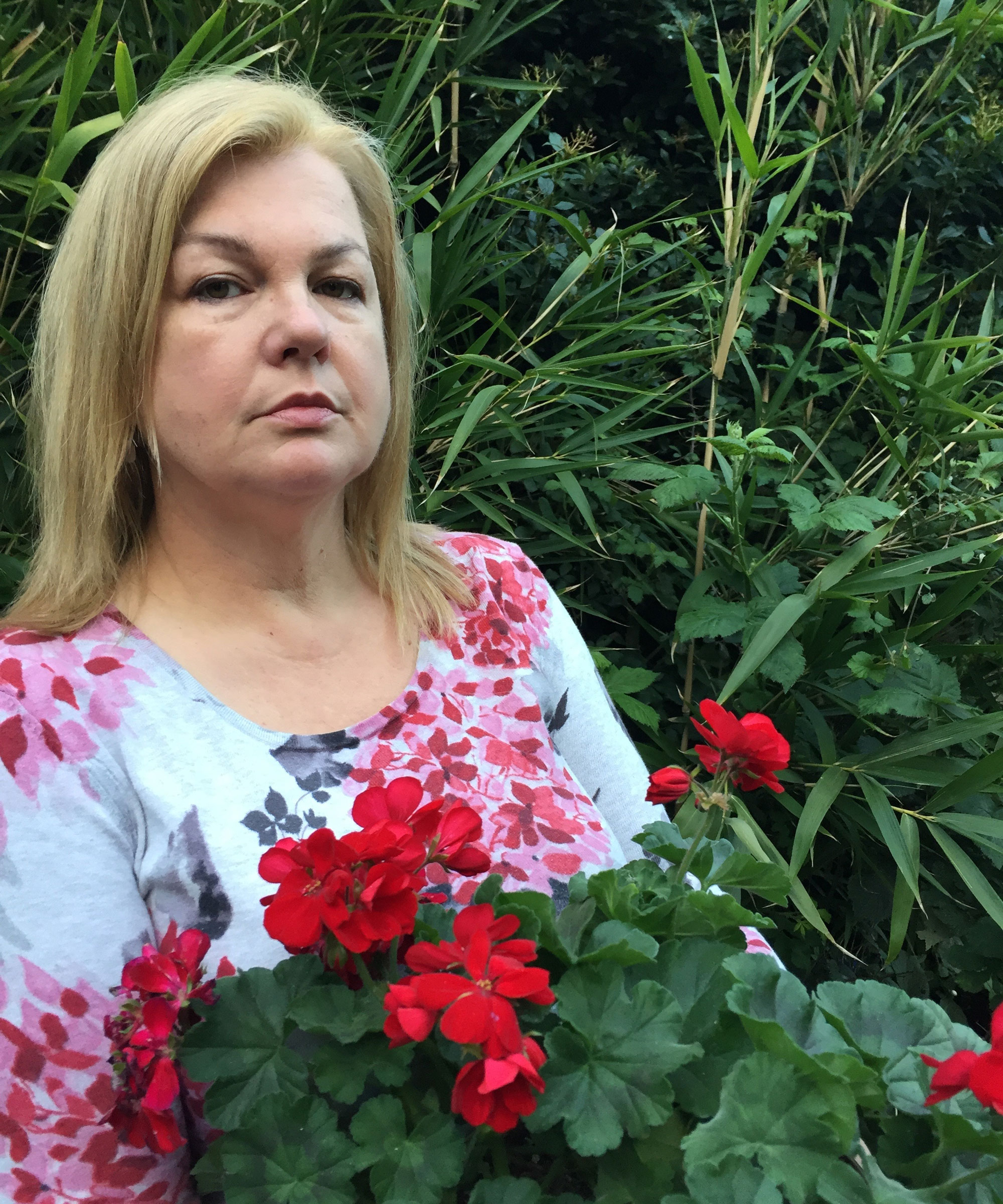 Lifestyle journalist Sarah Wilson has been writing about gardens since 2015. She's written for Gardeningetc.com, Livingetc, Homes & Gardens, Easy Gardens and Modern Gardens magazines. Having studied introductory garden and landscape design, she is currently putting the skills learned to good use in her own space where the dream is establishing a cutting garden.