Kick-start 2021 with these 10 essential gardening jobs for January
A new year means a fresh start for your garden. So get planning, revamping and planting with these gardening jobs for January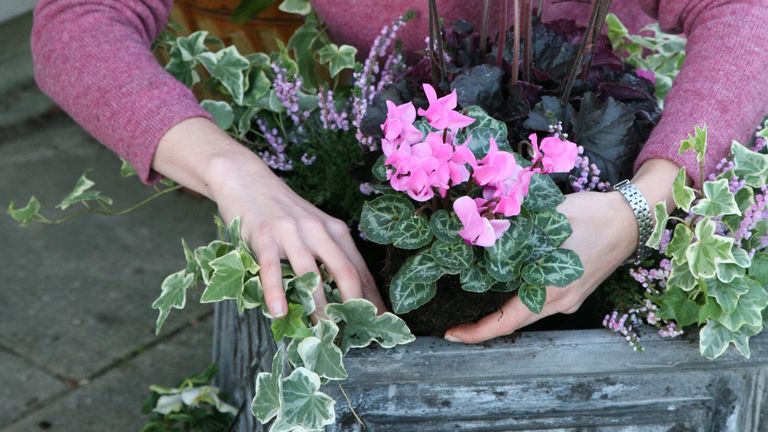 (Image credit: Amateur Gardening)
January might not be your favourite month of the year, in fact with the holiday season and all festive celebrations at an end for some of us January could well be our least favourite month of all! So we hope these essential gardening jobs will help banish those January blues.
On dry days there's planting that can be done to bring radiant winter blooms into your garden which won't fail to lift your spirits. If the weather is frightful then indoor jobs like planting up some chillies will help inject some much needed heat! And if you've over-indulged this festive season, the thought of sowing some fresh winter salad leaves which are packed with vitamins might be extremely appealing?
Whatever the weather there's always some sort of gardening job to enjoy! So scroll on and you might feel inspired to get your outdoor space off to a flying start this year. Head over to our garden design ideas for more inspiration too.
1. MAKEOVER YOUR BOUNDARIES
While little is happening in the garden at this time of year, take the opportunity to revamp your fences and garden wall ideas. Timber treatments and paints come in a wide range of colours and darker backgrounds provide the perfect backdrop to bold foliage and flowers, while at the same time preserving your fences and walls. Look for Cuprinol 5-year Ducksback in Black or Silver Copse for fences and sheds, or Cuprinol Garden Shades in Black Ash, for covering walls, fences, brick and stone. Head over to our best exterior wood paint buying guide for more advice.
2. GIVE THE BIRDS A DRINK
Want to know how to attract birds into your garden over the winter months? One of the best bird-friendly things we can all do is to provide water. Birds visit bird baths much more frequently during winter than summer, in fact, it's essential for drinking when frosts seal off natural supplies. Bathing also allows birds to maintain their plumage as it encourages preening, which helps keep their feathers well-oiled and insulated against cold. Make a simple bird bath by raising a shallow plant saucer just off the ground. If the water freezes overnight, defrost with a kettle of boiling water to keep this essential supply accessible.
3. PLANT UP A WINTER POT
January is possibly the bleakest of months and when the weather is at its coldest. The sight of a container packed with the best plants for winter pots is guaranteed to chase away those winter blues. At this time of year, garden centres have a good selection of small potted bedding plants and bulbs to provide instant colour. Use a large container and fill two-thirds full with compost – at this stage, pop in any spring bulbs that have not been planted yet. Add more compost, then add your plants, starting with the largest in the centre. We used Heuchera 'Obsidian' and two each of variegated trailing ivy, pink winter heather, hellebore and Cyclamen persicum.
4. TURN UP THE HEAT WITH CHILLIES
Learn how to grow chillies and you'll never regret it as you'll soon have a plentiful supply to pick from. The good thing about sowing chillies early is that plants will have time to develop, flower and ripen by mid-summer. Growing from seed gives you a much wider choice of varieties, such as 'Hungarian Black', one of the most popular mild-to-medium chillies, 'Lemon Drop', a long- fruited chilli with a lemony flavour (shown), and 'Scotch Bonnet Red', guaranteed to turn up the heat. Pop seed into individual pots of compost, then transfer to a heated propagator or the airing cupboard until seedlings appear, but ensure the compost doesn't dry out. Find out how to compost in our expert guide to making your own.
5. KEEP HELLEBORES HEALTHY
As hellebores come into season, a quick tidy up can make all the difference to your plants. Cut off all the old foliage to the base to remove overwintering pests and diseases. This clears the way for a good mulch of bark or organic matter, ensuring to keep it away from the crown to prevent buds rotting. This mulch layer will prevent mud splashes spoiling the blooms during rain and help trap in moisture for the summer.
Move any container-grown hellebores to a prominent spot where they can be seen, raise on pot feet to help excess water drain away. You can also read our in depth guide on how to grow hellebores, plus there's top tips on how to add mulch in our ultimate guide to mulching.
6. CRAFT A MINIATURE GARDEN SCENE
If you're itching for a January project, how about trying some patio gardening ideas and creating a garden in miniature? Pick up a pot and use your imagination to design and plant it up. It could be a reminder of a holiday abroad, or personalised as a gift for a friend. Wide, shallow pots are perfect for this. To help with drainage, first add a layer of gravel before the compost. Then to the fun part of finding tiny conifers or ferns, small pebbles to make a pathway, or banks of moss with scaled-down decorations to suit your theme.
6. PLANT CAMELLIA FOR HARDY BLOOMS
They're hardy shrubs with showy flowers in late winter and early spring, bursting into flower when there's very little else in bloom. They come in a range of sizes, but usually get no taller than around 2-3m so they're ideal for small garden ideas. No pruning is necessary either, so all you need to do is snip off any faded flowers. They can look good in a container so position them in a sheltered spot near the house to make the most of them. Their roots like to be well-drained so make sure there are holes in the bottom of the pot and add plenty of crocks too. Check out our full guide on how to grow camellias for more advice.
8. SOW DELICIOUS WINTER SALAD LEAVES INDOORS
Want to try growing lettuce in winter? It's not as unrealistic an idea as you might think. The sight of green shoots at this time of year is so uplifting. Add a scattering of salad leaf seeds to a pot of compost and leave on a warm windowsill to grow. Try a pack of Cut and Come Again Salad Leaves from Thompson & Morgan's Kew Collection range. It features a mix of Japanese greens, salad rocket, oriental mustard and pak choi. When large enough to handle, thin out seedlings to 10cm apart for baby leaves or to 30cm for mature plants. Keep sowing throughout the year for a constant supply of fresh leaves for your salads.
9. CHECK YOUR SOIL PH LEVELS
Did you have any failed attempts at growing last year? Sometimes whether a plant will survive or not is pre-determined by the conditions of your soil. Buy a pH test kit to find out your soil pH in different areas of your garden. This way you will know which plants will thrive and what, if anything, you need to feed your beds and borders. So when you're planning any new additions for next year you can be sure that you won't be wasting time or money on a plant that is doomed for failure. For more advice on how to get the most from your soil you can check out our guide to soil types.
10. CHIT POTATOES IN PREPARATION FOR PLANTING
Thinking of learning how to grow potatoes? Use a shallow seed tray or egg box and place in a light, frost-free position such as a sunny windowsill. Stand each potato tuber with the 'rose' end uppermost – this is the end with the most eyes. Within a few weeks sturdy 'chits' will develop. Plant the tubers into pots in a heated greenhouse at some point January, or into soil in mid to late March, taking care not to knock off the chits.
Read more: