Bohemian garden ideas: 15 gorgeous ways to create an eclectic outdoor scene
Want to create an artsy vibe for your plot? Our bohemian garden ideas have tons of tips for furniture, accessories and lighting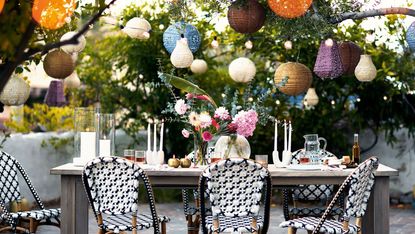 (Image credit: Anthropologie)
Bohemian garden ideas are the perfect solution for conjuring up a laid-back look that's full of vibrancy. All it takes is a bit of creativity and know-how to curate this eclectic style.
And whilst this might sound a little overwhelming, trust us – bohemian garden ideas are the epitome of comfort and fun. And that's especially the case if you style them in the right way, which is where we come in to help.
We've gathered the best ways to create a boho-style garden. From lighting to cushions, and even a teepee, join us in celebrating all things unconventional, artistic and free-spirited, for an outside space that makes you smile.
And if you're looking for even more ideas afterwards, be sure to check out our garden design ideas.
What is a bohemian garden?
Defined as a perfectly-imperfect mixture of styles that takes inspiration from all around the world, a bohemian garden exudes exotic patterns, natural materials and relaxed seating. Forget about the clean lines and pared-back materials of uber-contemporary plots – this look celebrates eccentricity, layers of visual interest, and bold colors. Break the rules – more is more.
So for your bohemian garden ideas, don't be afraid to go a little wild. Mix and match antique pieces with reclaimed materials, add a splash of colorful paint to your plant pots or pergola, pile on the textiles, and don't forget plenty of atmosphere lighting. Combined together, you'll be rewarded with a dreamy set-up that feels personal, stylish, and full of fun. And if that hasn't got your creative juices flowing, these ideas below will fill you with even more inspiration...
1. Add an ornate parasol
The best garden parasols come in all sorts of designs, but if you're looking for bohemian garden ideas, it's time to cast aside neutral tones and modern looks. Instead, go for ornate styles that are bound to turn heads, for that all-important dose of eclectic character.
Here, a bright pink parasol adds oodles of boho charm to this gorgeous bistro set. Complete with pattern, tassels, and a gold-painted finial and pole, it's a surefire way to brighten up any lacklustre scene. We love how the colors are reflected in the cushions too, adding a sense of cohesion.
2. Layer up textiles for a cozy zone
In boho-style plots, there's no reason to restrict your outdoor seating ideas to furniture. Instead, make use of the floor by layering up tons of cozy outdoor cushions and the best outdoor rugs. Add a mix of lanterns, string festoon lights up overhead, and use pretty trays to pop your drink on safely as you lie back and relax.
It's a gorgeous way to create that super chilled-out vibe, perfect for long, sunny days that turn into magical summer evenings.
3. Pair patterned details with natural finishes
Outdoor, foldable mattresses ramp up the comfy factor, and can be used to lounge out on the lawn or, as seen here, to line a seat. The bold pattern is a wonderful contrast to the natural finish of the furniture.
This idea is all about creating a special spot in your garden for relaxing and taking in nature. So, to recreate the look, position a show-stopping chair and coffee table in a quieter section of your plot, such as beneath a tree or surrounded by flowers.
4. String up decorations overhead for fanciful dining
There's something about dining alfresco beneath fairy lights that is just so magical, but why not go even further by stringing up colorful decorations for an all-out boho look?
Tie decorations to tree branches, fences, or even your pergola ideas, and create a garden party full of wonder which your guests won't want to leave.
5. Complement pale furniture with vibrant tones
Speaking of creating a show-stopping seating set-up, check out this scene. An ornate stone bench and table duo add an old-world vibe that's given a boost of vibrancy with tons of colorful accessories.
Hanging basket ideas are a great way to add even more color and texture and look fantastic when suspended from a pergola or gazebo.
6. Opt for a luxurious daybed
A daybed is one of the new must-have pieces when it comes to garden furniture ideas and works well in a boho-inspired space. This is especially the case if you go for an exotic print.
But why stop there? To give the look an even bigger touch of luxe, frame it with a flowing canopy. Then, hang lanterns from above to light up the cozy shelter come nightfall. Perfect for parties, or just for lounging in peace with a good book.
7. Create a chic seating spot beneath a canopy
Speaking of sheltered seating spots, if you love the sound of patio cover ideas or covered deck ideas, but aren't sure if you want to invest in a permanent structure, then this may well be the solution for you.
A transportable canopy such as this is a quick way to boost the atmosphere of your outdoor space. Not only will the cotton cover provide cool shade from the midday sun, but will also create a cozy hideaway to lounge with friends and a glass or two or something cold.
With its vintage, laid-back look and tassel detail, it's a fabulous addition for bohemian garden ideas.
8. Pile on the colorful cushions
If your existing garden furniture is on the neutral side but you're pining for a boho feel, then don't worry. You don't necessarily have to splash out on a whole new set-up – instead, add a splash of color and pattern with cushions.
This plush rattan sofa gets a wonderfully boho look with a mix-match of designs. Funky glassware and a vase of freshly-picked blooms add pretty finishing touches. And why not go the extra mile and hang up some pretty festoon lights for added romance?
9. Create a chilled out vibe with low seating
Boho style is all about chilled out comfort where everyone can relax together. Being close to the earth goes a long way in making you feel grounded, which is why pouffes and floor cushions are the go-to seating choice when it comes to bohemian garden ideas.
These traditional pouffes are made of leather and available in several colors. Scattering a couple of these in your garden will instantly create a more relaxed vibe, and make more room for guests, too. They're a great way to transform your patio ideas.
10. Illuminate your garden with gorgeous lighting
The best outdoor lights can completely transform the feel of your garden, and enable you to enjoy your outside space well into the night. Draw attention to nature by wrapping fairy lights around trees, draping them along bushes or use floor lights to illuminate plants.
You may not have considered using LED candles in the garden, but they're a brilliant way to create that calm, romantic feel for your bohemian garden ideas, without any risks.
11. Add extra warmth with a fire pit
Mixing and matching patterns and textures is crucial for a playful space, so layer up outdoor rugs, create piles of floor cushions and prepare to settle in with your chosen tribe of friends.
But when the chilly evenings arrive, there's no better way to keep cozy than to gather round one of the best fire pits. If you want to incorporate bohemian garden ideas into a smaller plot, then this compact design is perfect.
12. Get the kids involved with a playful teepee
Want stylish bohemian garden ideas that'll keep you and the kids happy? The humble teepee does it all! It's a very exciting play tent for the kids to use as a den, and an on-trend, fun design element to your boho space.
This teepee and rug are subtle and muted in color, for a kids play area that blends into the rest of the garden. Head to our garden activities for kids for more ways to keep them entertained outside.
13. Paint your furniture in bright colors
Color is key when it comes to bohemian garden ideas. So if your furniture is looking a little dull, why not give it a bold new look?
Pick a sunny day and whip out the brushes for an afternoon spent painting – you'll be rewarded with a gorgeous new style that's perfectly tailored to you. You don't have to paint a set all one color, either. This dining furniture shown above is painted in a complementary palette and adds tons of visual interest to the scene. Take a look at our best exterior wood paint buying guide for our top picks.
The green parasol, adorned with an ornate golden swirling pattern, complements the look beautifully.
14. Don't forget about the finishing touches
Updating your outdoor dinnerware, table decorations and foliage is a simple way to create a vibe fit for your bohemian garden ideas, without spending a fortune. There's an abundance of melamine patterned plates out there that will create that boho look and survive even if they fall onto concrete. Plus, they're eco-friendly, too.
Colored tumblers, those cute terracotta patterned bowls that you've gathered on your travels, and candlesticks are easy ways to add to the whimsical feel. This jug is a real show-stopper, and would be the perfect centrepiece to any dining table.
15. Swing from the trees in a pretty hammock
If you're looking for an alternative seating solution for your bohemian garden ideas, then how about opting for a hammock? This beautiful design is generously-sized and makes an attractive feature for any plot, as well as being a fun place to while away the afternoon. Simply string between two sturdy trees and enjoy the soothing rustle of leaves in the breeze overhead.
We're loving the intricate detail and tassels of this design which offer a vintage look, but if you're after something a bit different, take a look at our best hammock buying guide for more options.
What colors should I choose for my bohemian garden ideas?
For a bohemian-inspired garden, you can opt for colors of nature, such as earthy terracotta, warm clay, khaki and other shades of green, suggests Matthew Brown, Technical Consultant of Sadolin and Sandtex.
'These colors will create a laid-back, relaxed look that will be the perfect background for a few accessories in bolder or more uplifting shades – such as bright blue, vibrant red or baby pink.' This is a great option if you want to channel a boho style into your plot, but want to keep it versatile enough to chop and change the look easily down the line.
If you're fully committed to the vibe, then you may want to go bolder for your garden colour schemes. Paint an entire wall or fence in azure blue, deep rust, rich aubergine, or raspberry pink for a striking focal point. Then, layer on accessories from a complementary palette, to keep a sense of balance.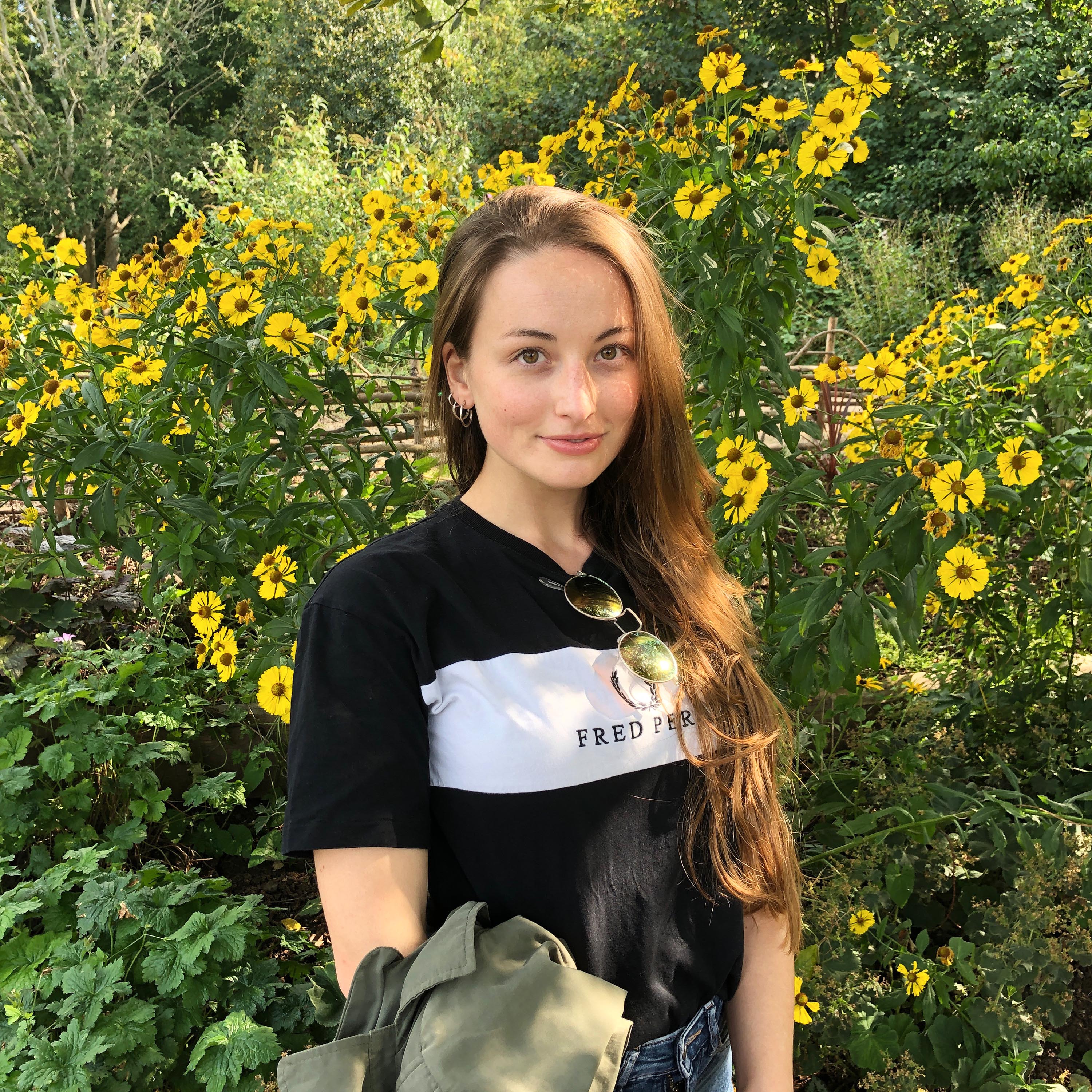 The garden was always a big part of Holly's life growing up, as was the surrounding New Forest where she lived. Her appreciation for the great outdoors has only grown since then. She's been an allotment keeper, a professional gardener, and a botanical illustrator – plants are her passion.