10 gardening jobs for October
Moving into autumn there's a chill in the air, but these gardening jobs for October will still give you plenty to do outside this month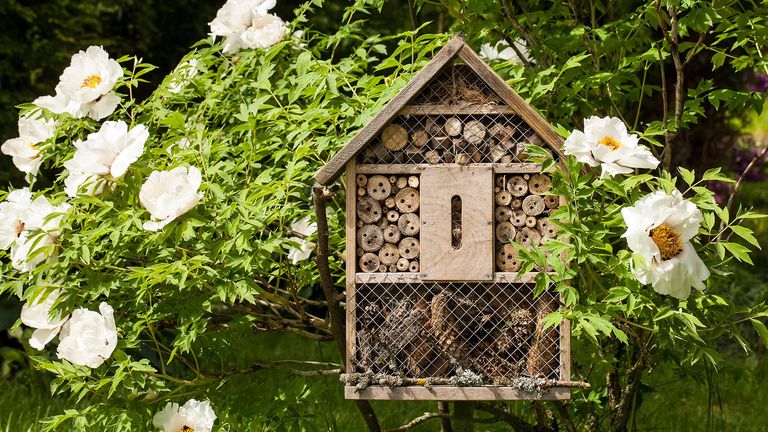 (Image credit: Alamy)
It's the start of a new month, so time to think about gardening jobs for October. This year, instead of packing your garden up for the colder months, why not make frost your friend by embracing the Scandi hygge way of life in your garden? The outdoors can be a great alternative place to chill out with family and friends. The crisp fresh air is not only a good health tonic, but it can also help to give off a fabulous atmosphere for your gathering, as long as you have the right tools to create a cosy ambience in your outdoor space.
The days may be shorter and the temperature has dropped but the garden is still full of planting interest too. The leaves are beginning to turn shades of yellow, orange and pink before falling to the ground. After the dry summer weather, cooler nights and increased rainfall spur the autumn-flowering bulbs into life such as cyclamen and colchicum. Late blooming perennials like salvia and asters will keep pollinators happy throughout the month too. 
Keep reading for ten perfect gardening jobs for October, then head to our garden design ideas for more great ideas for your space. 
1. RAKE UP LEAVES AND USE AS A MULCH
Falling leaves are one of our favourite things about autumn but they can play havoc with your lawn. Rake up your leaves and store in plastic sacks with punctured holes and the leaf mould will be formed to use as mulch for the following Fall. The material isn't rich in nutrients like some types of compost, but it is still beneficial. It makes an excellent mulch for beds and borders, and it can be dug into the ground to improve its condition. It contains high levels of humus, which will help the soil to retain moisture and enable it to hold onto nutrients. Head over to our guide to mulching for more expert tips. 
2. COSY UP YOUR PATIO
You'll need a source of heat if you're hoping to use your garden into the autumn months – there's only so much blankets can do once the evenings draw in and temperatures start to drop. A crackling fire pit will also give off light in the form of a warm, festive glow. Adding chairs and benches will help to create an inviting place to relax and spend some downtime in the garden, no matter how chilly it gets.
3. POT UP AN ORNAMENTAL CABBAGE
Plant your own fabulous container of bright winter cabbage. It is proof, if it were needed, that autumn gardens do not have to be dull. The vibrant tones of the ornamental cabbages, will really brighten up a dull corner throughout the cold months of the year. Be sure to add drainage holes to the bottom of your container and add crocks to the base. Fill with ericaceous compost as cabbages prefer slightly acidic soil.
4. BUILD A BUG HOTEL
Bug hotels provide shelter for creepy crawlies during the cold months and they can be put together quickly and easily. Stack shelves using wood offcuts and old bricks. Fill sections with bamboo tubes, pine cones, straw and leaves. In fact most natural material foraged from your garden will work well. Painting it in a bright colour will make it a fun feature too.
5. PLANT SOME TASTY GARLIC
Now's the time to harvest vegetables if you grow your own, but there's still things that can be planted too. For instance, it's a good time for planting garlic. Don't be tempted to use store bought garlic cloves, though they may look the same you might not get as good a result! It's best to get specialist cloves which are specifically for growing. Push them into a pot of compost 2.5cm deep and 20cm apart and watch them grow. Get more expert tips on how to grow garlic in our guide. 
6. PRUNE YOUR HEDGES
If evergreen hedges are untidy this is the last chance to prune them back before winter sets in. A hedge trimmer is the quickest and most efficient tool for the job and it's super easy to get a straight edge. But if you don't have one then a pair of shears will get the job done. You'll be amazed what a difference a freshly trimmed hedge makes to the overall appearance of your garden.
7. PLANT BULBS FOR SPRING
It's time to start getting excited about planting bulbs! When buying spring bulbs make sure you go to a reputable supplier, and don't buy from unknown sources on the internet as they may have been taken illegally from the wild. Plant bulbs in the ground as soon as you can after they arrive, except for tulips which shouldn't be planted until around November time.
Spring bulbs can go in pots and window boxes, be stuck straight in the soil in your borders or even be naturalised in your lawn. Try scented hyacinth, bright daffodils, delicate snowdrops and pretty crocus. 
For a brilliant show of spring flowers, try planting a bulb lasagne, with layers of different bulbs planted on top of one another. The latest flowering bulbs (such as tulips) go in the bottom layer with another layer or two or earlier flowering bulbs on top, such as hyacinths in the middle layer and crocuses in the top one. 
8. GET A POTTED ACER FOR AUTUMN COLOUR
Acers, also known as Japanese maple, are super stars of the garden in October. They have bright orange and red foliage which will really brighten up your garden. Pick one up from your local garden centre and plant it straight into a pot or the ground. They need good drainage when they're potted, so put crocks in the base of your container before planting up.
9. TREAT YOUR TOOLS
You might not be seeing much of your tools in the coming months but give them a good cleaning before they bed down for the season. Scrape mud off spades, forks and hoes. If the mud is caked on then dunk them in warm, soapy water and wipe them down with an old towel or cloth. Rub oil (any type will do) onto the metal blades before putting them away for winter  and store them in a dry shelter for the rest of winter. This will mean they'll be rust-free and good-as-new by the time you come to need them again.
10. START A COMPOST HEAP
If you're doing an autumn clear up your garden, now is a good time to think about learning how to compost. Gather the ingredients, try to have a mix of wet and dry materials. Wet ingredients include leaves, clippings and veg peelings from your kitchen and dry ones are wood, ash and scrunched up newspaper. Pack them into a compost bin with a lid and after 9-12 months you'll have a rich and crumbly compost to use in your garden next year.
Read more: