Best garden furniture 2021: outdoor lounge and dining sets
The best garden furniture for relaxing in the garden this year – from contemporary outdoor dining sets to comfortable corner sofas and modern loungers
Included in this guide:
1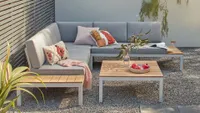 Homebase
Spirit Garden Corner Sofa Set
2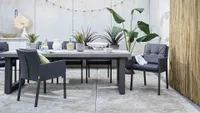 Furniture
Village Ravello 6 Seater Garden Dining Set
3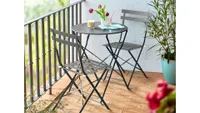 Homebase
Lazio Metal Bistro Set
4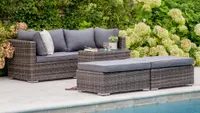 Garden
Trading SELBORNE DOUBLE LOUNGER SET
5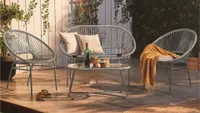 Vonhaus
Rattan Sofa and Table Set
6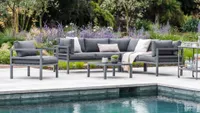 Garden
Trading West Strand Corner Sofa Set
7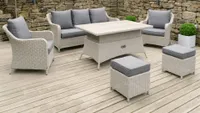 Barker
& Stonehouse Corsica Garden Sofa Set With Rising Table
8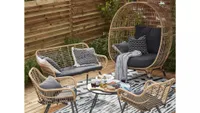 B&Q
Apolima Rattan Effect Egg Chair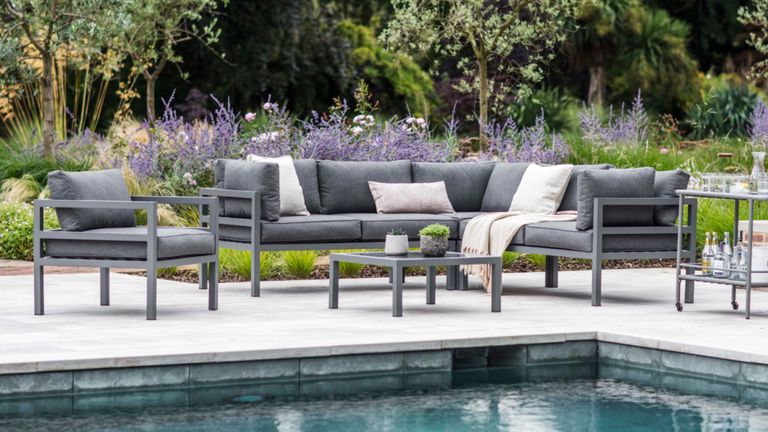 (Image credit: Barker and Stonehouse)
By Amy Lockwood
Looking for the best garden furniture? With good weather on the horizon and lots of us... still... staying at home, you're not alone. And because of that, this year outdoor furniture is flying out of stores quicker than you can light the barbecue.
The good news is we're here to help. We've rounded up the best garden furniture on our radar to ensure you can still extend your living space outdoors with the most comfortable outdoor sofas, dine alfresco at the most stylish garden tables and chairs, and generally maximise every square inch of outdoor space whilst the sun is shining.
We've included a mix of in-stock best buys, plus some super stylish pre-order items that we think are worth the wait. If an item isn't in stock when you initially browse through to the retailer, keep checking back or sign up for email notifications to be alerted when more stock hits the stores. Or use our handy real-time shopping tool at the bottom of this page to find the lines that are in-stock and available to buy today.
Ready to get outside? Once you've chosen the best garden furniture, all that's left to do is get your outdoor living space fully kitted out with our guide to the best BBQ, or maybe the best hot tubs... then it's time to put your feet up and enjoy the sunshine.
The best garden furniture of 2021
1. Homebase Spirit Garden Corner Sofa Set
Best corner sofa: a contemporary design for relaxed outdoor lounging
Specifications
Materials: FSC teak and aluminium
Seats: 4
Size: Sofa: H64 x W159.5 x D79.5cm
Reasons to buy
+Contemporary design+Leave outside all year round (apart from the cushions)+Comfortable outdoor lounging+A great buy in the sale right now!
The Spirit Outdoor Sofa Set from Homebase has been in and out of stock more times than we can count over the summer, and it's very easy to see why. An outdoor sofa is a brilliant way to extend your living area out into the garden over the summer months and we love this streamlined contemporary design.
Crafted from weather-resistant FSC-certified teak wood with a lightweight and rust-resistant aluminium frame, the base unit can be left outside all year round, with just the seat and back cushions needing to be stored somewhere dry over winter.
Considering all the cushions and a useful coffee table are included in the price, we think this is a really reasonable deal for what you're getting. Plus we're particularly taken with the built-in shelving units on either side of the seats - perfect for perching a drink or a plate of BBQ.
Definitely one to snap up when you find it in stock, and even better when you find it on sale, which it is right now...
2. Furniture Village Ravello 6 Seater Garden Dining Set
Best garden table and chairs: stylish and comfortable outdoor dining
Specifications
Materials: Powder-coated aluminium, ceramic, synthetic material and foam
Seats: 6
Size: Table: H76 x W240 x D100cm, Chairs: H85 x W58 x D61cm
Reasons to buy
+Contemporary design+Leave outside all year round (apart from the cushions)+Spacious dining table+Super comfortable dining chairs
Reasons to avoid
-The most expensive option on our list, but we think worth the investment
The best garden furniture is big on style and low on hassle, which is where the Ravello Six-Seater Garden Dining Set really delivers. The contemporary design - with a spacious concrete-effect ceramic dining table and six powder-coated aluminium dining chairs - is designed to be left outside all year round, saving you any winter storage woes and letting you get on with enjoying the good weather.
The seat cushioning does need bringing inside during prolonged wet weather, but the quick-drying fabric and micro-porous foam padding mean they'll soon dry after a short shower.
Yes, the price tag is fairly hefty, but if you plan to spend a big chunk of your summer dining outdoors then you'll want to do it in comfort as well as style, and not all outdoor dining sets achieve that. This generous outdoor table offers plenty of space, and we think the comfortable dining chairs mean you'll be more than happy to linger alfresco long into the evening.
3. Homebase Lazio Metal Bistro Set
Best bistro set: a compact metal folding table and chairs
Specifications
Materials: Powder-coated steel
Seats: 2
Size: Table: H71 x Dia.60cm, Chairs: H82 x W48 x D41cm
Reasons to buy
+Very affordable+Space-saving design great for small patios or balconies+Foldable for easy storage
An outdoor bistro set is often the best garden furniture solution for a small courtyard patio or balcony, but if your outdoor seating budget is tight then it also creates a great alfresco dining area no matter what the size of your space.
We think the Lazio metal bistro set from Homebase is a great option, and for well under £100 it delivers style without breaking the bank.
Available in dark or light grey, the smart slatted metal design includes two powder-coated steel folding chairs and a collapsible circular dining table, all of which drain and dry quickly after a shower and are easily foldable for space-saving storage when not in use.
Just add seat cushions, a tealight, and a good friend, and you have an intimate outdoor soiree for two sorted.
4. Garden Trading SELBORNE DOUBLE LOUNGER SET
Best outdoor sectional sofa: a versatile modular unit that transforms from sofa to double sun loungers
Specifications
Materials: PE rattan
Seats: 2 - 4
Size: Armchairs: H65 x W94 x D75cm, Ottomans: H32 x W85 x D66cm, Table: H50 x W75 x D40cm
Reasons to buy
+Hugely versatile sectional sofa+Transforms into double sun loungers+Timeless rattan design+Good for small or awkwardly shaped spaces
We think if there's one thing that will ensure you're happy with a purchase it's versatility, and the Selborne Double Lounger Set from Garden Trading has it in droves.
The set includes two cushioned armchair modules, two cushioned ottomans, and a tempered glass-topped coffee table which can all be swapped around and reconfigured to create a myriad of seating arrangements. From a compact loveseat with separate ottoman benches, to two separate - and luxuriously comfortable - sun loungers, a double sunlounger to share with your beau, or a spacious loveseat with the ottoman pulled up as footrests.
It makes for a great piece of hardworking garden furniture with almost endless layout possibilities, and one that will work especially well in small or awkwardly shaped gardens.
Best of all the PE rattan frame and squared build offer a timeless look that's going to suit almost any garden style. Get it while you can.
5. Vonhaus Rattan Sofa and Table Set
Best Acapulco sofa and chairs: on-trend and affordable outdoor seating
Specifications
Materials: Synthetic PE 'rattan'
Seats: 4
Size: Chairs: H82 x W69 x D69.5cm, Sofa: H82 x W69 x D113.5cm, Table: H39 x W45 x D75cm
Reasons to buy
+Affordable +Contemporary design+Lightweight
This on-trend Acapulco sofa and chair set from Vonhaus creates a relaxed place to lounge, with the cocooning shape of the seats tilting you gently back into recline mode.
A contemporary and affordable addition to your outside space, the set offers a two-seater sofa, two generous Acapulco chairs and a tempered glass coffee table for the all-important alfresco snacks.
Woven from synthetic polyurethane 'rattan' the set will resist the moisture making it suitable for outdoor use all year round, although as with most garden furniture, it's suggested you store it indoors over winter.
6. Garden Trading West Strand Corner Sofa Set
Best outdoor lounge set: a comfortable corner sofa and laidback lounge chair
Specifications
Materials: Powder-coated aluminium & polyester
Seats: 5
Size: Corner sofa: H64 x W220 x D220cm, Armchair: H64 x W79 x D75cm, Coffee Table: H31.5 x W71 x D71cm
Reasons to buy
+Contemporary design +Comfortable seating+Lightweight and weather-resistant aluminium frame
The perfect place to kick back and relax in a modern garden, Garden Trading's West Strand corner sofa set is finally in stock, and after a long wait for availability we think this contemporary design is going to fly out of stores.
The angular powder-coated aluminium frame is lightweight yet highly weather-resistant, and the low profile balanced on tall legs creates a feeling of openness; eliminating the bulkiness you can get from some outdoor seating.
A smoked glass-topped coffee table pairs well with the generous corner sofa and comfortable armchair which are both equipped with linen-look, showerproof charcoal grey cushions.
7. Barker & Stonehouse Corsica Garden Sofa Set With Rising Table
Best outdoor sofa dining set: a riser table creates brilliant versatility
Specifications
Materials: Aluminium frame with PE 'rattan' & polywood
Seats: 6 - 7
Size: Sofa: W182 x D82 x H86cm, Chairs: W66 x D82 x H86cm, Table: W145 x D85 x H52-74cm, Stools: W41 x D41 x H45cm
Reasons to buy
+Timeless rattan design+Riser table allows you to transform from a coffee set to outdoor dining area+Versatile seating options+Plenty of room for large numbers
Reasons to avoid
-An investment
Can't decide between a comfortable garden sofa or versatile outdoor dining set? You can have the best of both worlds with the Corsica Garden Sofa Set from Barker & Stonehouse which features a useful rising table that allows you to adjust from low-to-the-ground coffee table to comfortable dining table height as the day progresses.
A three-seater sofa, two armchairs, two padded stools - perfect for extra guests, or putting your feet up - and the versatile riser table make this a good-value option for larger spaces - despite the higher price tag.
8. B&Q Apolima Rattan Effect Egg Chair
Best garden egg chair: curl up and escape from the world in this stylish cocoon seat
Specifications
Materials: Synthetic rattan & metal
Seats: 1
Size: H151 x W114 x D110cm
Reasons to buy
+Statement design+Comfortable seating+Matching furniture available
For the ultimate in statement outdoor furniture, an egg chair has to be the must-have of the season, and - despite its fairly high price point - we love the rattan-effect Apolima Egg Chair from B&Q.
The super spacious design allows plenty of room to curl up with a good book and escape from the world for a while - although if you want to invite the world along too then there is also a selection of matching furniture you can seat them on.
This line has been in and out of stock all summer, so if you see it online - as it is at the moment - or in a store near you, then it's well worth snapping up.
---
The best garden furniture that's in-stock now
All though we update it frequently if the option you like on our best-of list isn't in stock by the time you come to shop, then don't despair! You can find more outdoor furniture lines which are in stock and available to buy today by using our real-time shopping tool below.
Just scroll to the right to see more options at a gradually increasing price point, and click 'view' to be taken to the retailer to see more detail.
Or, for more inspiration on which stores are likely to have in-stock outdoor furniture lines, it's also well worth browsing our guide to where to buy garden furniture.
How to choose the best garden furniture
Consider how you want to use your outdoor space: If you plan to do lots of outdoor entertaining over the summer months then the best garden furniture for you might be a large corner sofa that offers plenty of seating for guests, or a bar set provides surface space for drinks and perching stools perfect for cocktail hour.
If you're a sun-worshipper you'll want comfortable reclining seats that allow you to follow the rays. Deckchairs are lightweight and easy to move around the garden, but sun loungers are more robust and offer more comfort. And don't forget to add some shade with the best garden parasols!
The best garden furniture often comes with multiple size and configuration layouts. These make a great family-friendly option as you can mix and match chairs, tables and sofa seating to suit your needs.
Think about storage: Despite its name, most manufacturers will recommend you store outdoor furniture indoors, or at least under the best outdoor furniture covers, during the winter months. If storage space is limited then foldable dining chairs and tables can be a good option. If you're storing your garden furniture under a furniture cover then it's important to consider the material, as non-breathable options can still leave garden furniture at risk of mould.
And, of course, it's not just your garden furniture that might need some shelter. If you're planning an alfresco gathering and grey clouds are looming, check out our guide to the best gazebos to ensure your party plans can continue whatever the weather.
Know your materials: The main options for garden furniture are wood, metal or synthetic plastics. See below for more details on each material's durability outdoors.
What type of outdoor furniture is the most durable?
Wood: To withstand the elements, the best garden furniture is best made from robust hardwoods like teak, oak, or acacia. These will need treating to preserve their lifespan so you may need to invest some time in topping up their finish as they weather. Wood has the advantage of staying cool when temperatures rise and if sourced from FSC-certified forests is a brilliantly sustainable option.
Bamboo: Less sturdy than solid timber bamboo does have the advantage of being light to manoeuver. If harvested sustainably, fast-growing bamboo can be another excellent eco-friendly material.
Metal: Wrought-iron or aluminium are the most durable metals for outdoor use, with aluminium having the benefit of being lighter weight. If going for steel make sure it's powder-coated or galvanised to give more weather-resistance and prevent rust.
The best metal garden furniture is easy to maintain and keep clean with some soapy water. You will likely need some good cushions for comfort though, and bear in mind on sunny days metal furniture will get very hot very quickly.
Polyurethane 'rattan': Plastic polymers are cheap, lightweight, and often the most inexpensive options, but they aren't always the most durable or sustainable. As an exception to the rule, look out for options made from recyclable materials, such as repurposed marine plastics, and make sure the product itself can be recycled at the end of its lifespan.
For more information on what to consider when garden furniture shopping, you can also browse our top tips for choosing outdoor furniture article which considers colour schemes, trends and more, and get the lowdown on outdoor furniture water-resistance from three top garden furniture experts who we asked is outdoor furniture weatherproof?
Amy writes about interiors and decoration for Livingetc, Homes & Gardens and Real Homes, bringing her design expertise outdoors into the garden for Gardeningetc.
Initially honing her green thumb growing indoor plants in her first-floor apartment, Amy greatly appreciates the benefits we gain from coexisting with plants, including improved wellbeing, air purification, and reductions in the chemical VOCs that are slowly released into our homes from manmade materials.
Amy's wider interest in gardening embraces the design principles of permaculture; considering how we can best balance our valuable outdoor spaces to restore health to our own patches of soil, boost diversity for plants and wildlife, grow healthy nutritionally-dense food, and embrace outdoor living with style-conscious design that helps us to relax, entertain and improve our overall wellbeing through relationship with nature.