5 ways to cosy up your outdoor space for Christmas
With garden get-togethers on the cards this Christmas, our easy ways to add warmth to your outdoor space are just what you need...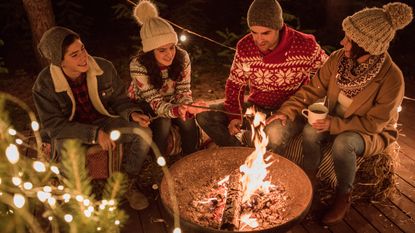 (Image credit: Getty Images)
With many of us planning outdoor get-togethers over the festive season, wrapping up warm is something we're all going to be getting really good at over the next couple of weeks. If you've decided that alfresco meetings with family and friends are the safest option this Christmas, then chances are you're looking for ways to make your outdoor gatherings as cosy as possible.
Whether it's sitting around one of the best fire pits or adding lots of mood-enhancing lighting to your patio, there are plenty of simple ways to boost the cosy factor this Christmas. All you need is warm throws, some fabulous friends or family (and maybe a cocktail or two), and you'll be good to go.
Keep scrolling for our festive favourites, then head over to our winter garden party ideas for more ways to make your seasonal outdoor celebrations a resounding success.
1. Create a cosy corner
Choose a sheltered spot in your garden and turn it into a mini winter wonderland. All you need is somewhere for you and your guests to sit and then let your garden lighting ideas set the scene. If you're not close enough to a permanent power source, battery operated fairy lights are the way to go. Wrap them around your trees or through the plants, then light some pillar candles too. Lanterns will add an extra layer of light to further boost the festive atmosphere. Take a throw or two off the sofa, add some cushions to your bench and enjoy!
2. Keep warm with a fire pit
There's nothing quite like the sound of crackling wood is there? Gather around one of the best fire pits and enjoy the warmth of the flames as the evening gets cooler. Place seats around the fire with cosy rugs and catch up with your friends over a steaming hot chocolate full to the brim with marshmallows. Our luxury hot chocolate recipe is just what you need for this occasion.
Want to create your own fire pit in time for Christmas? Head over to our feature on how to build a fire pit for an easy step-by-step guide.
3. Set the festive scene
Celebrate this festive season with an outdoor feast that everyone can enjoy. You can lay sheepskin blankets on the benches for some added comfort and provide your guests with a woolly blanket each too. Decorate the table with DIY Christmas decorations, seasonal foliage like eucalyptus, holly and ivy and either use real candles, tealights or some battery-operated ones for safety. Add some festoon light ideas across the table to create an ambient and welcoming scene.
4. Add an outdoor bar
We love this idea – quite frankly, who wouldn't ? Adding outdoor bar ideas to your garden are a great option for year-round socialising. Ready-made outdoor bars like this are weatherproof so you don't need to worry too much about them getting damaged in the wind or colder weather, although it might be wise to invest in a suitable cover for it if you can.
It's not always essential to splash out on a bar like this though. You can create a similar effect with an outdoor trolley on wheels or a raised outdoor table. And simply bring your kitchen bar stools outdoors for family and friends to perch on. Job done!
5. Snuggle up in an igloo (yes really!)
Sure, we admit that this is taking things to the extreme when it comes to adding a little extra warmth to your outdoor living space ideas for Christmas, but who wouldn't want this beauty to chill out in during the winter months!
It's the perfect solution that really does solve weather and temperature issues. This dome will transform your outdoor space into an entertaining hub, greenhouse, play area or gazebo – it's so versatile that it can be used every month of the year. It literally 'pops up' so it can be taken to other spaces if you want to have a large gathering in a field or on the beach, for example. We'd definitely be happy if Santa delivered us one of these for Christmas...
Read more:
Sophie has been an interior stylist and journalist for over 20 years. She recently trained to be a florist and launched The Prettiest Posy where she curates beautiful flowers for weddings and events.