Outdoor grill ideas: 11 tempting designs for cooking up a storm in your garden
From built-in BBQs to portable numbers and more, with our outdoor grill ideas you'll be ready to host the perfect alfresco meal in no time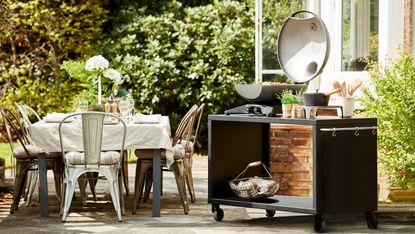 (Image credit: Morsø)
Has the warmer weather got you thinking about outdoor grill ideas? Then we're here to help you choose the right one for your plot.
Of course, an outdoor grill or built-in BBQ is the epicentre for all outdoor kitchen ideas. Think stylish stainless steel set-ups with all the mod cons, or gas-charcoal hybrids with multiple cooking racks.
But, there are lots of portable options available too, or why not opt for a fire pit that you can also cook over? For as it turns out, no matter your budget or the size of your garden, all the flavours and fun of outdoor cooking can be enjoyed by everyone.
As Jamey Seaman from Ikea says, 'In the hope that we'll be back outside this summer and the days of social distancing will be behind us, hosting a barbecue party for friends and family is the perfect excuse to bring people together. No matter how big or small your barbecue cookout is this year, keep the tradition alive, get outside and make the most of the sunshine.'
So what are you waiting for? Keep scrolling to discover our favourite outdoor grill ideas, and then head over to our best BBQs for a treat for all the family.
1. Install an egg-shaped grill into your outdoor worktop
Ceramic, egg-shaped BBQ ideas are popular amongst chefs. And it's easy to see why – not only do they look the part, but there are tons of possibilities when it comes to cooking.
From whipping up classic BBQ grub, using as an alternative to the best pizza ovens, or going low and slow with the lid down for sumptuously cooked meats – you can see why they're a winning choice.
So, fix one into your outdoor kitchen worktop and get ready to host the best BBQs on the block. Don't forget to surround with plenty of shelves, for seasoning, skewers, and extra charcoal.
2. Add a simple steel rack to a grey-hued space
If you love our modern garden ideas, then this might be the set-up for you.
A grey panelled fence makes a chic backdrop to a straight-forward built-in BBQ. Plus, as seen here, you can add hooks for hanging your best BBQ tools, and even a spice rack, for easy access.
Pop metal planters of herbs in arm's reach too, to make your barbecued goodies even more delicious. Need help getting started? Head over to our guide on how to create a herb garden.
3. Opt for versatility with a BBQ on wheels
For smaller households, a fuss-free gas grill like the one above is a fabulous choice.
Small enough to sit atop a portable counter, this set-up has everything you need for eating alfresco in style, fast. And once you're finished eating, you can simply pop the lid down and roll it out of the way.
We love these chrome chairs too, for an industrial vibe. For more inspiration, head over to our outdoor dining ideas.
4. Cook up a storm on a teppanyaki-style grill
Love to get experimental with your cooking? Then consider a slightly different sort of outdoor grill.
The set-up above features a large fire pit in the centre, surrounded by a tempered carbon steel plate, for cooking veggies, meat, and fish teppanyaki style. It can reach up to a whopping 400Cº – but rest assured that its clever airflow system keeps you in control of the temperature.
Naturally, it doubles up as a cosy fire pit too, and we love how the logs can be neatly stacked underneath. Make it a key part of your patio ideas – your guests will love it just as much as you do.
5. Keep everything within arm's reach with an all-in-one unit
For smaller plots, opt for outdoor grill units that keep everything in one place. This nifty design has space for a chopping board, as well as a spot for stashing condiments beneath the all-important BBQ.
Its clean lines and minimal materials make it a contemporary addition to any outdoor cooking area. Plus, it complements the monochrome surroundings perfectly.
6. Liven up your plot with a stylish grill table
The best fire pits are an instant way to make a seating area feel cosy and welcoming. And this one, above, doubles up as a stylish grill.
Its convenient size makes it perfect for a small evening gathering in a courtyard garden. Fire it up and you'll be serving delicious BBQ recipes in no time.
7. Switch it up with a gas-charcoal hybrid
Want to have the best of both worlds? Then opt for a hybrid outdoor grill. This one above makes it easy to switch between gas and charcoal for flexibility when cooking outdoors. Plus, with three burners, there's loads of room (and heat) for all your tasty treats – meaning you can cook for larger groups easily.
Add a couple of wall lights nearby, and you can keep your cooking endeavours going well after dark. We've got tons of illumination options in our garden lighting ideas feature.
8. Add a clip-on half grill to your fire pit
Another clever two-in-one idea: this large fire bowl has an add-on accessory of a stainless-steel grill. All you need to do it clip it on, add your kebabs (pre-marinated, of course), and you're away.
It'll make cleaning easy-peasy, too, especially if you've also invested in one of our outdoor sink ideas.
9. Try a smokeless BBQ
Smokeless, super-fast, yet still delivers a deliciously grilled feast? It sounds too good to be true.
Yet, nowadays, you can find outdoor grills that are meticulously engineered to cook food quickly with very little charcoal, due to innovative airflow systems. And you'll still get that delicious BBQ flavour – it's just like magic!
As a bonus point, the design above stays cool to the touch, so is a perfect option if you're wondering how to design a child friendly garden. And, opting for bright colours is an instant way to add a dose of fun to any alfresco scene.
10. Add a rustic touch with an open fire grill
Conjure up a warm and welcoming atmosphere with a pared-back grill, where the flames take centre stage. In this on-trend design, a cast iron insert is used to cook food to perfection.
And, when you've finished your feast, move it closer to your seating area to bask in its rustic glow. It's the perfect outdoor addition for a romantic summer's evening.
11. Surround stainless steel with white for a touch of luxe
For a heavenly outdoor grill set-up, surround a sleek stainless steel number with a palette of white. The result will feel light, bright, and elegant and will be a total joy to cook in.
And why not pair your built-in BBQ with an outdoor fridge? That way, you can have an ice-cold drink always to hand whilst you tuck into your meal.
Feeling inspired to set up your own permanent outdoor cooking space? Head over to our advice on how to design an outdoor kitchen.
Can you use a regular grill in an outdoor kitchen?
You love the idea of a built-in BBQ, but can you simply install any normal garden grill? Sarah Fishburne, Director of Trend and Design for The Home Depot says yes, but there are a few things you'll want to consider first.
Firstly – does it have folding sides? If the grill has folding work surface sides, you will likely want to remove them before installing the grill, Sarah suggests.
Secondly, you'll need to look into the recommended clearance of the grill, Sarah says. This means that you should check the grill guide to see what it recommends in regards to space around the grill, to ensure you get the right airflow.
How do you maintain an outdoor grill?
Sarah Fishburne, Director of Trend and Design for The Home Depot shares some advice for maintaining a grill:
Clean the grill with a degreaser such as the The Home Depot's original concentrate cleaner and degreaser (make sure to get into the grates) and then, if it's made of stainless steel, polish it with stainless steel polisher.
Season the grates by applying cooking oil, heating the grill to 500°F (260°C) with the hood closed, and letting it sit for 20 minutes. This helps to prevent food from sticking, and protects your grill against rust.
For the winter months, be sure to turn off the gas line and keep the hood vent closed.
Jacques Shelton, Director of CENA Outdoor adds, 'It's well worth giving the grill a very good clean down at the end of the year. Mould enjoys the presence of moisture and grease, which can be very unwelcome in the first BBQ of spring!'
Need more cleaning tips and tricks to get your outdoor grill looking squeaky clean? Check out our guide on how to clean a BBQ.
The garden was always a big part of Holly's life growing up, as was the surrounding New Forest where she lived. Her appreciation for the great outdoors has only grown since then. She's been an allotment keeper, a professional gardener, and a botanical illustrator – plants are her passion.