8 garden jobs to prepare your outdoor space for winter
Make sure your garden is ready for the months ahead with our easy winter checklist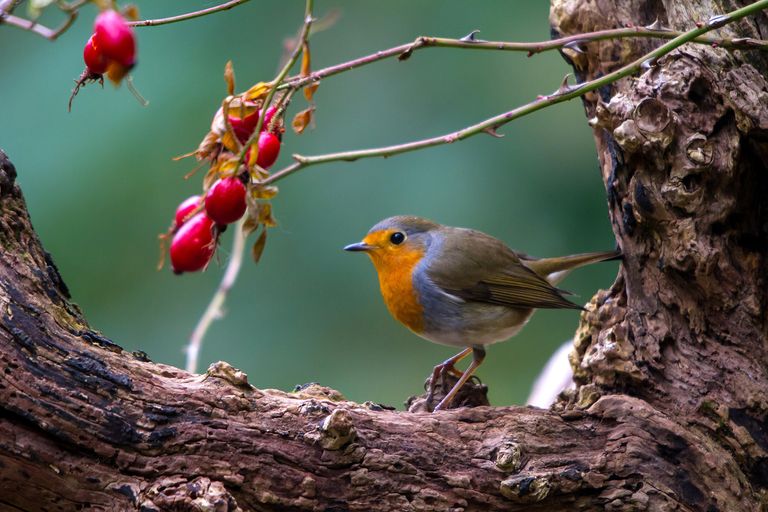 (Image credit: Alamy)
The days are now much shorter and the temperatures dropping, but that doesn't mean we can't still get lots of enjoyment from our gardens at this time of year. There's plenty of things we can do to ensure we have a beautiful space to look out at over the winter months, as well as get our garden ready to spring back into life when the weather warms up again next year.
Winter is the perfect time to catch up on all of those pesky jobs you may have been putting off for the last few months, and it's important to get them finished before the cold really sets in. It's the perfect time to have a really good tidy and check your garden is ready for winter weather.
Follow our eight tips so your garden is prepared the season ahead, and if you're looking for more inspiration to get your garden ready for spring 2021, make sure you check out our garden design ideas feature.
1. Tidy up overhanging branches
Winter can be the ideal time for pruning, and it can be vital for those trees and climbers that have branches which may snap off in high winds during winter storms. Double check your garden and make sure that anything overhanging is cut back – you don't want damage in your own garden, let alone a branch snapping off and landing on your neighbour's shed or greenhouse. Winter pruning can be more labour intensive because you are cutting back woody growth, but it's a task that you'll be happy you've done come spring. Need the best tools for the job? You'll find what you need in our guides to the best secateurs and the best hedge trimmer.
2. Get planning your 2021 garden
With less to do in the garden, winter is the ideal time to start thinking about how to plan your garden design for 2021. You can make a list of what did and didn't work this year, and finalise planning decisions based on that. It's a really good time to sit back and review your space (inside in the warmth with a hot cup of tea!) and then evaluate what you want to achieve in the spring. You might want to introduce a new colour scheme, try out a different seed company or try buying plug plants for the first time. Treat yourself to a garden planning journal for Christmas so you can keep on top of your ideas and inspiration – you'll find plenty more ideas for gifts for gardeners in our guide.
3. CLEAN AND TIDY YOUR GREENHOUSE
Always look after what's served you best throughout the year, and that goes for your greenhouse too. Give it a really good clear out and bin or recycle anything you don't need, or haven't used this year. Check for leaks and fix any squeaky window hinges. Make sure there are no overhanging branches that could break and crash through the glass too. Finally, get organised inside – make sure your benches and tools are in their place and you'll be ready to go when the season changes and the warmer weather arrives. There's lots of inspiration on how to make the most of your garden glasshouse, whatever the time of year, over in our greenhouse ideas feature.
4. ORDER YOUR BULBS
Now is the time to order your seeds and bulbs for beautiful displays next year. Some can be planted now and you can sow some seeds in your greenhouse too. Most seed companies send out their new catalogues during the autumn months so you'll find plenty of inspiration to help you choose.
It is also the time of year to store existing bulbs or tubers (such as dahlias), if you've dug them up. You can pack them up in cardboard boxes and layer the bulbs with newspaper so they aren't touching each other. For dahlia tubers, you can also put them in boxes or a pot and then cover them with layer of compost. Choose a cool, dry spot for storing your bulbs over winter, such as a garage or shed.
5. LOOK AFTER YOUR WATER BUTT
The cold and ice can be tricky for your water butt, especially if it's made of plastic, so it's best to partially drain it or completely empty it before it gets really cold. It's also a good time to give it a clean so it's fresh and ready for the spring. The reason it's best to drain it is because a full water butt can freeze, swell and potentially fracture the exterior walls. If it's a lightweight model you could empty it and store it in a shed or garage, but if you don't have the storage space or it's too heavy to move, then make sure you leave the tap open so any water can drain straight through.
6. Show your lawn some TLC
Although you obviously won't be out mowing the lawn every week at this time of the year, it's still important to keep on top of your lawn care to ensure it will look its best in spring when the warmer weather arrives. Right through to mid-March, you'll want to keep your lawn in good condition but not encourage it to grow as any tender new grass will be damaged by frost. For best results, treat it to a one-off liquid feed rich in potassium that's formulated especially to toughen up the grass for winter. Water the feed in well so it gets to the roots where it's most needed. To make sure you're ready for lawn mowing season next spring, check out our best lawn mower buying guide to find the right one for your mowing needs.
7. Care for wildlife in the colder months
One of the easiest ways to create a wildlife garden over winter is to simply leave stems, twigs, foliage and leaves where they are to provide cover for all sorts of garden residents. To ensure garden birds are well fed, you can put out food such as peanuts, seeds, sunflower heads, bacon rind, and fruit. Alternatively, head over to our guide on how to make bird feeders for an easy project you can try in your own garden.
Also, if you have a garden pond or bird bath, keep checking to make sure it hasn't frozen over as birds still need a ready supply of water over winter. A simple idea is to float a small ball in the pond, or perhaps a table tennis ball in the bird bath as this prevents it from completely freezing over.
8. Clear garden paths
High on your gardening jobs to-do list is to make sure you clear up fallen leaves from your garden paths and driveways. If left where they are, they'll simply turn into a slippy and sludgy mess that can become incredibly dangerous to walk on as the colder weather sets in. Keeping on top of simple jobs like this won't take up much of your time if you can aim to do a little every now and again.
Read more: