Backyard patio ideas: 13 ways to transform a paved outdoor living space
From planting to paving, these backyard patio ideas are the perfect way to give your space a fresh new look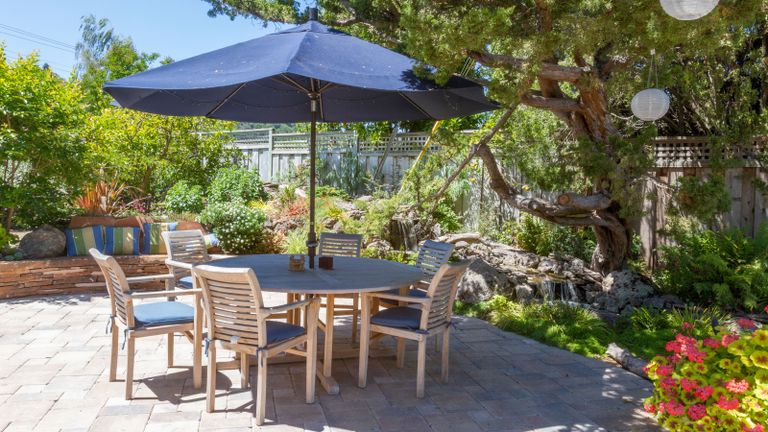 (Image credit: Ellen Isaacs/Alamy Stock Photo)
The best backyard patio ideas will help you to transform an outdoor space into a practical, stylish and useable area. Whether you have an enormous backyard or a petite one, a patio provides you with ample room to create an outdoor entertaining area.
There are plenty of reasons why a patio is a brilliant addition to your backyard ideas. They're typically easy to maintain, provide an extra outdoor living space and give you a flexible area for hosting family and friends for alfresco get-togethers.
In a large outdoor space you have the option of creating a standalone patio somewhere on your grounds – adjacent to a pool, for example – or building one abutting your house. In a small space, you're probably limited to an area outside a sliding door. But in either case, a patio is a very practical extension of your home.
Backyard patio ideas: 13 stunning looks for your space
Need help creating the perfect entertainment zone in your backyard? Whether you're looking to go over-the-top with a gourmet kitchen or want to keep it simple and elegant with a quiet lounge, our backyard patio ideas have plenty to inspire.
1. Go big with a full outdoor kitchen
While a standalone grill is the standard patio cooking fixture, true chefs might want to consider going all-out with a stunning outdoor kitchen idea like this one. Start with add-ons like an outdoor sink, a refrigerator, and a freezer to create an above-average cooking space, then take it to the next level with bonus amenities like one of the best pizza ovens, a meat smoker, and even a dishwasher.
Don't forget to finish off your space with a dining set so you and your guests can enjoy the fruits of the chef's labor.
2. Create an outdoor living room
No grill? No problem. Whether you're a renter that's not allowed to have a grill outside, or you simply prefer to relax in the great outdoors rather than stand over a hot appliance, your best option is to create a luxurious lounge that serves as an outdoor living room.
Opt for plush sofas and chairs that maximize comfort — you want this to be an oasis, after all. Make sure you add surfaces like end tables or a coffee table to place down a drink, a plate of nibbles, or some candles for mood lighting.
There's plenty more outdoor seating ideas in our dedicated feature too.
3. Include a dining space
Perhaps the most popular way to dress a patio is to create an outdoor dining area, given that many homeowners like to install the best grill out there. 'Thanks to social distancing protocols, it has become the norm rather than the exception to eat outdoors, and not only at restaurants. Recreating the alfresco dining experience at home is becoming increasingly popular,' says Scott Selzer, CEO of pergola company StruXure. But even if you don't have a grill, it's easy to bring out dishes cooked in your kitchen to enjoy a meal in the fresh air.
Naturally, you'll want to ensure all your outdoor furniture is weatherproof so it can withstand the elements.
4. Add string lights for a fun feel
When it comes to jazzing up your patio space, adding a few patio lighting ideas will automatically create a fun vibe. Given that many patios don't have roofs, string lighting helps to define your outdoor space and make it feel a bit more intimate, all while providing much needed illumination after dark.
Pick string lights with LED bulbs for energy efficiency and longevity, but make sure the lights have a warm tone for that classic look. Acrylic bulbs are also a wise idea, just in case your glass ones accidentally shatter.
If you don't have an outlet readily available for your string lights, consider a solar-powered model instead.
5. Install a fire feature
'Fire pits are by far the most popular hardscape additions that homeowners ask for,' says Garrett Lang of Lambs Lawn Service & Landscaping. The easiest way to incorporate a fire feature into your patio is a simple fire pit, whether that's an actual pit built into your hardscaping or a large metal bowl designed to hold burning firewood.
Looking for an upgrade? Try a fire table, which uses propane to keep the flames going. But if you really want to go above and beyond, you could incorporate one of the latest outdoor fireplace ideas into your space. In this set-up, we love the way the fire is built into the rustic stone wall, helping to shelter the patio from poor weather and keep guests warm on cooler evenings.
You'll find plenty more outdoor heating ideas in our feature to ensure your backyard patio stays warm after dark.
6. Add a pool to your patio
If you're planning a bigger project to install a backyard pool, this is the perfect opportunity to design your pool and patio space as one. By extending your main patio up the edge of the pool you'll have plenty of space for several sun loungers alongside the water, or room for a cosy lounge area where you can sit and keep an eye on the kids while they're splashing away in the pool.
This yard repeats the same materials throughout the space (on the exterior of the hot tub, the in-ground pool walls and the base of the pergola) to visually link the different zones of the backyard and create a cohesive look.
Want something more budget friendly than an in-ground design for your pool? Our guide to the best above ground pools has plenty of affordable options.
7. Include the soothing sounds of a water feature
Most of the time, water features in a backyard are pretty large installations, whether they're a fountain, a cascade over the edge of an infinity pool, or a waterfall into a koi pond. But you can actually enjoy the delightful sounds of trickling water in small backyards too.
Simply install a small, self-contained water feature and you can make it the focal point of your backyard patio ideas. Alternatively you can tuck it to the side while still enjoying its auditory benefits. Keep an eye out for birds who might visit, too.
Want to try your hand at making your own water feature? You'll find plenty of easy ways to create one in our homemade water feature ideas.
8. Accent your patio with plants
Greenery is always a good idea, both indoors or out. When it comes to including plants in your backyard patio ideas, you could opt for small flowerbeds, potted dwarf trees like these, or even just a tabletop arrangement of succulents. If you like to grow your own fruit and vegetables, you could even consider adding a small herb or vegetable garden to your patio.
Ultimately, you'll want to pick plants for your patio gardening ideas that work well in your climate and with the sunlight available in your patio – and that match your gardening skills, of course.
If you're short on space but want to add some height to your planting, our feature on the best trees for small gardens has plenty of suggestions for the top choices to add to your planting scheme.
9. Build a modern pergola for shade...
If your backyard patio gets a lot of sunlight, you might want to consider a pergola to provide some much needed shade. For the most flexibility, opt for one of the latest hi-tech pergola ideas, with a motorized model that can be easily adjusted to allow different amounts of light in.
'A pergola with pivoting louvers, that can be adjusted at the touch of a button, gives you the protection you need from sun, wind, and rain showers, not only in the summer months, but all year long,' says Scott Selzer, CEO of StruXure. This is particularly helpful for outdoor kitchens so you can still cook outdoors even in inclement weather. Patio cover ideas such as pergolas also provide a structure for additional features like overhead lighting and ceiling fans.
10. ...or opt for a sail shade for sun protection
If a fully automated pergola is beyond your price range, then why not consider a simple sail shade instead? Readily available online, they are are a great option for budget backyard ideas as they are inexpensive to buy and easy to install yourself.
Typically made from a strong canvas-like fabric, they block out a large percentage of harmful UV rays, creating a cool and ventilated patio area for cooking and dining. By blocking out direct heat from the sun they can also make your decking or paving more comfortable underfoot when the heat it at its most intense in the middle of the day.
11. Use patterned tiles to spice up your hardscaping
Traditional patio paving ideas normally comprise natural stone, bricks, or pavers, but there's no need to stay within that cookie-cutter framework. Take a cue from Claudia Afshar, who designed the patio seen here, and use patterned tiles for your hardscaping for a more design-forward approach.
Use neutral colors to keep the look more subdued, or punch it up with bright colors. If you go with the latter option, keep your furniture minimalist to create more balance in your backyard patio ideas.
Just note that not all tiles are designed for outdoor use – you'll need a hardier tile to hold up to temperature changes, UV rays, and precipitation. Slightly textured tiles are also a better option for any backyard landscaping ideas as there's less chance of slipping on them when they're wet.
12. Enclose your patio to make it suitable for all seasons
Extend the seasonality of your backyard patio ideas by enclosing the space to create a year-round sunroom. Use large glass doors or even retractable walls to ensure your space embodies the indoor-outdoor concept.
If you really want to maximize a space's connection to nature go for extensive glazing, as seen in this patio, which provides 360-degree views and all the natural light. In winter, simply close the doors and enjoy the bright and airy living space – sans cold temperatures.
Feeling inspired to create something similar? You'll find plenty of solutions for your space in our enclosed patio ideas.
13. Use a pond as a focal point
Bringing water into the heart of your backyard patio ideas can be an effective way to introduce a soothing feel to your space. Even a small pond with a mini fountain can create a lovely background noise that will be instantly calming as you relax on your patio.
If you prefer the look of more natural backyard pond ideas, make sure you soften the surrounding patio hardscaping by including plenty of the best pond plants. A combination of plants that can be fully submerged and others that will grow happily around the edge of the water will make for an attractive feature all year round.
Can you build a backyard patio yourself?
If you're handy at DIY, it should be fairly easy for you to learn how to lay a patio yourself and save yourself some money in the process.
As a rough guide for most DIY patio ideas, you'll need to dig down and then level off your plot where you want to lay your patio, fill it with a loose aggregate, top it with sand, and then place your hardscaping on top. You'll also want to ensure good drainage to prevent it from flooding (and then backing up against your property), which usually means creating a gentle slope away from your house.
What material is the easiest and cheapest for building a patio?
If you're building a patio yourself, you won't go wrong with easy-to-install pavers – ideally rectilinear ones that are easy to fit together. 'Paver patios are the perfect solution to create entertaining space in a backyard,' says Garrett Lang of Lambs Lawn Service & Landscaping.
Natural stone, on the other hand, can get more costly. Plus, they require a bit more effort to lay out, since you have to take into consideration different shapes and sizes.
Other affordable options for your space include concrete patios and gravel patios.
How much should I budget for a backyard patio?
If you're wondering how much does a patio cost, then the answer to this very much depends on the size of your patio, what materials you are using for your paving and whether you are doing the work yourself. At the bare minimum, you should expect to pay a few hundred dollars to build a patio – and that's if you do it yourself.
If you hire professionals to build your patio, it's likely to cost a few thousand dollars, depending on the patio's size. And neither of those estimates include the cost of furniture or decor.
Expect to spend a few hundred more on seating options and tables, plus potentially thousands more if you build an outdoor kitchen with a range of appliances.