5 fun ideas for a winter BBQ: cook outdoors in style this season
Winter BBQ ideas can be just as entertaining as summer ones, so fire up the grill and get outside for some alfresco cooking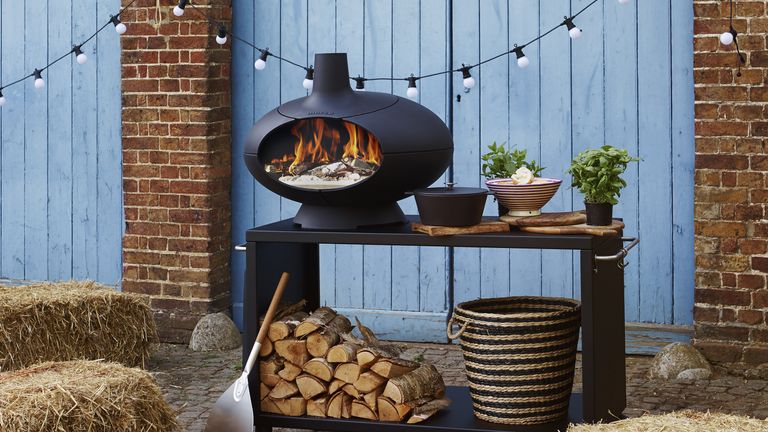 (Image credit: Morso)
Winter BBQ ideas might not have the warmth and sunshine of summer versions, but they can be just as much fun. Even if there's a chill in the air, firing up the best BBQ or gas BBQ to cook alfresco is a great option all year round.
It's a good idea to move the BBQ to a more sheltered spot to keep it protected from the cold and the worst of the winter weather, but other than that you're good to go. Wrap up warm, fire it up and get cooking!
Keep reading for our winter BBQ ideas, then check out our winter grilling tips for more expert advice on how to get the most from your alfresco cooking during the colder months.
1. CREATE A SOCIABLE HUB WITH AN OUTDOOR OVEN
The development of outdoor ovens has come on leaps and bounds in recent years, and this means we can all enjoy being outside for longer, even when it's a little bit chilly. The latest ovens also mean you can cook far more than the average BBQ-style food so you can really up your grilling game – think juicy steaks, smoked salmon and tasty vegetarian dishes. They are stylish to boot and can be the hub of your outdoor living space ideas. So gather your friends and family, pull up a straw bale or three and have yourselves some fun outdoor dining.
2. Make your BBQ the focal point of your patio
Find a sheltered corner and give your patio ideas a new lease of life by creating a cosy winter BBQ spot. Fences and garden wall ideas are a great way to give you some permanent protection from the colder weather, so you can hunker down in their shelter and enjoy the warmth from the BBQ. The latest wood-fired BBQ ovens can also double up as fire pits, so even once you've finished cooking you can still sit back and benefit from the heat of the flames.
3. KEEP IT CASUAL
You don't need to dust off all of the best garden furniture that's neatly stored in the shed behind the bikes and lawn mower for winter BBQs. Simply make use of your garden bench and bring out a couple of chairs from inside for some extra seating. Winter BBQs are low key and casual, so take the pressure off yourself, incorporate some festoon lights, add in one of the best fire pits for later in the evening and you'll soon be enjoying some lovely cosy entertaining.
4. CREATE A WINTER PICNIC VIBE...
If you're looking for fun garden ideas for kids to keep them entertained over the holidays, turn your winter BBQ into an outdoor picnic instead. If you've got a portable BBQ you could take it with you to the park or beach for a great day out, but it can be just as much fun to try this in the garden with your normal BBQ or grill. Kids will love tucking into one of the best BBQ recipes while sitting around on a picnic blanket. And if you can light the fire pit and toast some marshmallows too, then even better! There's more inspiration over in our fire pit ideas feature.
5. ...OR INVEST IN AN OUTDOOR KITCHEN
If love the idea of having a year-round outdoor entertaining space, then adding outdoor kitchen ideas to your garden is the way to go. Over the last few years outdoor kitchens have become incredibly popular, and it's easy to see why. Having a bespoke design with a BBQ or wood-fired oven, sink, worktop space, storage and maybe even a fridge or wine cooler might seem like a big investment, but it's a great way to maximise the use of your outdoor space. If you don't want to splash the cash, there are plenty of budget-friendly alternatives too. Our guide on how to design an outdoor kitchen is packed with useful tips and tricks.