Backyard landscaping ideas: the best ways to transform your space
Our backyard landscaping ideas have plenty to inspire, whether you're a fan of lush gardens or perfect patios for entertaining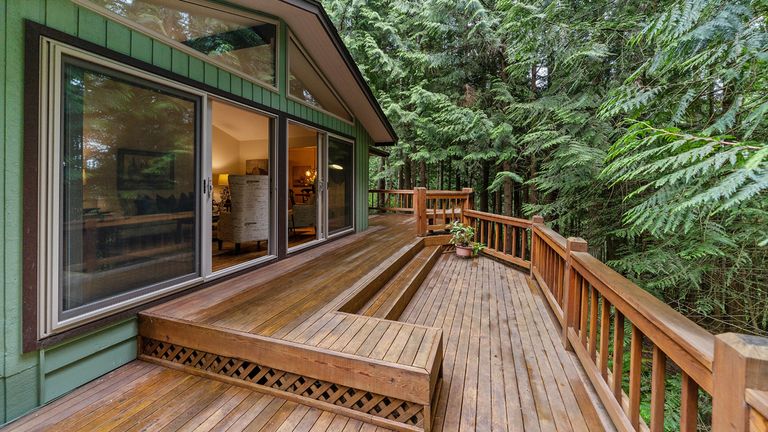 (Image credit: Unsplash/Im3rd Media)
Choosing the best backyard landscaping ideas for your outdoor space is a key part of any backyard transformation. Making the right choices will help to shape the form, function and look of your backyard, with everything from paths to pools forming part of your overall plan. 
As indoor spaces are often pretty functional in nature, the selection of what goes inside those rooms is fairly straightforward—a dining room should have a table, and an office should have a desk, for instance. But when it comes to your yard, you pretty much have a blank slate to work with. Of course, that means you might not know exactly where to begin when designing your outdoor space. Luckily, we're here to help you brainstorm with these 12 landscaping ideas, then you'll find even more backyard ideas in our dedicated gallery if you're after further inspiration. 
1. BUILD A POOL
For many homeowners, a pool is one of those 'would-be-nice-to-have' landscaping ideas, but you certainly can make it a reality. Inground pools, like this one by Simmonds & Associates, Inc., are beautiful, but they do fall on the pricier side of the spectrum —think at least $20,000 but likely more, on top of expensive annual maintenance. There are, however, more affordable options like above-ground pools or even stock-tank pools. We've rounded up more of our favorites in backyard pool ideas gallery. 
2. Plants trees for privacy
If you're in a neighborhood with houses that are tightly packed together, you may want to consider planting trees or shrubs for privacy—plants have a much less severe feel than fences, that's for sure! You can choose from a variety of plants, from dense evergreen arborvitae trees to quick-growing bamboo. Just make sure whatever you plant will thrive in your specific climate, and definitely take seasonality into consideration – if your trees drop their leaves in the fall, they might not do such a great job maintaining your privacy in the winter!
3. INSTALL PATHS FOR A MANICURED LOOK
For a more manicured yard, it's sensible to consider the right garden path ideas to connect different parts of your property, such as this brick path by Styer Landscaping. Some popular practical paths include from the sidewalk to your front door, and your driveway to your front door, but you can also use paths for more decorative effect. Consider creating a formal garden in your backyard with paths for strolling, or simply install a path to a feature like a fountain or a sculpture.
4. ADD TERRACES
Hilly yards can be a little trickier to landscape than flat ones, but you can still create your own personal oasis through the use of terraces. You'll want to level out different areas of your backyard and connect them with stairs or meandering paths—check out this stunning example by Simmonds & Associates, Inc., where a terrace with loungers sits downhill from the house. You can install everything from small pools to dining areas to fire pits on different terraces.
5. CREATE A HUB FOR ENTERTAINING
Love having guests over? Design an outdoor entertaining space that perfectly suits your needs. You can easily keep things as simple or as over-the-top as you like, from a quiet patio with a dining table to an over-the-top outdoor kitchen complete with plumbing and electricity plus a lounge area with a fire pit—and maybe even a pool. For something along the lines of the latter option, take a look at this elaborate yet refined backyard patio by Simmonds & Associates, Inc, then find out how to design an outdoor kitchen in our guide.  
6. LAY DOWN TURF INSTEAD OF GRASS
Yards can be a lot of work, so if you want to keep things low-maintenance, opt for laying down artificial turf instead of planting grass. There's no need to water or mow, making it the perfect option for someone who loves the look of grass but doesn't have the time to take care of it. Turf is also an excellent option for those who have small yards in a more urban environment—it can be installed atop concrete or asphalt, though you should work with a professional installer to work through potential issues with drainage.
7. PLANT A LOW-MAINTENANCE GARDEN
Not all gardens need to have vegetables or flowers, and not all gardens require hours and hours of maintenance. Consider planting a low-maintenance garden, such as this cactus garden by Simmonds & Associates, Inc. Cactus gardens are actually surprisingly versatile—you don't need to live in a desert climate in order to have one. That said, most cacti do require vast amounts of sunlight, and they prefer drier air to super humid air. 
8. LINE YOUR PROPERTY WITH FENCING
Fences have long been used to delineate property boundaries, not to mention keeping people and animals in or out. When it comes to fencing, you have quite a range of materials, colors, and styles from which to choose. There's your quintessential white picket fence (which, by the way, can be made from everything from wood to aluminum to vinyl), but you could also opt for privacy fences, split-rail fences, or lattice fences, to name a few varieties. Our garden fence ideas feature has plenty more options for your space. 
9. BUILD A DECK
Another way to develop your backyard, especially if it's on a gradient, is to build a deck, which can be used as an outdoor extension of your living space. Decks are perfect for grills, dining tables, potted plants (especially herbs and veggies!), and even hot tubs. While they're traditionally made of wood, new synthetic materials are gaining popularity, as they're much lower maintenance—and they don't splinter! 
10. CREATE SHADE WITH A PERGOLA
Whether you need some shade on your deck, your patio, or a grassy lounge area on your lawn, you should consider installing a pergola to help block some of the sun's intensity. There are plenty of prefab pergolas that you can buy online for relatively reasonable prices, or you could splurge on a custom high-tech variant, like this example by StruXure in which the slats are mechanized and can be adjusted to control the amount of light let through.  
11. LINE UP POTTED PLANTS
If you have an urban yard that doesn't have much natural landscaping (read: you have a concrete patio), you can still build a garden via an arrangement of potted plants. Alternatively, you can learn how to build a raised bed to provide the home your plants will need to thrive. Potted plants or raised beds also work well in yards that have poor soil conditions, whether that's a lack of nutrients or bad drainage.
12. CONSIDER PEA GRAVEL HARSDCAPING
In her own yard, landscape designer and blogger Tina Huffman of Greenhouse Studio used pea gravel as the foundation of the patio and dining area rather than poured concrete. 'This is more sustainable because it's permeable, so water can filtrate back to local groundwater reserves rather than into a storm drain,' says Huffman. 'Plus it will never crack!' Sounds good to us. 
More backyard ideas: