Backyard landscaping ideas: 16 ways to transform your outdoor space
Our backyard landscaping ideas have plenty to inspire, whether you're a fan of lush gardens or perfect patios for entertaining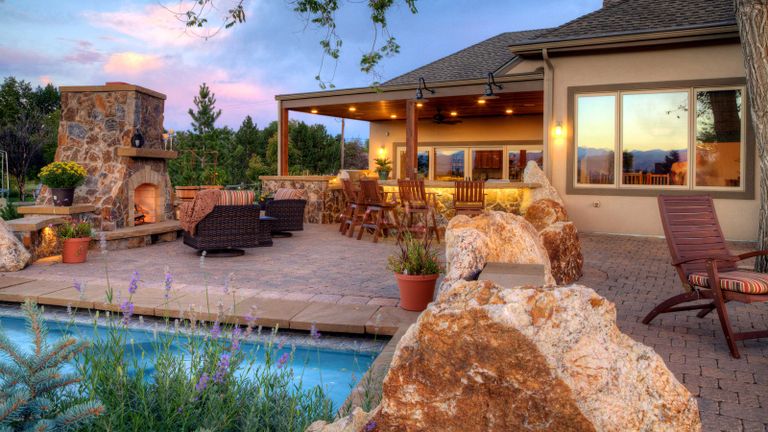 (Image credit: LoveYourLandscape.org/Designs by Sundown, Englewood, CO)
Want to give your outdoor space an upgrade? These backyard landscaping ideas are for you. Making the right choices will help shape the form, function and look of your plot, with everything from paths to pools forming part of your overall plan.
Perhaps you're working with a blank canvas or just want to make a few tweaks to your existing design. Either way, there are all kinds of things you can do to transform your space into the yard of your dreams. And we're not just talking about how it looks, although that, of course, is important. As with any good garden design ideas, the best landscaping solutions are practical, too, enabling you to use your space exactly how you wish. We're talking neat fences, stylish living zones, low-maintenance ground covers and more – in fact, there are so many options it can be tricky to know where to begin.
Luckily, we're here to help with your makeover plan by bringing together plenty of stunning looks for you to get inspired by.
16 beautiful backyard landscaping ideas
We're sure you'll find something you love in this selection – there are backyard landscaping ideas for all sizes and styles of plot.
1. Zone your space
When considering a new outdoor look, it's crucial to think about how you want to use the space. After all, you want your backyard transformation to suit your way of living, whether you love to entertain outdoors, want a space to grow your own veg, or need a place for the kids to play.
So, take time to sit down and make a proper plan – not doing so is one of the biggest landscaping mistakes you can make. And once you know the things you need to prioritize, you can begin organizing them into zones: a smart approach for larger yards.
Take this stylish design above, for instance, which features a separate dining area, sunken seating space, and lounging zone, all arranged around a pool. Such a layout will encourage you to make the most of every part of your backyard. Plus, it looks great too.
2. Add a cover for shelter and shade
Providing shelter in a backyard is a wise move as it allows you to use the space whatever the weather. In mid-summer it will provide much needed shade against the sun's hot glare, whilst if you live in a rainy region, you can still lounge or even dine outdoors without getting soaked.
There are plenty of decking or patio covers to choose from, but if you're looking to go all out and have a bit more budget to play with, why not opt for an extension like this? We love the white timber ceiling which makes the scene feel bright and light, whilst fans will keep everyone cool when needed. Don't forget to add lighting too – that way you can keep using the space at nighttime.
3. Install paths for a manicured look
In most backyards, a path or two is crucial, allowing you to get from A to B with ease. There are all kinds of paths to pick from – stepping stones, decked walkways, sleek pavers, gravel – but for a more manicured look, you can't go wrong with a neat brick design. For extra definition, you could add edging in a contrasting hue, like in this smart front yard.
Including a pathway from the sidewalk and driveway to your front door is a practical move, but you can also use paths for a more decorative effect. Consider creating a formal garden in your backyard with paths for strolling, or install a more meandering path around flowerbeds or to a feature like a fountain or a sculpture.
There are plenty more garden path ideas in our guide.
4. Add terraces to sloping plots
Hilly yards can be a little trickier to landscape than flat ones, but with some good sloping garden ideas you can still create your own personal oasis.
One of the best approaches is to bring in terraces, by levelling out different areas of your backyard and then connecting them with gently curving paths or smart steps. Check out this stunning plot for example, where a terrace with loungers sits downhill from the house.
Once you've added your levels, the options are almost endless: you can install everything from small pools to dining areas to fire pits, creating different 'rooms' as you go.
5. Create a hub for entertaining
If you love having guests over, it's a good idea to add an outdoor entertaining space to your landscaping plans.
You can keep things as simple or as over-the-top as you like. Perhaps a quiet patio with a dining table is all you need, or maybe an outdoor kitchen complete with plumbing and electricity, plus a lounge area with a fire pit, is more fitting.
For something along the lines of the latter option, take a look at this gorgeous backyard patio which features a cozy fireplace and sleek bar. It's the perfect setting for throwing an alfresco get-together with family and friends.
Want to recreate the look? Our outdoor bar ideas feature has lots more inspiration.
6. Keep it contemporary with a wraparound patio
Bringing patio ideas into your landscaping scheme is a super practical choice, providing a stable base for all your outdoor living needs. And, the paving you pick can be a leading factor in your backyard design.
Choose a style which complements the exterior of your home for a harmonious look. Take this set-up, for instance. It oozes with a sense of industrial cool with its pared-down, concrete pavers, that wrap around the edge of the house leading to a small pool area. Sleek porcelain is another chic (and durable) option for a modern result.
If you prefer a softer finish, natural stone in warm tones may be the way forward. Or perhaps you like the idea of bringing in patterned tiles for a bolder statement. There are lots more patio paving ideas in our feature.
7. Make a splash with a pool
What could be more refreshing on a hot summer's day than diving into your own private pool? Add some loungers to the side and it'll be your new favorite place to relax, guaranteed.
Inground pools, like this one, are beautiful, but they do fall on the pricier side of the spectrum. Think at least $20,000 but likely more, on top of expensive annual maintenance. So it's no surprise that for many homeowners, a pool is one of those 'would-be-nice-to-have' backyard landscaping ideas. However, there could be other ways to make it a reality. Above-ground pools or even stock-tank pools are more affordable options, for instance.
Need more inspo for bringing a pool into your plot? Our pool landscaping ideas have you covered.
8. Add a lush lawn and line with flowers and trees
A stretch of verdant lawn can be a lovely addition to a landscape design, and is perfect for summer picnics or for the kids to have a run around. Line it with colorful borders bursting with blooms for a beautiful display. Garden edging in-between will keep things looking neat.
If you're in a neighborhood with houses that are tightly packed together, you may also want to consider planting trees or shrubs around the perimeter of your yard for privacy. You can choose from a variety of plants, from dense evergreen arborvitae trees to quick-growing bamboo (there are lots of ideas in our best screening plants guide). Just make sure whatever you plant will thrive in your specific climate, and definitely take seasonality into consideration – if your trees drop their leaves in the fall, they might not do such a great job maintaining your privacy in the winter.
9. Lay artificial turf for easy maintenance
Yards can be a lot of work, so if you're looking for low maintenance garden ideas, opt for artificial turf instead of planting grass. There's no need to water or mow, making it the perfect option for someone who loves the look of grass but doesn't have the time to take care of it.
Artificial turf is also an excellent option for those who have small yards in a more urban environment – it can be installed atop concrete or asphalt, though you should work with a professional installer to work through potential issues with drainage.
10. Recreate the natural landscape
Sometimes, taking inspiration from the natural world for some of your backyard landscaping ideas can be a wonderful way to go. Combine naturalistic planting, stepping stone paths and perhaps a trickling stream and you can create your own outdoor haven that's soothing to the soul.
Ornamental grasses and other drought-tolerant picks are perfect for this sort of style as they don't require much work from you, and there are so many colors and textures to choose from. You might consider dotting larger stones or boulders about the scene too – we've got lots of landscaping ideas with rocks in our guide.
11. Make a smart first impression with fencing
Fences have long been used to delineate property boundaries, not to mention keeping people and animals in or out. Add one to the front of your garden to up your security levels and kerb appeal.
When it comes to fencing, you have quite a range of materials, colors, and styles from which to choose. There's your quintessential white picket fence (which, by the way, can be made from everything from wood to aluminum to vinyl), but you could also opt for privacy fences, split-rail fences, or lattice fences, to name a few varieties.
Our garden fence ideas feature has plenty more options for your space.
12. Build a deck for an outdoor living space
Another way to develop your backyard, especially if it's on a gradient, is to include some practical decking ideas in your space. A deck is a reliable way to create an outdoor extension of your living space, and can look stunning too.
Decks are perfect for grills, dining tables, potted plants (including herbs and veggies), and even hot tubs. While they're traditionally made of wood, composite decks made of new synthetic materials are gaining popularity. It's understandable – they're much lower maintenance and they don't splinter.
13. Create a kids' corner
Good backyard landscaping ideas take everyone's needs into account. So, if you've got children or grandchildren, consider making a special kids-only zone to keep them happily entertained.
This stunning set-up, complete with sand pit and chalk board, demonstrates how it doesn't have to be an eyesore. The trick is to stick to materials that blend into the surroundings, such as the natural timber seen here.
If you've got the space, you may want to bring in some larger play equipment – slides and swings will always tempt kids outside and away from their screens. Just don't forget to include an area for grown-ups, too.
There are lots more family garden ideas, plus expert advice, in our guide.
14. Extend your living zone with a pergola
Whether you need some shade on your deck, your patio, or a grassy lounge area on your lawn, a pergola is a stylish way to block out some of the sun's intensity.
There are plenty of prefab pergolas that you can buy online for relatively reasonable prices. Alternatively, you could splurge on a custom high-tech variant, like this example, in which the slats are mechanized and can be adjusted to control the amount of light let through. These days, you can often add lights and heating too.
15. Line up potted plants for an eye-catching display
If you have an urban yard that doesn't have much natural landscaping (read: you have a concrete patio), you can still build a garden via an arrangement of potted plants.
Alternatively, you can learn how to build a raised garden bed to provide the home your plants will need to thrive. Potted plants or raised beds also work well in yards that have poor soil conditions, whether that's a lack of nutrients or bad drainage.
Larger planters can also play a key role in your yard's layout, as they can be used to divide up zones – a good option if you're on the lookout for cheap landscaping ideas.
16. Consider pea gravel hardscaping
In her own yard, landscape designer and blogger Tina Huffman of Greenhouse Studio used pea gravel as the foundation of the patio and dining area rather than poured concrete.
'This is more sustainable because it's permeable, so water can filtrate back to local groundwater reserves rather than into a storm drain,' she explains. 'Plus it will never crack!'
We love the way this garden gravel idea contrasts with the pink tree blossom, too. And, this type of ground cover tends to be much cheaper than pavers.
How do you plan your backyard landscaping?
Starting from scratch with backyard landscaping ideas can feel daunting. But, there are a few simple steps to make the process more manageable.
These suggestions from Lowe's are sure to come in handy:
Start by drawing a basic plan of your plot. Be sure to include key points, such as any large trees that you plan on keeping.
Note other key features of your space on your plan. For instance, think about which areas get the sun, whether there are any hills, or if some areas are more overlooked than others.
Next, focus on your goals – how do you want to use your space? This is hugely important, to ensure your garden works for you. Perhaps you need a patio space for entertaining, a place solely for relaxation, or are wondering how to design a child friendly garden. Start with the larger ideas, such as a decking or pergola, then work down to the smaller details.
When it comes to the materials and style, you can look to your home's exterior for design inspiration. This can help you achieve a more cohesive look.
Think about boundaries and consider hedges or fences for privacy.
Adding water and fountains can add to a tranquil atmosphere and is fabulous if you love our sensory garden ideas.
Use landscape lighting to highlight your features and make the garden come to life at night.
Do what makes you happy! After all, it's your garden, so tailor it to your own individual style and needs. Remember to factor in your budget, too, to make sure your plans are attainable. If you're calling in a professional, our advice on how much does landscaping cost will help you know what to expect.